Jason Martin writes;
It's October, so how about checking out a little zombie/horror comic built to please both genre hounds, and fans of neon fashion-wear alike… NIGHT OF THE 80'S UNDEAD!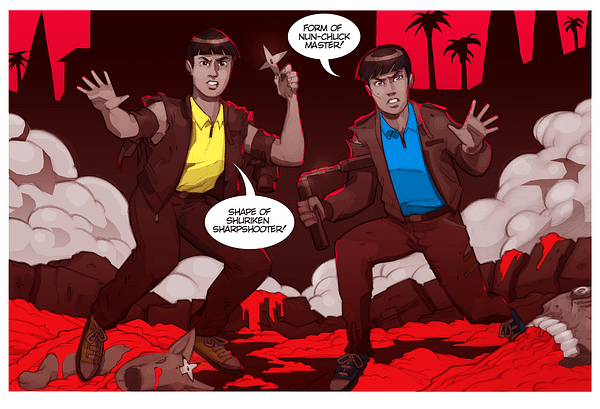 I write, color, and publish the book (as president of Action Lab: Danger Zone, the mature readers line of the creator-owned publisher) that will see it's second issue hitting comic shops next week (10/9)! With issue one still available via Diamond and shops, or alternately, you can get both issues now via ComiXology for a spectacular 1980's themed price of just .99cents each!!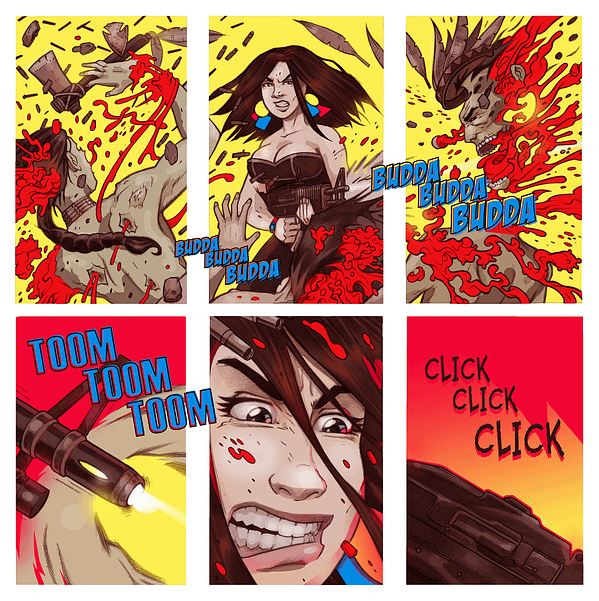 So, what's it all about, and why should you check out yet another zombie book?
Simply put, it's about a Russian zombie virus contaminated Colombian cocaine supply, that's unleashed on a big Hollywood party circa 1986, and a group of teens who break into the party and must then somehow survive the escalating coke zombie carnage!!!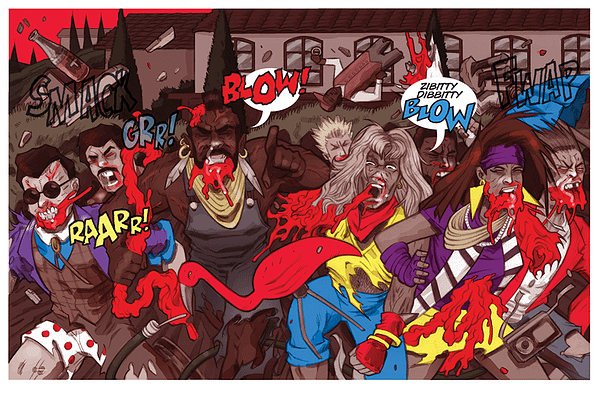 And because, zombies are cool. Duh.
But these aren't just zombies, as I said, they're 80's icons coked up and tearing into anything between them and some more blow. Automatic weapons, action, gore, shurikens, swords, cursing, sex, and Camaros ensue, totally.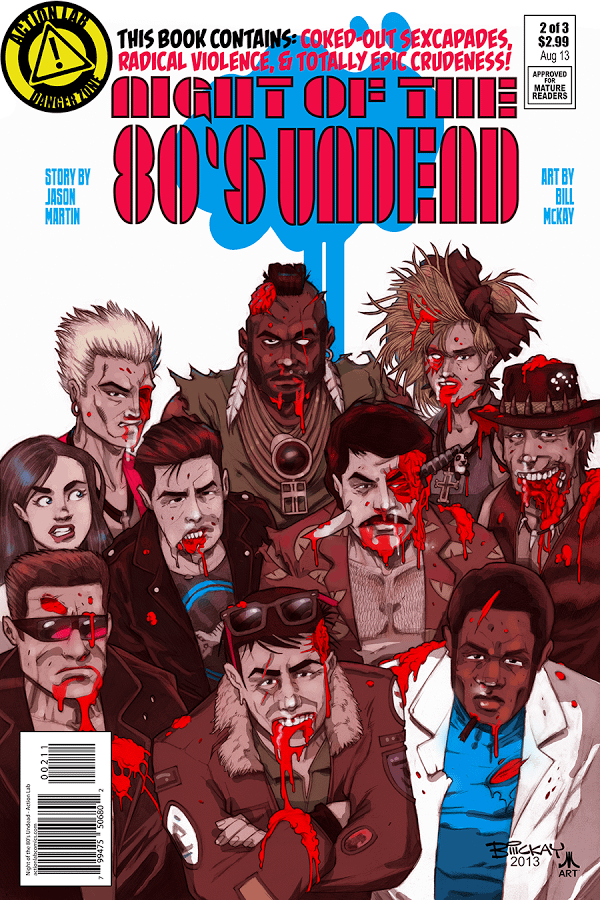 You've got non-stop carnage, side by side with 80's culture references and horror movie homages galore, all fully rendered by my partner in sublime here, Mr Bill (I like to draw thick ropey blood) McKay, our totally awesome artist who's working overtime to bring this day-glo legwarmer fever dream to life.
Take a look at some of the images here and decide if you're ready to blow your mind on some hardcore comic fun. I promise, it's amped up to 11 and aims to please! (And speaking of amps, each issue includes a totally 80's soundtrack and movie recommendations!)

But don't just take my word for it, here are some reviewer folks that have their own words about it…
9 out of 10 "Sweet, glorious, carnage, Jason Martin's first issue of Night of the 80's Undead made me feel warm and fuzzy in the zombie loving parts of my brain."
Sequential Tart
"Does this series make sense? Absolutely not. Is it a hoot? Absolutely."
Horror Comic Roundup
"Above all this was fun and more than a little silly"
Reading with a Flight Ring
"This book is low brow humor at its DEAD/ALIVE EVIL DEAD splat-stick best"
Splash Page
"their take on the zombie genre is pretty damn cool"
Comic Bastards
"I can't recommend this first issue of Night of the 80′s Undead with a clean conscious. Unless you enjoy just seeing panel after panel of comic book boobs, drug snorting, and cartoon-like blood."
Word of the Nerd – this is a good review, right? ;)
"I thoroughly enjoyed reliving my youth in just about every way possible"
Fanboy Comics
9 out of 10 ""The short and skinny is that I had a lot of fun with the book, in the same way I have fun with Toxic Avenger, Army Of Darkness and Red Hot American Summer. Go read it!"
Florida Geek Scene
5 out of 5 "Simply one of the best comics I have ever read"
Hero Taku
"Flash bulb pastel and bright, solid colors create an electric 80′s backdrop for some of the most bad-ass debauchery to smack the era of Reagan upside its head since… well, since Reagan ruined everything for everyone."
Joup
"I would strongly recommend that you give it a look, because behind the cover you will find one hell of a good time!"
Geeks of Doom
Oh and FearNet called it sexist and racist!?! Yowza!
See you for issue 3! (and the eventual sequel?) ;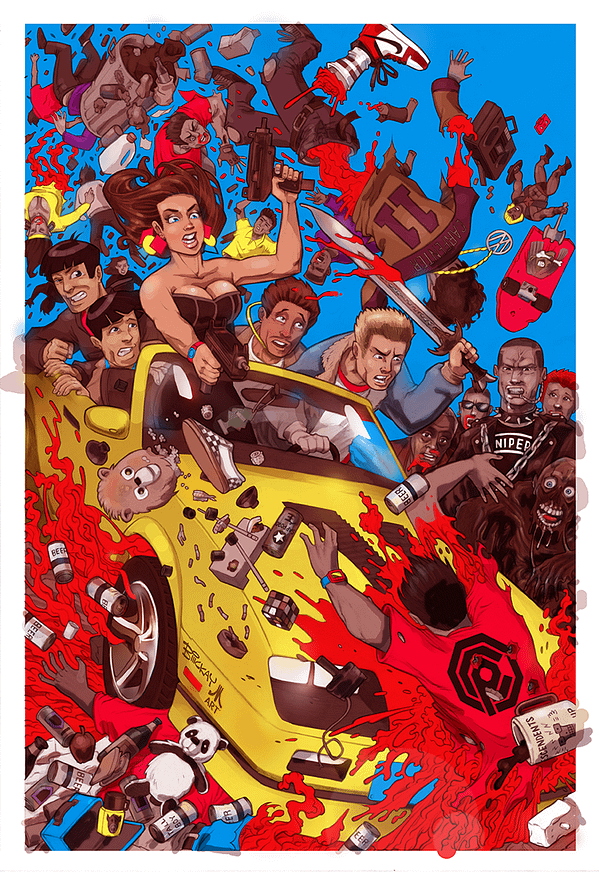 Find everything 80's Undead on my blog – http://jmartiniart.blogspot.com/
Or check out Action Lab: Danger Zone here – http://actionlabcomics.com/ and here –
http://www.actionlabcomics.com/danger-zone/
Or, say hi to Bill here – http://billmckay.deviantart.com/
Enjoyed this article? Share it!