Ninja-K #5 Review: Exciting Finale to the Series' First Arc
Ninja-K and Ninja-C locate the base of operations for the Ninja Programme's Acclimation Bureau and launch their assault on the division. The two seasoned warriors are able to sweep the place easily, but Ninja-C has his eyes set on MI-6 as a whole, and he doesn't intend for Ninja-K to continue his career.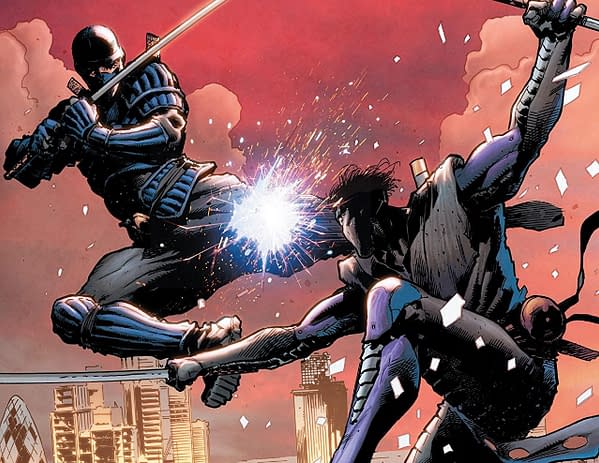 This is it: the long-awaited climax to the first arc of Christos Gage's Ninja-K series. True to the series, this installment is a fun high-concept action comic with plenty of sweet gadgets and ass-kicking to go around.
Ninja-C is a great anti-hero/antagonist for K to duel. They have similar concerns and ethics, but C is just a little more unforgiving and violent than K.
Where the comic runs into some complication are some of the last-act revelations about the Acclimation Bureau and its relation to the Ninja Programme and MI-6 as a whole. I won't spoil it, but the comic goes out of its way to make sure the Ninja-K status quo isn't shaken up too much. It does allow for some introspection on K as a character and how he manages his personal life though, so it doesn't ruin the finale.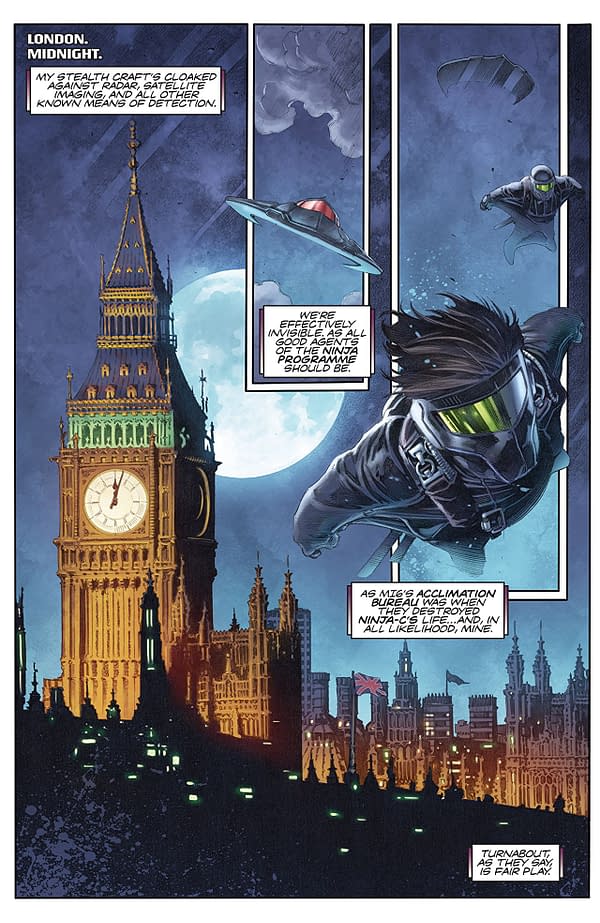 Tomas Giorello returns to contribute his gorgeous work to the book, and it looks as great as ever. His texture and sequencing look great, and the action is kinetic and impactful. It's easy to get lost in the beautiful combat in this book. Diego Rodriguez's color art is top-notch too. It primarily plays of darker shades with wonderful gradience. This is a beautiful book.
Ninja-K #5 is a high-energy and brutal finale to the first arc of the revived series. Ninja-K and Ninja-C have a great rivalry, and the finale, while not perfect, does leave the comic on a thoughtful note. Giorello and Rodriguez keep the visuals near-perfect, and this book earns another strong recommendation. Give it a read.