After months of hype, No One Left to Fight by Aubrey Sitterson, Fico Ossio, and Taylor Esposito finally hit stores two weeks ago… and was promptly bought up by readers hungrier for a mature take on classic properties like Dragon Ball than writer Sitterson for a meatless burger at a fast food restaurant. But if you weren't smart enough to pre-order a copy and you don't have the dough to shell out on eBay, Dark Horse has got you covered.
Revealed on PreviewsWorld as New to Order Monday morning, No One Left to Fight #1 will get a second printing, hitting stores on August 14th. And it's got both a new cover and a new tagline to replace "The Comic You Always Wanted" on said cover: "The Best Comic Ever." Look, no one ever accused these guys of being too humble. But did Rob Liefeld become the greatest artist in the history of comics by being humble? Did global entertainment superstar Donny Cates become better than Alan Moore that way? We think not.
But look, not everyone gets a second chance like this. We knew a kid growing up who missed out on ordering New Mutants #98 in 1991, and, to make a long story short, it turned out to be the first appearance of Deadpool, Domino, and, most importantly Gideon, and our childhood friend was sentenced to life in prison with no chance of parole. Was it because he didn't pre-order that comic? Or was it because he was busted for inappropriate activities with a goat? Who's to say, really? All we do know is that it would be downright irresponsible to not tell your retailer to order you one before final orders are due on July 22, so don't take the risk. Don't let your own story be one of regret, resentment, and growing older without having gotten your hands on a copy of No One Left to Fight #1. Don't be like Goat@#$%er Greg. Let your retailer know you need this today, and use Diamond code JUN198007.
You know, if you want.
NO ONE LEFT TO FIGHT #1 (OF 5) 2ND PTG
JUN198007
(W) Aubrey Sitterson (A/CA) Fico Ossio
After mainstream attention, instant sell-outs, and universal critical acclaim, the impossible-to-find debut issue of THE COMIC YOU ALWAYS WANTED is back in print! With an explosive new cover by co-creator Fico Ossio, it's THE BEST COMIC EVER!

They've saved the planet countless times, but what happens after the final battle has been won? Creators Aubrey Sitterson (The Comic Book Story of Professional Wrestling, G.I. Joe) & Fico Ossio (Spider-Man, Revolution) take inspiration from the legendary Dragon Ball and Street Fighter to tell a story of regret, resentment, and growing older, one that asks, "What does a fighter do when there's no one left to fight?"
In Shops: Aug 14, 2019
Final Orders Due: Jul 22, 2019
SRP: $3.99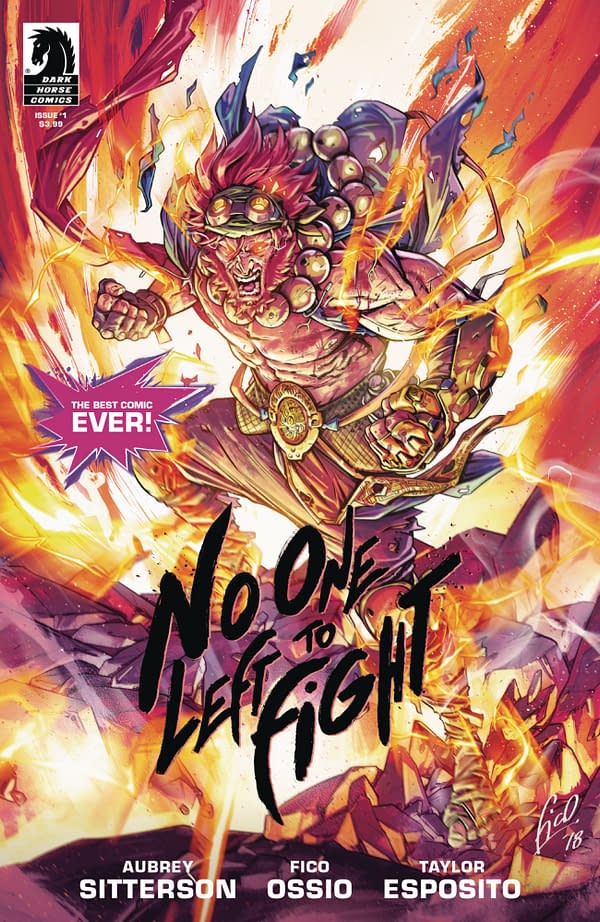 Enjoyed this article? Share it!