Not a Review of The Comic Book Story of Professional Wrestling
Hi, Bleeding Cool readers. I'm Jude Terror, the actor who plays Jude Terror on Bleeding Cool. That's right. In the spirit of this article, I'm breaking kayfabe.
Surely we're all still feeling the loss of Bleeding Cool Ace Reviewer Josh Davison. Without his guidance, how are we to know which comics to like and which to stab with a knife? In these troubled times, I'm afraid I cannot offer you a solution, as writing reviews requires more responsibility than I'm personally comfortable committing to. But in a totally not-a-review context, I would like to talk to you about the new graphic novel by Aubrey Sitterson and Chris Moreno, The Comic Book Story of Professional Wrestling.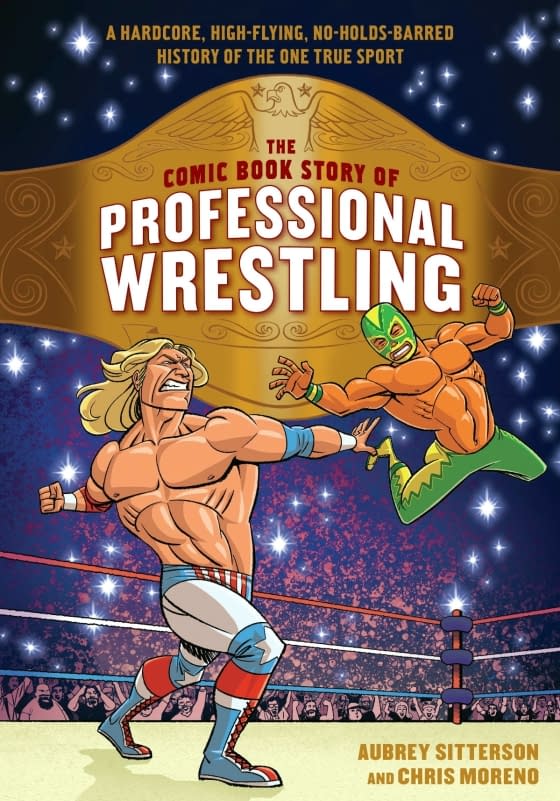 But first, I'd like to talk to you about pro wrestling itself.
The first memory I have of pro wrestling, or as it's referred to in Aubrey Sitterson and Chris Moreno's masterpiece, The One True Sport, is of Hulk Hogan being brutalized inside a steel cage after a tag match between Hogan and Andre the Giant vs. King Kong Bundy and Big John Studd on Saturday Night's Main Event prior to WrestleMania 2, which would have been around the time I was seven-years-old. I also clearly remember a wrestling magazine from the same time period with a bunch of photos of a bloody Hogan, but I wasn't able to find it in a google search. I followed wrestling, particularly WWF, though I had a cousin, a year older than me, who was really into WCW, so I kept abreast of what was going on there as well, into sometime around 1992, about the time Doink the Clown showed up, causing my 13-year-old brain to figure out that wrestling just wasn't real, not like it was when Hogan was on top.
It was around that same time that I stopped reading comic books as well, and though it wouldn't be until 2001 before I'd pick up another one of those (drawn back in by GI Joe Reinstated and a strange new take on the X-Men by Grant Morrison), I would come back to wrestling as soon as 1995. Though I had given up childish pursuits in favor of more "adult" indulgences like heavy metal and punk music and recreational drug use, that actually made me the perfect mark for the explosion of ECW, or as my best friend at the time explained it when telling me about it, "this hardcore wrestling show that comes on at 1AM on the MSG network where the wrestling is actually real." And sure enough, I couldn't get enough of ECW with its at-the-time-modern music influences and extreme violence that couldn't possibly be "fake," like Doink the Clown was.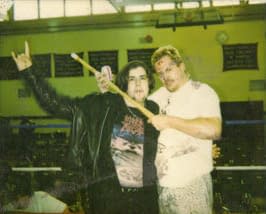 Just look at that sixteen-year-old dork in the photo above (cropped from a polaroid that cost twenty bucks), arm around The Sandman, cigarette in his mouth just like his hero (yes, one could apparently smoke in a high school gym during a wrestling show back in the mid-nineties), haircut as dumb as can be. I'm pretty sure that, after the very show in which that photo was taken, I watched Sandman and Raven leave the parking lot in the same automobile, but I still had trouble believing that it could be *all* fake, not with the extreme levels of violence I witnessed with my own two eyes (ask me later about the time Chris Jericho let my friend and I backstage at an ECW show at the Zulu Temple, only for us to be promptly and forcibly ejected by Brian Lee). In 1996, with the formation of the NWO and Hulk Hogan turning evil, I was drawn back into mainstream wrestling and WCW, and with the emergence of Stone Cold Steve Austin (and a little cross-promotion between ECW and WWF that surely no one expected would work to draw ECW fans to WWF and not vice versa), I was all-in on wrestling again. By the time Shawn Michaels faced Austin for the title at WrestleMania 14, I was reading the online dirt sheets daily (I preferred Scoops Central, home of the legendary Chris Hyatte), so I fully understood by then that wrestling was all a work, even ECW, but I loved it all the same, maybe even more than I did before.
I bring all of that up to say that my personal experience with wrestling is a microcosm of the sport's entire history, one of the central themes of The Comic Book Story of Pro Wrestling. Though people suspected wrestling of being staged at least as early as the 1880s, and Jack Pfeffer definitely exposed the business in a newspaper editorial in 1932 (a fact you can read about in the book), wrestling, to convince its fans to suspend disbelief, still often relies on the perception that though it's not real anymore, it used to be real, and maybe, when the matches and angles are really, really good, it still could be.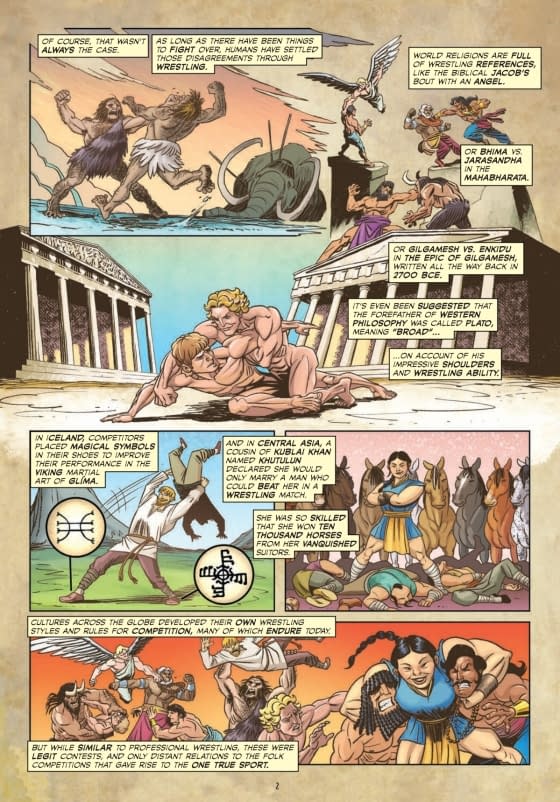 I read The Comic Book Story of Professional Wrestling in a single day, almost a single sitting. I spent about five hours on a plane ride with no wifi (preventing me from working on New York Comic Con coverage for Bleeding Cool), reading up to about the chapter on the Attitude Era, and then reading the rest at my hotel after my flight was delayed overnight in St. Louis, purposely avoiding New York Comic Con coverage in favor of reading the book. I couldn't put it down.
The Comic Book Story of Professional Wrestling is caption-heavy and dialogue-light, formatted like a documentary series with chapters focusing on different eras in the evolution of American pro wrestling with a few detour chapters following the evolution of the sport in Mexico, Japan, and elsewhere. Even for someone who's followed the backstage happenings of wrestling for more than two decades, there were facts and insight that were new to me, especially regarding wrestling's early days. Many, maybe even most fans nowadays, seem to find the inner workings of the wrestling business as interesting as the in-ring product, so it's no surprise that 150 years of wrestling history is as interesting as any fiction narrative. Even notorious wrestling-hater Robert Kirkman liked it, his pull-quote on the back of the book confirms.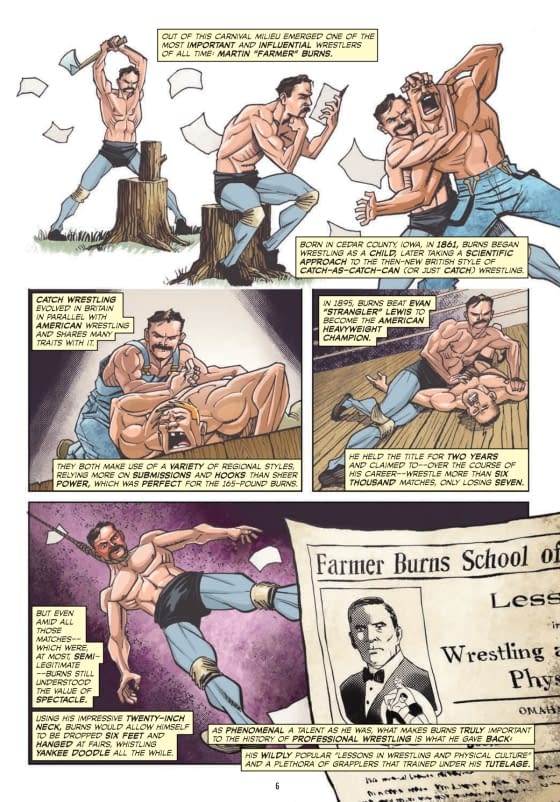 While Aubrey Sitterson's extensive wrestling knowledge and ability to craft that knowledge into a single narrative about the history of the sport is obviously essential to the book's success, equally so is the life Chris Moreno gives to the colorful historical figures that created that history. Flip open the second half of the book to any random page and you'll find the personality of the larger-than-life pro wrestling figures of the 1980s to today alive on the page. Now flip to the beginning of the book and you'll find the wrestlers of the era of the Gold Dust Trio, period dress and atmosphere aside, with that same vitality. It's one of many things I love about this comic, because unlike material from the past few decades, you can't just pull up a video on YouTube or the WWE Network and experience wrestling from before the television era. In The Comic Book Story of Professional Wrestling, you can.
If this were a review, which it's not — it's more of a gushing love letter for a comic I enjoyed — I would probably have some criticism to share here, but while I do wish there were certain aspects explored further, particularly when it comes to women's wrestling, I'm happy enough to wait for a sequel that goes more in depth. As a lifelong wrestling fan, I enjoyed The Comic Book Story of Professional Wrestling as a means of revisiting a story I'm mostly familiar with, laid out in a clear, informative, and entertaining way, and reaffirming my lifelong love for the sport. But I'm almost more excited to pass off copies to friends and family who have never understood why I enjoy wrestling so much, because in addition to a historical account, the book makes a solid case to back up it's thesis statement that professional wrestling is the One True Sport, not in spite of its fixed nature, but because of it (see below).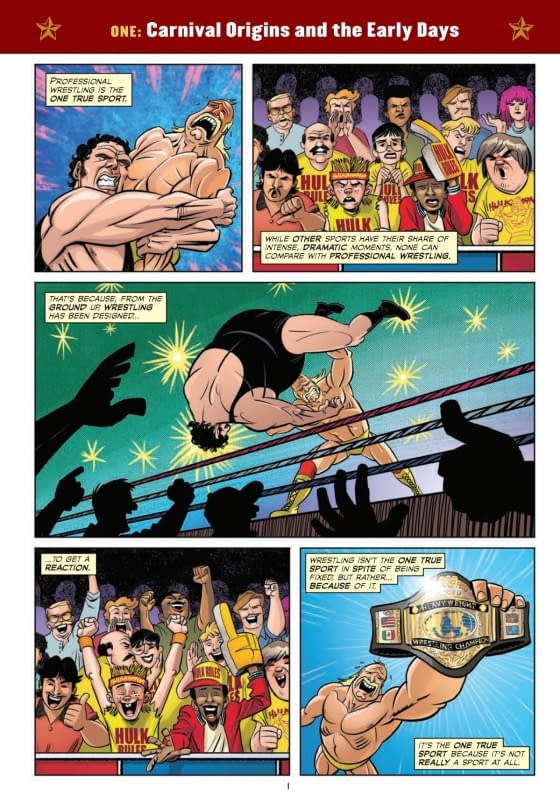 If you're on my Christmas list, don't be surprised if this is what you get this year. For the rest of you, The Comic Book Story of Professional Wrestling is available in comic stores and bookstores now.
---
---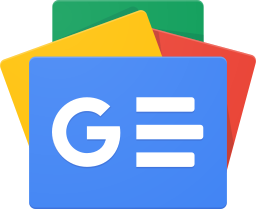 Stay up-to-date and support the site by following Bleeding Cool on Google News today!