At the Dark Horse Creators: Crafting the Original Story panel at New York Comic Con 2015, speakers included Donny Cates, Ethan Young, Van Jensen, Jonathan Case, Christopher Golden, and Greg Pak and things opened with a pretty solid opening round of Comic Con applause, hosted by Steve Sunu.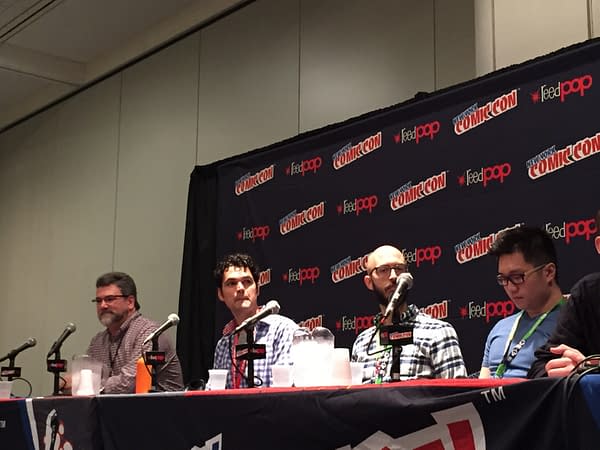 Van Jensen was announced on his first creator owned series in 4 years on Cryptocracy. with Pete Woods on his first creator-owned series. His idea was that the villain of many stories is a big, shadowy organization. In this story, we try to see things from their perspective. It's a crazy, sci-fi story riffing on conspiracy theory traditions.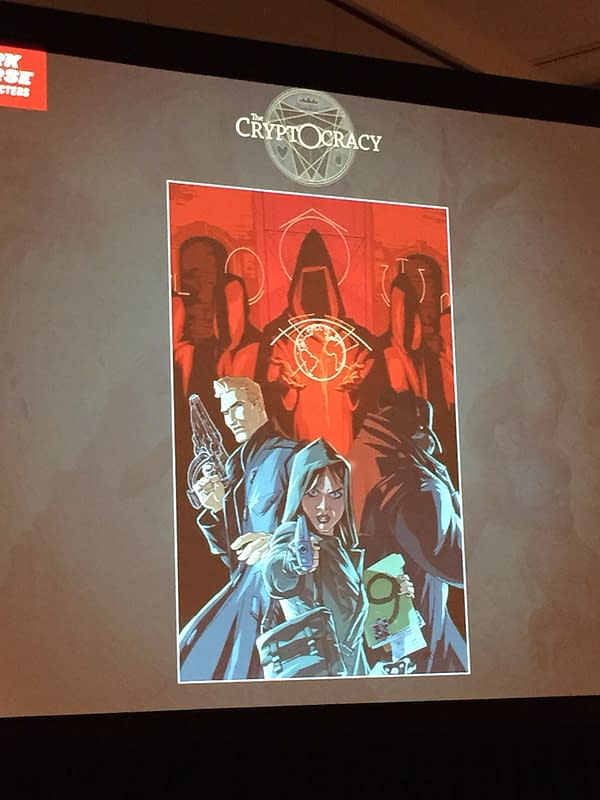 Jensen will also be working on a story, Two Dead, that he was inspired to work on after working as a crime reporter (for real) in Arkansas. It has overtones of civil rights battles, and is going to be in conjunction with Nate Powell (March from Top Shelf).
Greg Pak was present to talk about his long term development on Kingsway West, and some teaser art was revealed.
Donny Cates and Eliot Rahal generated some laughs and enthusiasm for superhero repo story The Paybacks, introducing their characters developed with artist Geoff Shaw. Issue #3 comes out November 18th. Sunu said this series is a great example of the things Dark Horse is interested in, presenting things no one has seen before. Christopher Golden, longtime collaborator with Mike Mignola, was present to talk about Joe Golem: Occult Detective. When working on Lord Baltimore, they didn't know the novel would become a comic also, but with Joe Golem, the fact that it was previously a novel-based character isn't really necessary knowledge to enjoy or appreciate the comic. The character is a 15th century golem who was created in Croatia to murder witches. He inhabits a Venice-like New York City that was flooded in 1925. He works with Simon Church, a Victorian detective who keeps himself young through "steampunk methods".
Joe's memory is vague, and he has visions and dreams of the past. Church feels he can't "handle the truth", and keeps Joe in the dark about his identity. We meet him on his "first case", the arc called "The Rat Catcher", a thing in the water stealing orphans. There's strong 1940's film influence, but there's plenty of "occult, magic and monsters, and weird, weird stuff". Patric Reynolds is the artist on the book and Golden and Mignola wondered who could create such visuals before they found him. It releases in its first issue #1 on November 4th.
Sunu asked the audience if they followed the Dark Horse Originals line, to applause. Ethan Young was present to talk about Nanjing: The Burning City. Reviews have been great on the book, and Young spoke about growing up as a first generation Chinese-American and the cultural impact of the Sino-Japanese war. It was a story he wanted to work on in his 20's, but wasn't mature enough to handle it, in his opinion. Thankfully, he came back to it at a later date. Asked why he used black and white, Young said there were practical reasons, but a starker appearance suited it. Speaking about his webseries Tails, Sunu observed the difference in art styles. When he was younger, he liked "crisper" and "more mainstream" styles, which has changed over time.
Another Dark Horse Originals author, Jonathan Case, was present to speak about The New Deal, which is set at the Waldorf Astoria hotel. It's a period piece set in 1936, and focuses on the glamour of the wealthy set during the depression. Like Downton Abbey, the staff od the hotel are part of the plot, watching the wealthier characters. Some history "weaves" into the story, with Orson Welles directing an all-African American staging of MacBeth.
Sunu observed that all of the panelists present had very different approaches to story, and many of the projects have "ancillary material", like Greg Pak's selected soundtrack for Kingsway West with original songs from Asian-American artists. The songs are downloadable and free online.
Cates and Rahal had come in from a Paybacks Tour, ranging from Ohio to Pennsylvania and DC. They did signings, giveaways, and games. A fan coopted into reading the comic during the panel, said it was "colorful" and "gets right into things". He said he'd recommend it to others.
Asked how long his crime series Two Dead has been "percolating", Van Jensen said around 10 years ago the idea occurred to him. At that time, he was working as a reporter as well as writing for DC, so he didn't have time to work on Two Dead. Cryptocracy has notes going back 6 years, he said. Since the ideas managed to stay around that long, he felt that they were worth pursuing. It's "thrilling and terrifying" to put these comics out there.
Other panelists were asked how long their ideas tend to develop. With Paybacks, it had been awhile, and when there was talk of a sequel for Buzzkill, this would make sense. Cates and Rahal said sometimes they pitch "immediately" on ideas, though.
Ethan Young had finished 90 pages of the graphic novel before he pitched it properly. He looked at smaller companies who actually turned him down, but he had Dark Horse in mind all along and eventually was able to pitch it to Jim Gibbons.
Jonathan Case worked previously on Dear Creature, and he pitched New Deal as a Dark Horse Presents in 2010 or 2011, but he makes much of his income on other projects, and has to circle back to creator-owned. A couple of years ago, he became more serious about it.
Christopher Golden is a novelist "by trade" and described himself as "moonlighting" in comics. Mike Mignola had an original idea and they built the novel around it, but some of the "craziest" stuff in the mini-series, is a "constant stream" of world building. The pitch is the "fun part", he said, but there's also "building the longterm" which takes more "caution". Asked about working in prose vs. comics, he said that often there's a lack of understanding about how different the two mediums are. He finds comics to be the "most disciplined" and "more demanding" than any other format he's worked in. When it comes down to it, if there's not a strong artist, a book won't make it, but having a great artists makes the book.
The panelists were asked if they agree that comics are the most "disciplined" format, and Greg Pak compared his experience working on animation scripts. In comics you have to "visually think through" showing motion in still panels. A screenwriter is encouraged "not to to try explain all of that", he said, leaving that to others. In comics, you have to understand "a lot more about how a story is visually told".
Asked if comics are "fun" for them, Young said when your hobby becomes your job, you have to find ways to keep it fun. Rahal and Eliot talked about their comedy connections, doing stand up, and the two are best friends, so getting to "make up superheroes together" is a big deal. Positivity is "important", Rahal said, and working separately often produces "darker" work from both of them. Together they are more positive and fun.
At the Dark Horse Creators: Crafting the Original Story panel, Dark Horse announced a new Lone Wolf and Cub in 2016 in January, from Eric Heisserer, and Mighel Sepulveda.
They also announced Mariko Tamaki on Tomb Raider in February 2016.
Earlier in the week, the Sin City Curator's Collection was announced, and Steve Sunu clarified that it will be composed of "original scanned in art, nothing from reproductions, scanned in to the size in which he drew them". This is coming out in 2016 in conjunction with Kitchen Sink Books, and this will be their new line of books, 'The Curator's Collection'.
Sunu also confirmed that Dark Horse does have the rights to the Moebius Library and they are working closely with the estate. He wasn't able to comment on whether the books would be re-colored or not.
Enjoyed this article? Share it!