NYCC '15 – One Last Run Around
By Joe Glass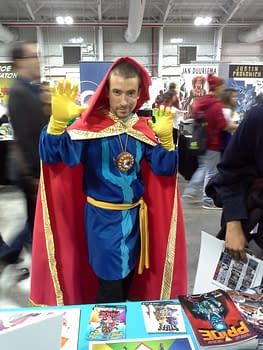 One thing with reporting on NYCC, or any comic con really, is that you find yourself so busy running around to panels that you want to report on that you wind up missing a lot of the show in terms of the show floor and Artists Alley. In my case this time, add to that panel appearances and signings, and it meant I woke this morning (groggily I might add, after an excessive and late night at the Marvel party after the wild Comixologist party) realising that I hadn't actually been on the show floor since Thursday, and had barely seen anyone I wanted to touch base with in Artists Alley.
Thus I decided today was the day. I still had a signing for part of it, but the rest would be me spending time actually doing the con experience.
Personally, I have found that whilst the show floor is exceedingly busy (even on a Sunday) and limiting movement, especially of a fast and timely kind, it is also largely becoming a more merchandising experience. There felt like a lot less presence was there of any kind of creative element, and a lot more was afforded to t-shirts, toys and posters, of the licensed and unlicensed variety.
Of course, most of the creative side (artists, writers, etc) was in Artists Alley, and that was insanely popular this year. In fact, talking with several of the creators there, such as Declan Shalvey who's been coming back and forth for the last seven years, he's felt he can really feel a palpable growth in the area.
A short time ago, I just re-entered for one final lap of the area, and found it frankly as packed as the show floor, if not more so as it was exceedingly densely packed. I'd even argue that it could be time for the area to grow, or some sort of move around in the venue, as many more people are becoming much more interested in speaking with creators and getting things signed or purchased from them personally.
I myself am considering doing my first US show as an exhibitor next year, and with the popularity of the area, it is hard not to argue that New York Comic Con shouldn't be my choice. After all, after a short two and a half hour signing at the Comixology table yesterday, I sold as many if not more copies of my comics The Pride and Stiffs as I would in one day at one of the bigger UK shows. It leaves me wondering what kind of push I can achieve by a full days presence, let alone a full four day weekend.
Of course, this is a bridge to consider and cross once I am safely landed back in the UK. For now, I am enjoying the final hours of a crazy, busy, fantastic and fun show in the hard of one of the most iconic cities of the world.
Joe Glass is a Bleeding Cool reporter and comics creator, creating and writing LGBTQ superhero team series The Pride, and co-writing Welsh comedy horror, Stiffs. All are available on Comixology, and also they're own online stores, here and here.