Oh Boy… December Brings The Top 100 Power List For The 2015 Comic Book Industry In Bleeding Cool Magazine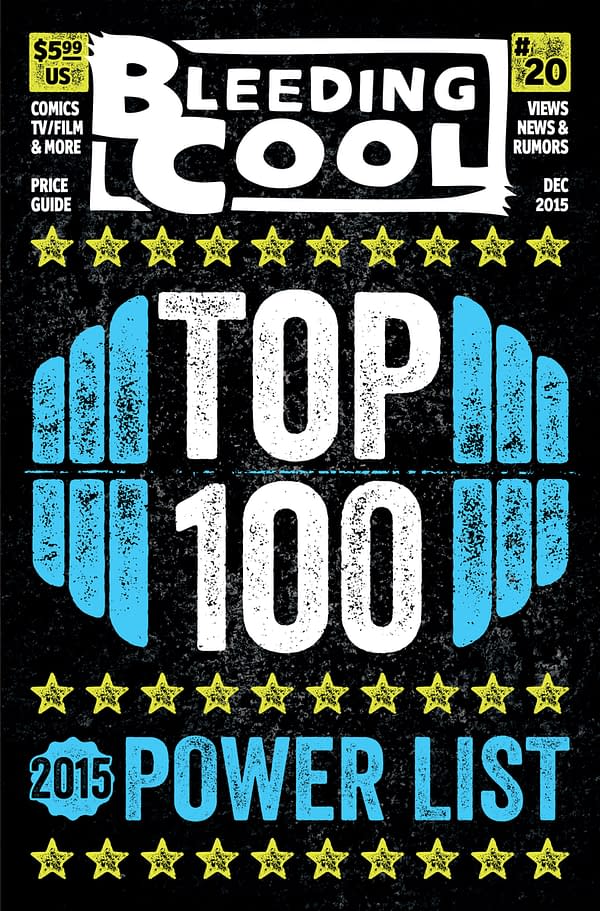 The perfect gift for any comic book geek for the holiday season, a thorough and comprehensive list of the hundred most powerful people in the English speaking comic book industry today, and dominating the extra-sized Bleeding Cool Magazine #20.
May I suggest that those who read Bleeding Cool, the website, consider asking their retailer to order this for them? Consider it paying a small firewall fee to read the website for free through the year… just one that's very poorly enforced. Here's the December solicitation….
BLEEDING COOL MAGAZINE #20
$5.99 Full Color, 128 pages

Forget Superman, Thor or the Hulk. The Top 100 Power List pits executive against retailer, against writer, against penciller, against buyer, against distributor, to find the most powerful people affecting the comic industry right here, right now. Who really makes the moves that shape the comics you buy? RICH JOHNSTON lays bare the real power behind the PR. The scramble to the top of the comics industry takes new and bizarre twists every year, and the outlying factors are always the most intriguing and one thing always holds true—there will be surprises based as much on little known information as on public displays of power. This year we've seen new creators rise, the formation of new publishers and changes to existing companies to add even more variables to the mix. New subsidiary lists this year will keep you up to date on the strangest groupings you'll find in comics, too. Along with revealing the Power List, this issue of BLEEDING COOL MAGAZINE will profile influential comics creators, keep you up to date on the latest titles from a wide range of publishers, pick the hottest comics of 2015 to collect, review the year in film and TV, and bring you 128 pages of original analysis and discussion not to be found online.
I'd best go write it then….