Halloween is my favorite time of the year. The darkness, the spookiness, and oh, the horror! I've always been fascinated by themes of the unknown creeping in and terrifying us, or the repressed finally erupting into chaos. One thing growing up that I always wanted, though, was to see more characters of color as the main characters and not as the "other" where our background were the source of horror or we were relegated to the sidekick best friend who most likely died. And I'm sure other marginalized groups feel the same in terms of how we're represented and I'm always down for some subtext and social commentary if provided, horror serving as a great backdrop for such stories. So for this feature in the days counting down to Halloween, I wanted to showcase some independent works featuring leads of color, women, LGBTQ+, disabled, especially if created by creators of the like. So without further ado…
---
Oh, the Indie Horror! Day 8: Box of Bones by John Jennings & Saturday Comics!
John Jennings is a Professor of Media and Cultural Studies at the University of California at Riverside (UCR). Professor Jennings received his MA in Art Education in 1995 and the MFA in Studio with a focus on Graphic Design in 1997 from UIUC. He is an interdisciplinary scholar who examines the visual culture of race in various media forms including film, illustrated fiction, and comics and graphic novels. Jennings is also a curator, graphic novelist, editor, and design theorist whose research interests include the visual culture of Hip Hop, Afrofuturism and politics, Visual Literacy, Horror and the EthnoGothic, and Speculative Design and its applications to visual rhetoric. Jennings is co-editor of the Eisner Award winning collection The Blacker the Ink: Constructions of Black Identity in Comics and Sequential Art (Rutgers) and co-founder/organizer of The Schomburg Center's Black Comic Book Festival in Harlem. He is co-founder and organizer of the MLK NorCal's Black Comix Arts Festival in San Francisco and also SOL-CON: The Brown and Black Comix Expo at the Ohio State University. Jennings' current projects include the graphic novel adaptation of Octavia Butler's Kindred (with Damian Duffy), Tony Medina's police brutality themed ghost story I Am Alphonso Jones (with Stacey Robinson), and his Hoodoo Noir graphic novella Blue Hand Mojo (Rosarium Publishing). Jennings is also a 2016 Nasir Jones Hip Hop Studies Fellow at the Hutchins Center at Harvard University. Jennings' most recent project is the graphic novel adaptation of Octavia E. Butler's book Parable of the Sower (with Damian Duffy).

GREG ANDERSON ELYSÉE: Professor Jennings! I see you have Box of Bones for us! What's this about?
JOHN JENNINGS: Box of Bones is a ten-part limited series about a black, queer grad student who is studying an artifact from the African Diaspora that she thought was simply a folk tale from her childhood written by Ayize Jama Everett and drawn by me and various other talented artists. The Box pops up throughout the Diaspora when racialized violence occurs. It seems to punish people who hurt or betray people of color, however it also seems to exact a dire cost for that revenge. The story is a morality tale that seeks to explore the tensions between justice and revenge and the painful horrors of racial violence against people of color for generations.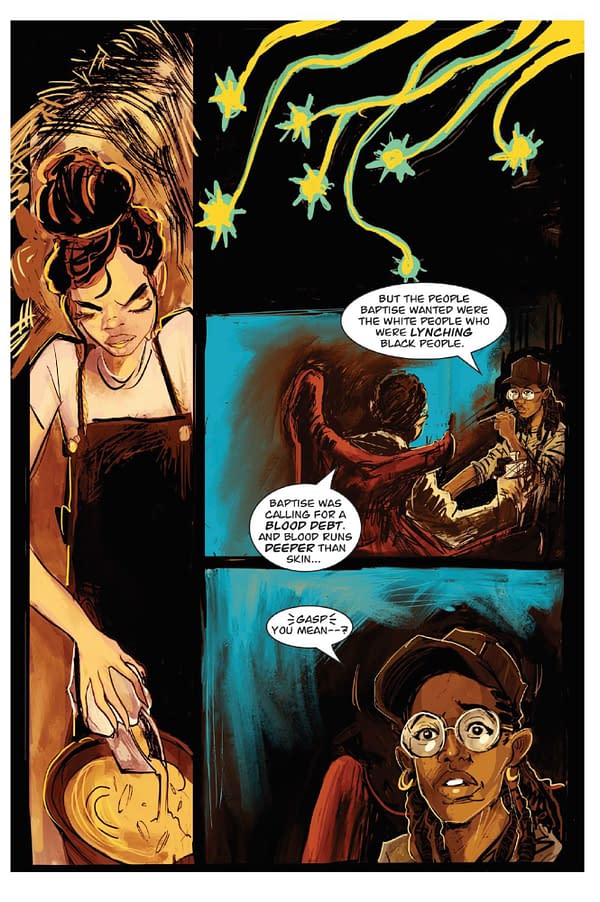 ANDERSON ELYSÉE: What prompted the idea for this story?
JENNINGS: The idea came from several strands. My friend Reynaldo Anderson introduced me to this beat poem by Black Arts Movement great Amiri Baraka. It was called "Black Dada Nihilismus." The poem was essentially dealing with the seemingly unending injustices put upon black folks in our country. It was a sort of primal scream that leaned into the negative aspects of the narratives around black men in particular. Box of Bones became the answer to that scream. What is left when justice doesn't work? Sometimes you have to get your own but, when you do you have to know that you lose a part of yourself.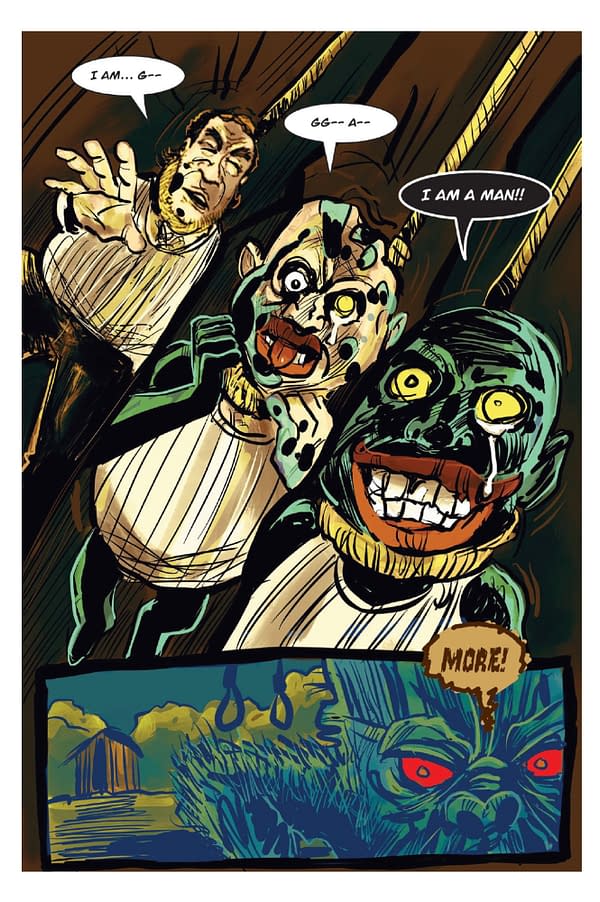 ANDERSON ELYSÉE: There's always been a history of violence against Black people in America. Dating from slavery to segregation, the Tulsa Massacre of Black Wall Street to, of course, the constant police brutality. I sense a bit of catharsis feeling concerning this idea.
JENNINGS: In some ways yes. It's a dark revenge tale where black people who are wronged get their vengeance. However, there's always a cost. The spirits that live in the box are not good spirits.
They intend to do us harm. However, they can give you satisfaction for a while but when they collect their debt…it's usually going to be in blood.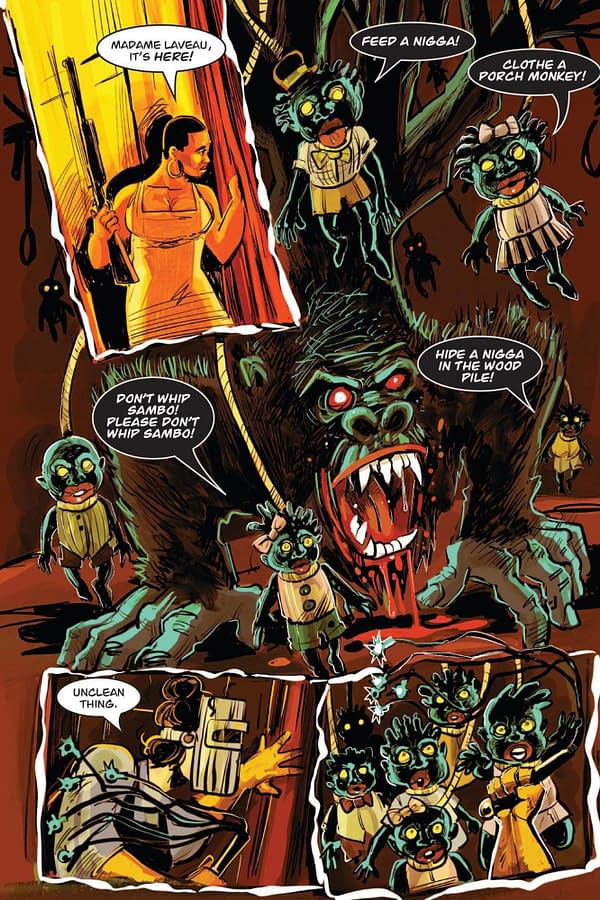 ANDERSON ELYSÉE: You mentioned the character is queer. It's not often we get horror leads who are queer. What role does her sexuality play in this story?
JENNINGS: Well. Her sexuality isn't apparent at first. She has a partner that is introduced in the fourth chapter. Her relationship with her partner becomes very affected by the Box as she goes about her research. By the end of the story, her partner becomes very central to the narrative. I am not sure it's her sexuality that is key in any way. It's more about her love for her partner that drives the climax. Her sexual preference is just one of the many things that makes her a great character but, it doesn't define her.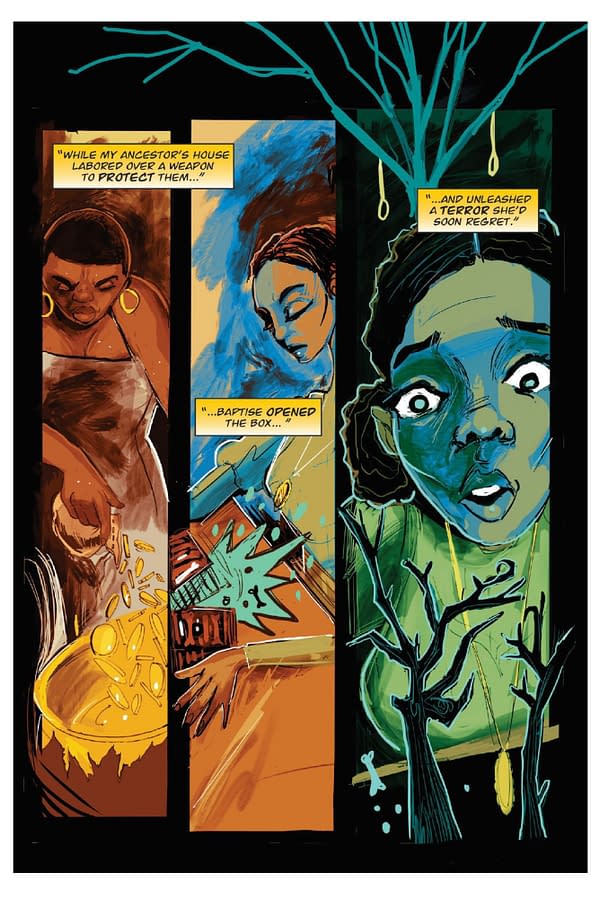 ANDERSON ELYSÉE: 
In time for Halloween season, what other horror series or popular stories/movies can you compare it to or which category of horror fans will feel right at home in checking out this book?
JENNINGS: If you like the work of Clive Barker, particularly Hellraiser, then this would be for you. We are also very influenced by John Carpenter, David Cronenberg, Tananarive Due and even HP Lovecraft.
So, it's Afrocentric body horror that deals with myriad social justice issues.
ANDERSON ELYSÉE: Where can potential readers find this story to read and purchase?
JENNINGS: You can get the book via amazon or from Rosarium Publishing's website.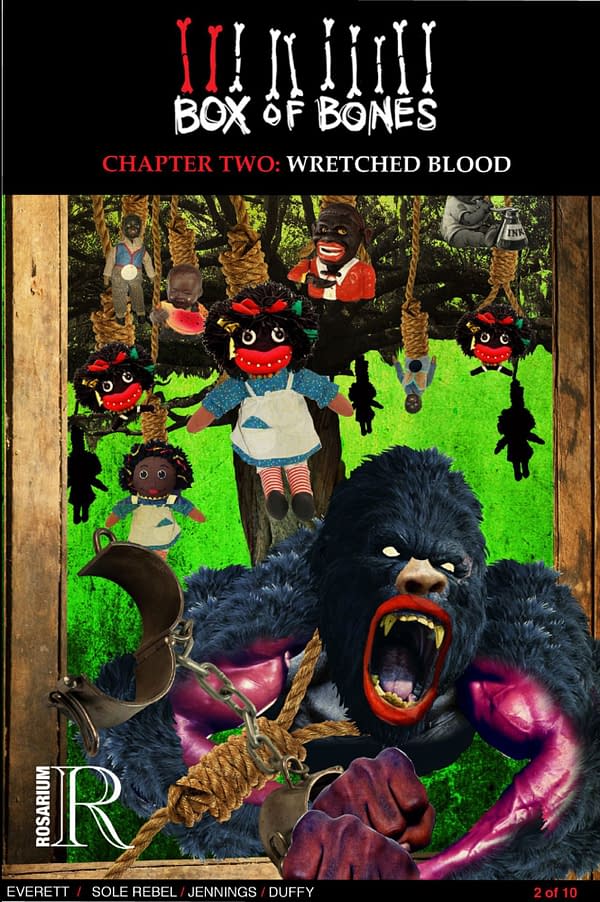 ---
Matthew David Smith and Casey Glisson are the publishers, editors, and writers behind the all-new imprint, Saturday Comics! This is Glisson's debut as a comic writer while Smith has written many comics including Amazing Age and Bee Sting.
Christine Brunson is mostly known for coloring comic books such as Amazing Age and Amazonia as well as writing and self-publishing Undead Norm and Bittersweet Sentinels. Phantom '79 is the first time that she has drawn comic pages based off of someone else's script, and she exceeded our expectations!
Scarecrowoven is a well-known artist in the horror field. He is known for the amount of detail that goes into anything he puts his hands on. He's worked with names such as Rob Zombie, Marvel, and Fright Rags. Saturday Comics were thrilled that he provided the artwork for the Monsters Unemployed story.
JD Benefield self publishes his webcomic Random Battles and does the artwork and lettering for Bittersweet Sentinels. He has supplied the lettering for both Phantom '79 and Monsters Unemployed in Blood-Drenched Creature Double Feature!
GREG ANDERSON ELYSÉE: Welcome, everyone! Please tell us about Blood-Drenched Creature Double Feature. Whew… quite the mouthful.
MATTHEW DAVID SMITH: Blood-Drenched Creature Double Feature is Saturday Comics' first imprint which is a combination of horror magazine and comic anthology. Inside you will find an inside look at the replica of Michael Myers' boyhood home in rural NC, interviews with Michael Baliff of Witching Season Films, Atomic Cotton, and Warlords of WOR. The two comic stories included are Phantom '79 and Monsters Unemployed. Phantom '79 follows three teenage girls who find something sinister as they try to make their own horror movie. Monsters Unemployed is more of a comedy, where we find some classic horror movie creatures who must find new jobs after their movie studio closes.
ANDERSON ELYSÉE: Ah, so this is a whole magazine of horrific goodness. What made you decide to go this route?
CASEY GLISSON: Upon doing comic book and horror conventions after the release of Bee Sting, we met so many talented individuals in both fields. This magazine combines our love for both aspects and each issue will allow us to showcase some of the amazing professionals that we've met over the years.
ANDERSON ELYSÉE: It appears the stories themselves are based around the knowledge of horror already existing. That's something we don't always see in horror stories. Sometimes it's a new threat coming out and the leads have to stumble along trying to find answers, etc, but the first story already has horror fans as leads and the other are the actual monsters. What made you decide to tell these stories like such?
GLISSON: The three teenage girls in our story Phantom '79 definitely have a love for horror from the very first panel. We took the opportunity to express our love of horror vicariously through these girls. Matthew and I both have a fondness for that era as well. The late 70's/early 80's was such a boom for the slasher movie genre. The fact that it was so popular is represented within these characters' interests and hobbies, and the reader will see more of this as the story progresses.
SMITH: Monsters Unemployed is sort of a self-referential and self-deprecating humorous take on horror icons in the same vein as The Munsters, The Addams Family, and Scooby-Doo. Again, this approach was taken to show our appreciation for that type of storytelling.
ANDERSON ELYSÉE: Christine, this is the first time you've drawn someone else's script! Can you tell us about that experience as well as the process?
CHRISTINE BRUNSON: It was a fun challenge. I've worked as a colorist for Matthew a few times so I had an idea of what to expect. Casey is a good friend, so I was honored to be asked to be a part of her story.
I really enjoyed getting feedback on my pages during each phase. Most of the time, I bug my husband to look at my work and he just says, "Looks good." Casey and Matthew gave me some constructive feedback, which helped me know what they liked and what needed work. I sent them pictures of my progress every step of the way. For this story, I went full digital with roughs, pencils, and inking in Clip Studio and did the coloring in Photoshop. Overall, I think it helped me "level up" my skills, and I'm very proud of the story!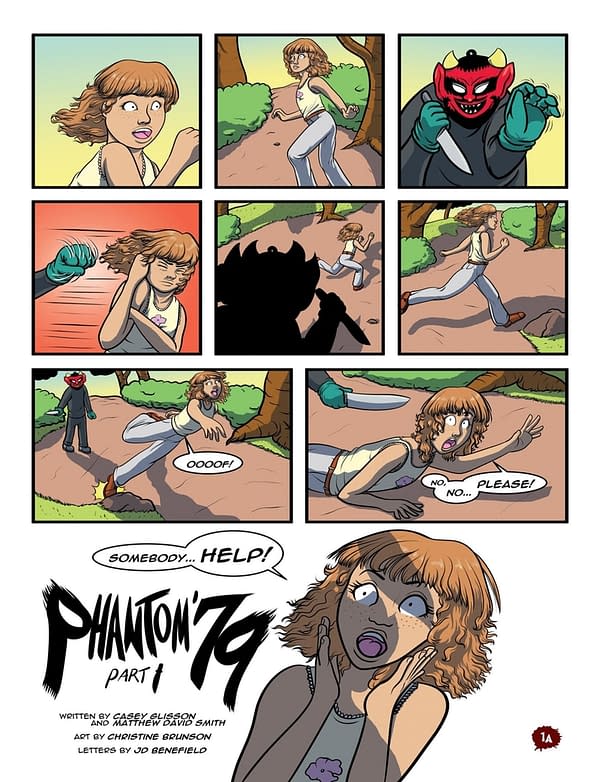 ANDERSON ELYSÉE: Nice. And, Scarecrowoven, what got you on board this dope magazine? What can you tell us about the gritty behind the scenes aspect of being a part of this?
SCARECROWOVEN: Well, I've known Matt for at least 7 years now since we were seated next to each other at HeroesCon. We bonded over our love of Surge soda, and the following year when I came back to the con, Matt had a limited edition can of surge waiting for me, and we have been lovers ever since, [laughs].
I think anything gritty that went on behind the scenes was 1,000% me, unfortunately. I was living in both New York City and Maine at the time and constantly driving between the two states. I missed a couple of deadlines and my mind, but throughout it all, Matt kept his cool and his trust in me. Which is just one example of what a solid dude he is and how great it is to work with him.
ANDERSON ELYSÉE: And finally, JD, you're one of the unsung heroes in the comic world. I'd say most letterers are. What was the process of lettering this book?
JD BENEFIELD: I looked at the script while studying the page and seeing what space was available, which would mean areas of least importance to the story, whether environment or even parts of the characters. From there I would type out the script onto the page, making many adjustments, whether to change font size, using hyphens, having multiple sentences in a bubble or separating them, etc., all for the sake of clarity and effect. For the various signs in the comics, I added in color and effects so it would look like they belonged. Once all typed out everything gets proofread and hopefully come print, errors haven't slipped through!
ANDERSON ELYSÉE: Very cool. So what's the plan for the next magazine issue? What's in the works that you can tell us? And where are you guys hoping to go with it?
GLISSON: We have so many plans for Blood-Drenched Creature Double Feature! Our goal is to maintain a quarterly release schedule, but our second issue will actually be out a little early. Issue 2 should arrive in December, and it will feature two new comics: one by writer/artist Lee Davis and another entitled Here Comes The Butcher by Matthew and Lee Roy Lopez, which is actually a prequel story to Matthew's horror comic/indie movie Bee Sting. Interviews and spotlights will include Small Town Monsters filmmaker Seth Breedlove, toy diorama builder Galaxy of Figures, a look at filming locations of Friday the 13th part 6: Jason Lives with On Set Cinema, and a retrospective on the fifth anniversary of the Bee Sting movie release. There's also potentially one more pretty big interview, but that one might be saved for issue 3…but trust us, it's BIG!
SMITH: We are currently gathering content for the four issues planned for 2020, either in interviews or new comic stories. To say that we are upping the ante with future issues is an understatement. We are striving to make each issue better than the next and we are committed to delivering a quality product!
GLISSON: Just getting this book in the hands of as many comic and horror fans possible is our goal. We hope to get wider distribution and there's the potential to expand some of these short comics into full-fledged limited series or graphic novels. More on that soon!
ANDERSON ELYSÉE: In time for Halloween season, what other horror series or popular stories/movies can you compare it to or which category of horror fans will feel right at home in checking out this book?
GLISSON: Phantom '79 gives off a vibe similar to titles such as Stranger Things, Monster Squad, Paper Girls, and IT.
SMITH: Monsters Unemployed is for fans of the shows previously mentioned, but also Madballs, Ralph Snart, and Count Duckula.
ANDERSON ELYSÉE: Where can people find and purchase this if interested?
GLISSON: You can purchase it in our online store, Saturdaycomics.bigcartel.com.
SMITH: Or check our Saturday Comics Facebook page to find out what conventions we will be attending!
Read more Oh, the Indie Horror!:
Day 1: Diary of the Mad, Black Werewolf by Micheline Hess
Day 2: Home by Kalani Caraballo & Crescent City Monsters by Newton Lilavois
Day 3: WitchDoctor by Kenjji Jumanne-Marshall
Day 4: Boston Metaphysical Society by Madeleine Holly-Rosing & Nightmare Cafe by Chris Johnson
Day 5: InferNoct by Mina Elwell & El Peso Hero by Hector Rodriguez
Day 6: Sin Eaters: Devotion Books by Kai Leakes & Man of Sin by Andrew Guilde
Day 7: Leave on the Light by Bradley Golden & Harriet Tubman: Demon Slayer by David Crownson
Enjoyed this article? Share it!