Halloween is my favorite time of the year. The darkness, the spookiness, and oh, the horror! I've always been fascinated by themes of the unknown creeping in and terrifying us, or the repressed finally erupting into chaos. One thing growing up that I always wanted, though, was to see more characters of color as the main characters and not as the "other" where our background were the source of horror or we were relegated to the sidekick best friend who most likely died. And I'm sure other marginalized groups feel the same in terms of how we're represented and I'm always down for some subtext and social commentary if provided, horror serving as a great backdrop for such stories. So for this feature in the days counting down to Halloween, I wanted to showcase some independent works featuring leads of color, women, LGBTQ+, disabled, especially if created by creators of the like. So without further ado…
---
Oh, the Indie Horror! Day 7: Leave on the Light by Bradley Golden & Harriet Tubman: Demon Slayer by David Crownson
Under Antarctic Press, Bradley Golden has written and released his book, Leave on the Light. He is a Mississippi native, living in Pontotoc and went to Pontotoc High School and is an Itawamba Community College graduate.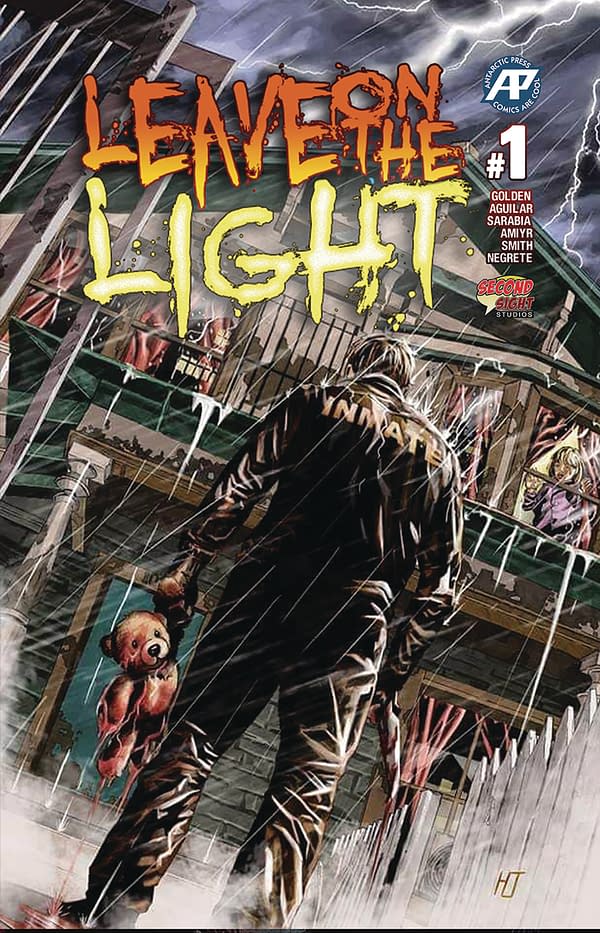 GREG ANDERSON ELYSÉE: Can you give us an introduction to what Leave on the Light is about?

BRADLEY GOLDEN: Sure, Leave on the Light is about a notorious child murderer [named Thomas Lassey] who killed women and children and lay their bodies out in a pattern to confuse the cops. He made killing you into a game. He was caught and sentenced to death. Only thing is he didn't stay dead. He is continuing his murder spree from beyond the grave.
Detective Gary Marshall is a hero cop from Mississippi who was put on this case years ago. [Marshall] is actually was the one who caught the killer prior to him being put to death and resurrected. Him and Lassey have ties because he actually killed one of Detective Marshall's children. Detective Sara McKinney is a good friend to Detective Marshall, who was there for him when he lost his son, and she is helping him deal with his smoking addiction.
ANDERSON ELYSÉE: So what brought Lassey back to life?
GOLDEN: I can't give too much away. I want you to read it and experience for yourself. What I can say is that it has something to do with the cult, books, and electricity.
ANDERSON ELYSÉE: What inspired this story? How did this idea come about?
GOLDEN: The movie Shocker from the 80s definitely influenced this title. Not only that movie but all old school slasher movies like Halloween, Friday the 13th, and Nightmare on Elm Street. I feel that the horror fans who loved old school slasher horror movies will appreciate what I'm trying to do here.
ANDERSON ELYSÉE: Where can people read and purchase this story if they're interested?
GOLDEN: You can pick this up at your local comic store or shop online at the Antarctic Press website.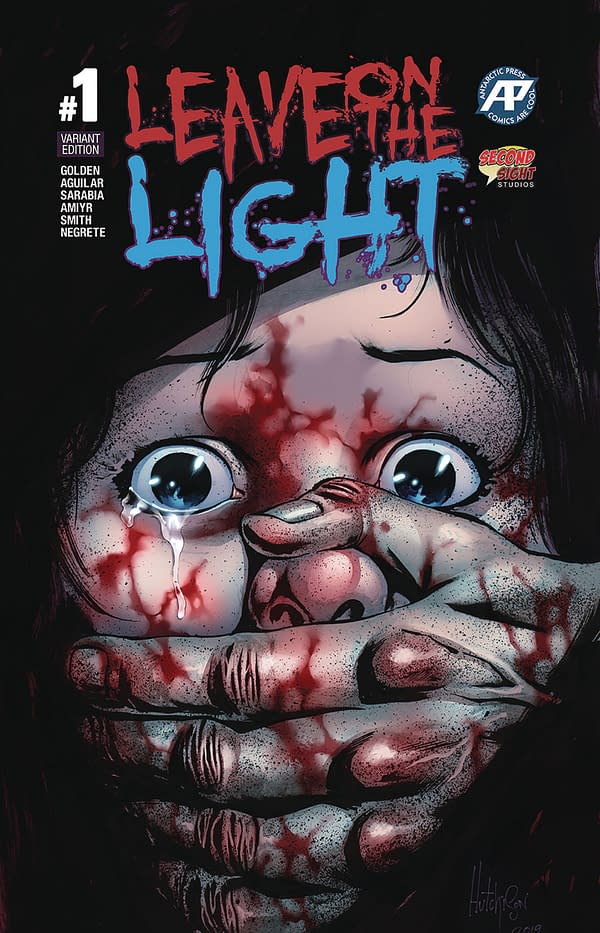 ---
Writer and creator of Harriet Tubman: Demon Slayer, David Crownson was born and raised in the exotic town of Frenchtown, New Jersey. He is first generation African, his birth givers originating from Ghana. Film, comics, art, exercise, and Red Lobster biscuits give him joy.
GREG ANDERSON ELYSÉE: So start us off for the ones you are in the dark. Harriet Tubman: Demon Slayer!
DAVID CROWNSON: When slave owners can't stop the formidable ninja warrior Harriet Tubman from stealing their property, they team up with vampires, demons, witches, and werewolves to stop her. Harriet Tubman must lead a slave family to freedom while battling an army of darkness.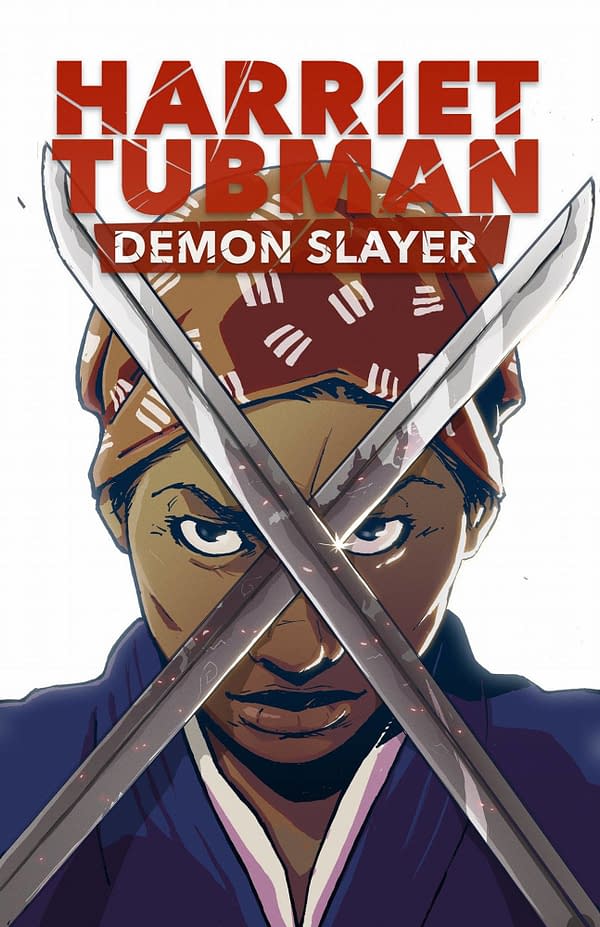 ANDERSON ELYSÉE: Bro, what was on your mind when you sat down to create this story? This ain't normal.
CROWNSON: Lots of DRUGS and by drugs I mean coffee, donuts, and pizza [laughs]. Living and working in New York City had drained my life force so I moved to Ghana, West Africa to stay with family. I highly recommend everyone move to Ghana, West Africa for at least a month. I quit my jobs, gave up my apartment, moved my stuff to New Jersey, and used my pennies to get to Ghana. One day I was home watching TV and there was a Harriet Tubman documentary playing. Harriet Tubman's background is Ghanaian! I didn't know that! After the program ended, I channel surfed and stumbled upon one of my favorite films: Crouching Tiger Hidden Dragon! The scene that played was the katana fight scene between Zhang Zyi and Michelle Yeoh. When it was over, a film called Hansel & Gretel: Witch Hunters started. I was excited as f**k to watch it! The premise always seemed cool to me, but I had missed the film when it played in the states. Unfortunately, the film didn't live up to my expectations. Later that night, I journaled my experiences for the day. Wrote "watched TV, ate, worked out," and other random thoughts. When I looked at the page to read what I wrote, three things popped up at me. They were "Harriet Tubman," "katana fight scene," and "witch hunters." Two seconds later, I screamed, "Harriet Tubman: Demon Slayer!" Wrote it down, underlined it, circled it like a maniac!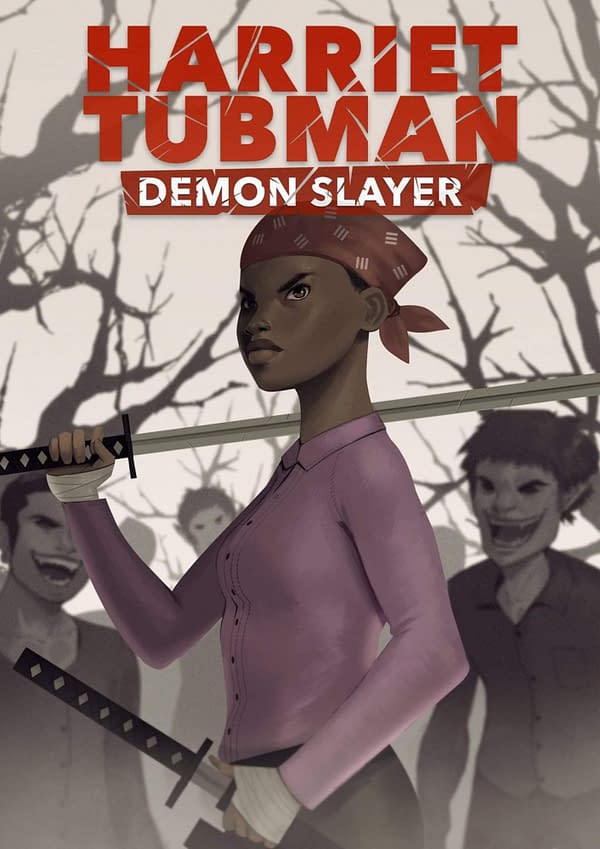 ANDERSON ELYSÉE: [Laughs] I can't. There's inspiration everywhere, huh? Given the historical figure you're showcasing, did you get any push back from people when this book was first announced?
CROWNSON: Yes! Which I was shocked by. Abraham Lincoln was allowed to hunt vampires and kill zombies without any push back. But there was mostly positive feedback on social media and only 5% negative backlash. Another thing that shocked me was that mainly Black people were angry. "F**k this ni**a"! "This book looks corny!" "David Crownson ain't s**t!" "TOTALLY DISRESPECTFUL! I'LL NEVER pick up this book"
This was before the book had even come out. Courtland Ellis, the artist on issue #1, and I had only shared the cover and it went viral! Those comments had terrified me though. I had never had strangers curse me out and tear apart my ideas on the internet like that [laughs]. I was about to call it off. Then a friend of mine pulled me out of the dark.
"Bro!" she said. "There's 7k positive comments and like 80 troll. Make your goddamn comic."
Thank you, Erica!
ANDERSON ELYSÉE: Thank you, Erica! How does your version of Tubman correlate with the actual Tubman, though?
CROWNSON: No differences except the obvious [laughs]. I'd say it's 90% Harriet. My Harriet knows how to read and spell a little bit. Tubman in reality was 100% illiterate.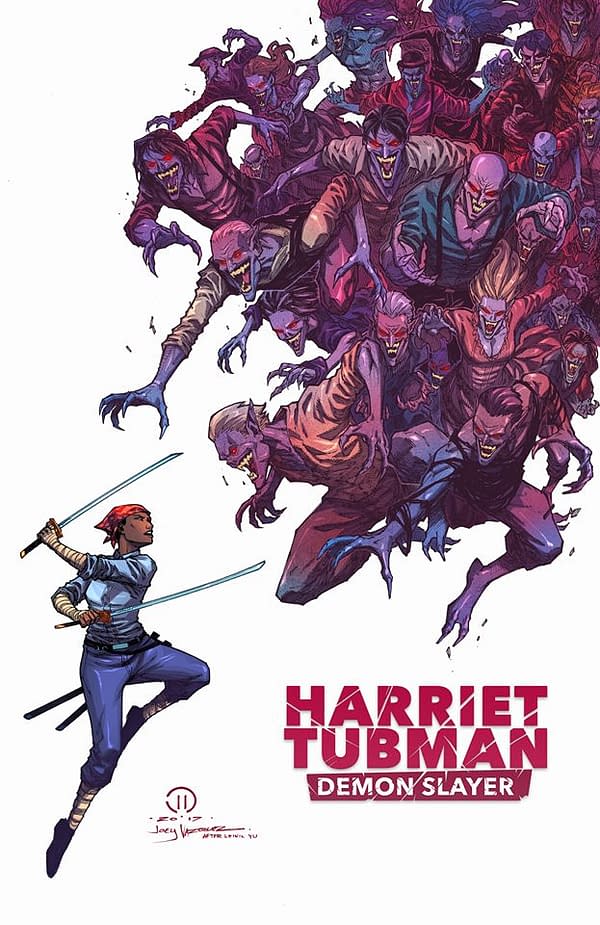 ANDERSON ELYSÉE: Where do the supernatural creatures fall into place? And what is it that they have against Harriet and these Black slaves that they would team up with slave masters? Is there a sort of commentary you're trying to tell and what if so?
CROWNSON: Harriet Tubman is the Boogie woman for both slave owners and the supernatural. In my book, and also in history, everyone thought Moses (her code name) was a white man in blackface. Everyone became extra heated that they were bested by 4'11 illiterate black woman. There's a little bit of commentary…
Maurice is the big bad. You'll meet him in issue #4. He has special connection to Harriet. My inspiration writing was the southern gentleman-ness of Matthew McConaughey and Joel Osteen. Very Texan. He's so much fun to write!
ANDERSON ELYSÉE: You've briefly mentioned Courtland Ellis. Tell us a little bit about the artists you have involved. Who are they and what is your experience like coming up with this world?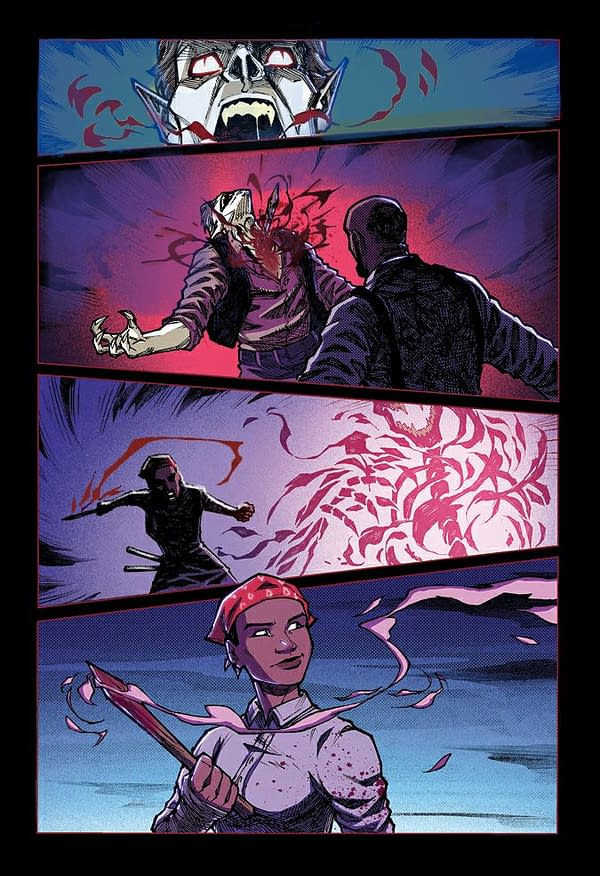 CROWNSON: We got some dope people! I'm big fans of all of them! Courtland Ellis, my friend and partner on this book! Joey Vazquez, who's the fastest in the industry. He drew the cover for issue #2 in two days! Ashley Wood from the Niobe books is doing a cover, same with N Steven Harris! Sylvain Repose from France is making his American debut with issue #3! I have fun creating and recreating characters with each artists. They all add their take on Harriet and keep me sharp. I'm just happy they're having fun too!
ANDERSON ELYSÉE: What's next for the book? What can we expect story wise and plans for the upcoming issues?
CROWNSON: My goal is release to issue #3 by Christmas and to launch the full 180-page graphic novel for worldwide distribution on March 10th 2020, which is Harriet Tubman Day! Story-wise you can expect to see a deeper exploration of Harriet's origin, an introduction to the main villain, more danger for our heroes, someone might get killed off in issue #6.
ANDERSON ELYSÉE: A slight aside, I understand you saw the Harriet Tubman biopic early. What did you think?
CROWNSON: Cynthia Errivo killed it! Kasi Lemmons also did an amazing job getting underneath the humanity of Harriet and family members.
ANDERSON ELYSÉE: If you can pick any actress to portray your version of Tubman, who can you see?
CROWNSON: Samira Wiley all day!
ANDERSON ELYSÉE: Heh. Dope. In time for Halloween season, what other horror series or popular stories/movies can you compare it to or which category of horror fans will feel right at home in checking out this book?
CROWNSON: People who enjoy Buffy, Paper Girls, and Klaus.
ANDERSON ELYSÉE: Where can people read and purchase this if interested?
CROWNSON: Digital copies are available on Comixology. Physical copies are available for ship on demand via Amazon on October 31st.
---
Read more Oh, the Indie Horror!:
Day 1: Diary of the Mad, Black Werewolf by Micheline Hess
Day 2: Home by Kalani Caraballo & Crescent City Monsters by Newton Lilavois
Day 3: WitchDoctor by Kenjji Jumanne-Marshall
Day 4: Boston Metaphysical Society by Madeleine Holly-Rosing & Nightmare Cafe by Chris Johnson
Day 5: InferNoct by Mina Elwell & El Peso Hero by Hector Rodriguez
Day 6: Sin Eaters: Devotion Books by Kai Leakes & Man of Sin by Andrew Guilde
Enjoyed this article? Share it!