Halloween is my favorite time of the year. The darkness, the spookiness, and oh, the horror! I've always been fascinated by themes of the unknown creeping in and terrifying us, or the repressed finally erupting into chaos. One thing growing up that I always wanted, though, was to see more characters of color as the main characters and not as the "other" where our background were the source of horror or we were relegated to the sidekick best friend who most likely died. And I'm sure other marginalized groups feel the same in terms of how we're represented and I'm always down for some subtext and social commentary if provided, horror serving as a great backdrop for such stories. So for this feature in the days counting down to Halloween, I wanted to showcase some independent works featuring leads of color, women, LGBTQ+, disabled, especially if created by creators of the like. So without further ado…
---
Oh, the Indie Horror! Day 9: Mine to Avenge by Robert Jeffrey & Ichabod Jones: Monster Hunter by Russell Nohelty
Robert Jeffrey is the writer and creator of the independent comic series Mine To Avenge: The Book of Layla and Route 3. He is a graduate of the DC Comics Class of 2017 Writers Workshop and was the writer of the short story Where There's A Will… which was published by DC Comics featuring John Stewart, whom Jeffrey deems as the greatest Green Lantern ever.
GREG ANDERSON ELYSÉE: Can you give us a synopsis of your series?
ROBERT JEFFREY: Mine To Avenge: The Book of Layla is a horror/cyberpunk hybrid. It tells the story of the Retribution Cabal, which has made it its centuries-long goal to keep the people of African descent safe from the things that go bump in the night. The story has a healthy dose of alternative historical fiction, over the top bloody action, and strong Black women leading the charge and kicking butt.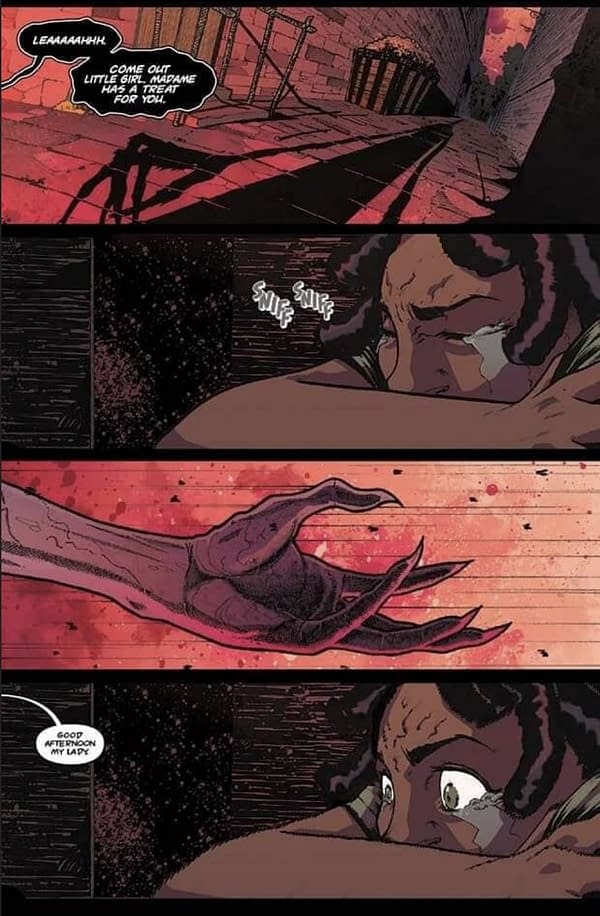 ANDERSON ELYSÉE: Nice. I love strong Black women kicking butt! I notice in the flashbacks, the story takes place in New Orleans? And there's vampires as well! How does that all fall into the narrative you're trying to tell?
JEFFREY: Mine To Avenge: The Book of Layla has its origins in a real historical event. Making a long story short, there was a slave holding couple in 1830s New Orleans named the LaLauries. As was common for the time, they were slaveholders, but were complete psychopaths. They tortured and maimed the slaves which they held to such an extent that they even had local slaveholders in New Orleans clutching the pearls.
The crazy thing about this case is that they were never caught or punished for their actions. So in my story, I've literally made the couple a pair of power-hungry demons who have been chased through the centuries by the Retribution Cabal.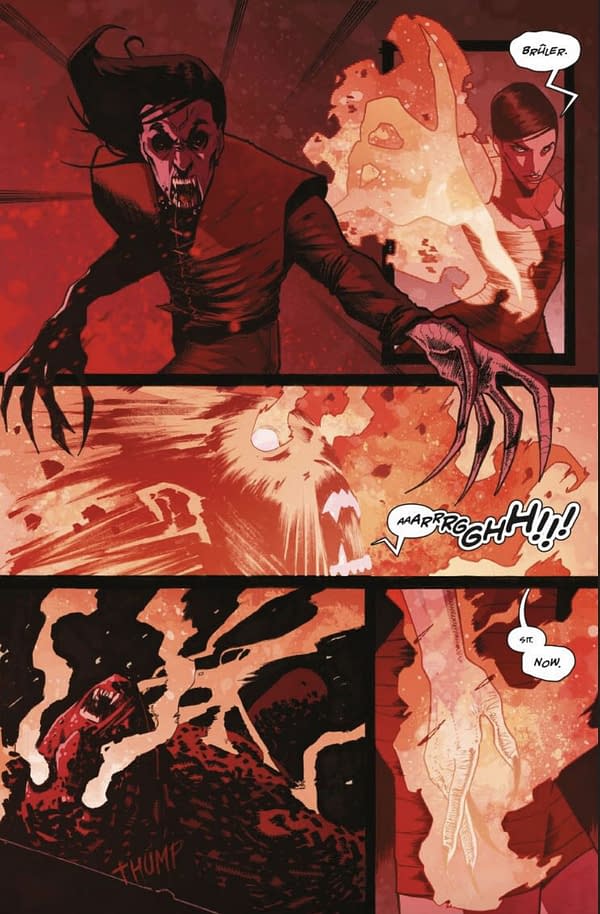 ANDERSON ELYSÉE: Tell us a little about Layla and her crew. Where do they fall into this story?
JEFFREY: In issue one, we're introduced to Prya and Travis who are close to being the only remaining members of the Retribution Cabal. They believe very strongly in what the organization has tried to accomplish over the years, while other former members saw the group as a failing organization.
Layla was one of those former members. She's a direct descendant in the line of Leah, but shirks her "duties" in accepting this mantle and its responsibilities. We'll delve more into that in later issues, beginning with issue 3.
ANDERSON ELYSÉE: Who are some of the other historical figures we'll be seeing?
JEFFREY: We've actually already been introduced to a few: Leah, Delphine and Leonard LaLaurie. Now if we're going to see anyone else pop up during the course of the series, I'd suggest staying tuned [smiles].
ANDERSON ELYSÉE: Well I wanna see Marie Laveau!
JEFFREY: Part of the book does take place in New Orleans…. So who knows?
ANDERSON ELYSÉE: :Sighs: So this what we doing. Anyways, how will you balance the horror elements with the futuristic sci-fi aspect of the story?
JEFFREY: Good question. So I've always wanted to tell a supernatural story that contained a healthy tinge of horror. But I've quite often felt that the genre was outside of my wheelhouse, so I kind of put those plans to rest, thinking maybe I'd come back to it when the right story idea came to light. Then I learned about the LaLauries and something just stuck. I had to tell this story that was rummaging around in my head. It was then that I felt with balancing out my love for cyberpunk/sci-fi with this tale of death and destruction which I'd come across, [this] would provide the perfect opportunity to contribute in some way to the horror genre.
My goal with this story is to not have one element completely overwhelm the other. When reading the story, I'm hoping that readers are taking something of equal worth with me playing in each of these different spheres. It helps to keep the story unique, I feel, and folks seem to be receptive to it. So far, so good.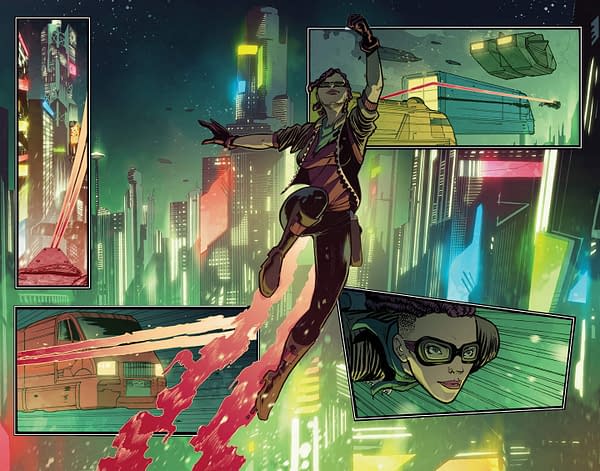 ANDERSON ELYSÉE: You just launched a Kickstarter, right, for issue 3? I see your goal is $4,700. What you got planned for us and potential backers?
JEFFREY: Yup, the publisher launched the Kickstarter on 10-28. As far as rewards, right now it seems like the publisher's mainly focused on getting copies of the books out to people, including the new issue #3. So if you weren't able to pick up issues 1 or 2, there are tiers where you can now do that. There's also a $100 level where you can receive a cameo in issue #4. But this time around it looks like the publisher is keeping it pretty basic in terms of rewards this go around.
ANDERSON ELYSÉE: In time for Halloween season, what other horror series or popular stories/movies can you compare it to or which category of horror fans will feel right at home in checking out this book?
JEFFREY: This would be right up the alley for fans of Blade, Underworld, Get Out, and BPRD.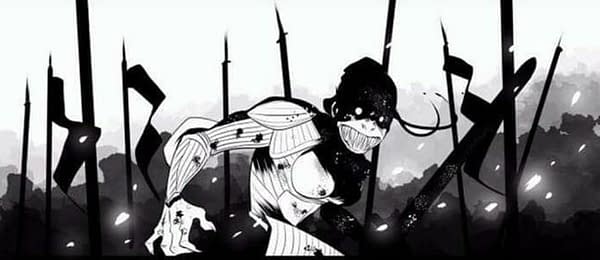 ANDERSON ELYSÉE: Where can people read and purchase this series if they're interested?
JEFFREY: First, thanks for the opportunity to talk about Mine To Avenge: The Book of Layla. If anyone's interested in picking up digital/physical copies of the series, they can head here: https://bit.ly/2PqIcQ4 and visit me at my writing website at www.robertkjeffrey.com.
ANDERSON ELYSÉE: No problem, Robert! And for those reading, be sure to check out the Kickstarter, currently running now until November 27th! It's a great series.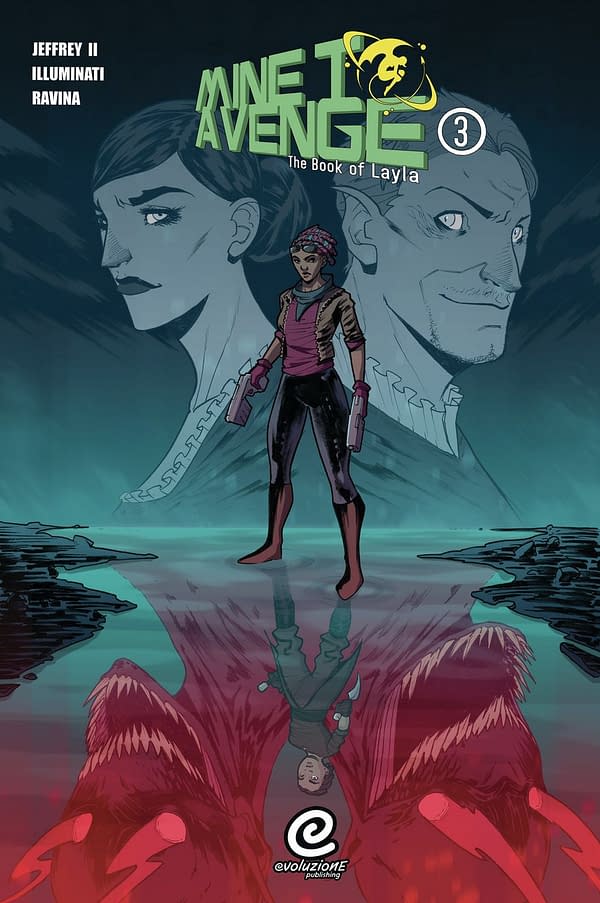 ---
Russell Nohelty is a USA Today bestselling author, publisher, and speaker. He runs Wannabe Press (www.wannabepress.com), a small press that publishes weird books for weird people. Nohelty is the author of many novels, including Sorry for Existing, Invasion, The Vessel, and My Father Didn't Kill Himself, along with the creator of the Ichabod Jones: Monster Hunter, Gherkin Boy, Pixie Dust, and Katrina Hates the Dead graphic novels. He also edited the Monsters and Other Scary Shit and Cthulhu is Hard to Spell anthologies, which both raised over $25,000 on Kickstarter. To date, Russell Nohelty has raised over $125,000 on Kickstarter across nine projects.
You can check out his books for yourself by joining his mailing list at www.russellnohelty.com/mail, where he'll send you a collection of his books for free.
GREG ANDERSON ELYSÉE: Hey, Russell. Can you tell us about Ichabod Jones: Monster Hunter?
RUSSELL NOHELTY: Ichabod Jones: Monster Hunter is about a mental patient who escapes from an asylum and becomes a monster hunter during the Apocalypse, but he doesn't know if he's killing monsters, humans, or its all in his head the whole time.
It's a chosen one narrative flipped on its head, where the chosen one doesn't know if he's a hero or not. I like to think of it as Lord of the Rings set after a modern Christian Apocalypse if Lovecraft wrote it and then it was injected with a ton of wicked humor.
We've finished the first arc, which is up on all platforms, and we're currently working on the second one.
ANDERSON ELYSÉE: Ha. I like that description. As you stated, your book tackles a lead with mental issues. Can you tell me a little about that and what inspired you to go this route?
NOHELTY: There were several reasons. The first of which is that I wanted to tell a chosen one story with the least likely hero imaginable. Ichabod has been convicted of murdering many people. He's schizophrenic and he has trouble discerning reality from fiction and BPD (Borderline Personality Disorder) as well as he hears voices in his head. When the story begins, Ichabod has already been convicted of killing people believing they were monsters. He was wrong once, and the story is about whether he is wrong again.
I wanted to set up a world where the reader didn't know what was happening, but I was always clear that Ichabod was the hero of the story. More deeply, I wanted to tell the story of a person who society has cast off and rejected and show that even somebody that society has written off can be the hero of his own story and has value as a person.
Ichabod is a hero in the only place he can be a hero: after the end of the world. The tragedy of Ichabod is that if he saves the world, he will go back to a world that doesn't care about him, but he still tries to save the world anyway, even if he'll probably die in the process.
I was not a fan of the Joker movie, but it did accurately depict how society abandons people with mental illnesses, at least in the beginning of the movie before it devolves into a killing spree.
Ichabod, while a murderer, believes he was doing things for the right reason. He's remorseful and trying to change for the better, but nobody cares or sees that. They just want to throw him in a padded cell and be done with him, which is an all too common occurrence. Ichabod is the extreme case, of course, but it happens every single day in every city in America, and around the world.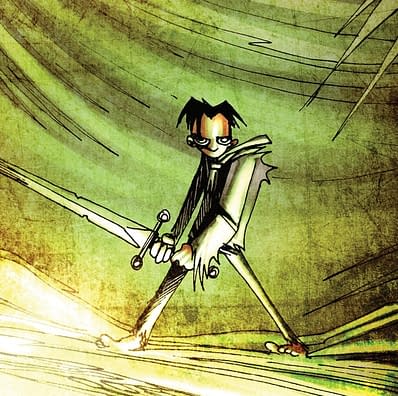 ANDERSON ELYSÉE: Given the subject matter, can you tell us a little bit about the research you went into to help you produce this story if any at all?
NOHELTY: I started the process all the way back in 2010, but the research goes back even further. I have two undergraduate college degrees. One is in broadcast journalism and the other is in sociology, which at the University of Maryland was closely tied to psychology. My specialty was in demographics, which meant I did a lot of analysis about how different populations behaved, which included some deep dives into both mental illness and, more importantly for the purposes of Ichabod, how society treats mental illness. During my time in college I studied it extensively and afterward I continued to read about it. I used to read quite a bit more non-fiction than I do now, but even now I tend toward stories that include characters that suffer from mental illness.
Honestly, my research went back to childhood, when I would watch things like Jacob's Ladder and In the Mouth of Madness with whimsical fascination, and then go study up on it.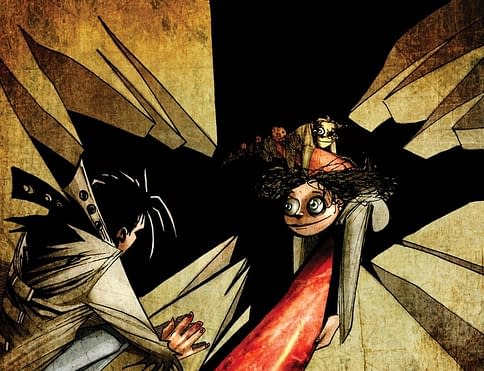 The sociology part is what was more important to me than the psychology part for this story, because while Ichabod is about one character's mental illness, it is really about how society reacts to that, how we can push against what society wants to label us as, and breaking through the shackles society places on you which has deep roots in my undergraduate degree, even though that was all the way back in 2004.
I still prefer books that are told in the first person, though. One of my favorites is And Then I Thought I Was a Fish which is the first hand account of somebody having a bad LSD trip and literally going crazy and what happened throughout his experience. I was less concerned with psychologists discussing mental illness, favoring either first hand accounts or sociological studies about populations, as well as hundreds, probably thousands of news articles.
On top of all that, my wife has worked with neurodivergent people, specifically autistic children, for over 15 years, so we've spent countless nights talking about neurodivergence and how society deals with them. Again, this isn't the exact same type of neurodivergence that Ichabod exhibits, but it certainly informs the societal norms that all neurodivergent people deal with on a daily basis.
I've also collected stories from numerous friends who have some sort of neurodivergence or physical issue,and heard them talk about how society treats them and their issues. Sometimes, the best research is to just be open and awake in the world.
On a personal note, I've dealt with depression and anxiety most of my life and even tried to commit suicide before as well as being suicidal at times throughout my life, including earlier in 2018. While it's not the same as psychopathy or schizophrenia, I have dealt first hand with how society has hands neurodivergent people, and while I now have a good support network and talk about it openly, I dealt with a lot of the same kind of things that Ichabod did when I was younger, as least when it comes to how people looked at me and talked both to and about me.
ANDERSON ELYSÉE: Thank you for being willing to share such a vulnerable situation. I truly hope we can do better as a society when it comes to taking care and treating people suffering with mental issues. Going back to the book, what are a few of the monsters and enemies Ichabod has to go through?
NOHELTY: In the first volume, he fights hulking demon beasts, zombies, and a giant slug monsters. In the second volume, he tackles nightmare elves, fire golems, oversized sand scorpions and…well, more, more than that as well.
Every issue of Ichabod, at its core, deals with a different type of monster and I try to add one big monster fight into every issue.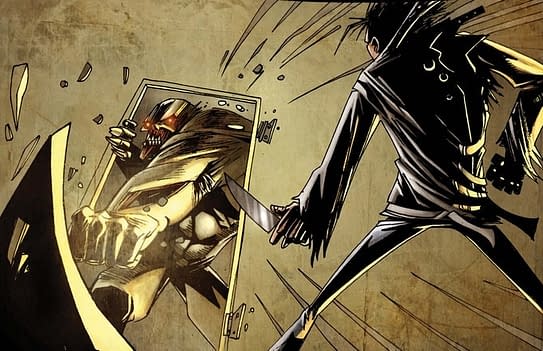 ANDERSON ELYSÉE: Wrapping up, in time for Halloween season, what other horror series or popular stories/movies can you compare it to or which category of horror fans will feel right at home in checking out this book?
NOHELTY: The two biggest influences on this book were Jacob's Ladder and In the Mouth of Madness, along with the work of David Lynch, specifically Twin Peaks and Lost Highway. They are all psychological mindscrews of the highest order and so is Ichabod.
Most of my work deals with far off, strange places like Wonderland or Neverland or Oz, specifically Return to Oz, which is still one of my favorite movies. I love tales where the main characters are transported to other worlds and have to adapt or die based on their own wits.
Social Media Links: @russellnohelty on Twitter and Instagram; Facebook.
---
Read more Oh, the Indie Horror!:
Day 1: Diary of the Mad, Black Werewolf by Micheline Hess
Day 2: Home by Kalani Caraballo & Crescent City Monsters by Newton Lilavois
Day 3: WitchDoctor by Kenjji Jumanne-Marshall
Day 4: Boston Metaphysical Society by Madeleine Holly-Rosing & Nightmare Cafe by Chris Johnson
Day 5: InferNoct by Mina Elwell & El Peso Hero by Hector Rodriguez
Day 6: Sin Eaters: Devotion Books by Kai Leakes & Man of Sin by Andrew Guilde
Day 7: Leave on the Light by Bradley Golden & Harriet Tubman: Demon Slayer by David Crownson
Day 8: Box of Bones by John Jennings & Blood-Drenched Creature Double Feature by Saturday Comics
Enjoyed this article? Share it!