San Diego Comic-Con is nearly over, which is great news! It means that it's almost time for the launch of Marvel Declassified, the new column at Bleeding Cool exploring the shocking untold history of Marvel Comics. Bleeding Cool Rumourmonger-in-Chief Rich Johnston has been teasing the column all week, because it's true what he says: this will be bigger than any news to break at San Diego Comic-Con. Or at least, that's what they've paid us to say.
The whole thing is the brainchild of Bleeding Cool Managing Editor Mark Seifert, a knowledgeable historian and, according to sources, a real person and not a fully sentient artificial intelligence living inside Bleeding Cool's webservers. Ha ha. Those rumors are definitely not true. If Mark were an AI, what need would he have for all of that old paper?! Then again, that's exactly what an AI would say to throw us off its trail. Hmm.
In any case, Marvel Declassified breaks on Monday, and if you've been following along with our little promotional comic book series, Iron Man has been warning all of the other Marvel superheroes to be on the lookout for Marvel Declassified on Monday. In this episode, he pays a visit to Professor Xavier and the X-Men and finds them training in their patented Danger Room. Read on to see what happens, and be sure to check back Monday for Marvel Declassified!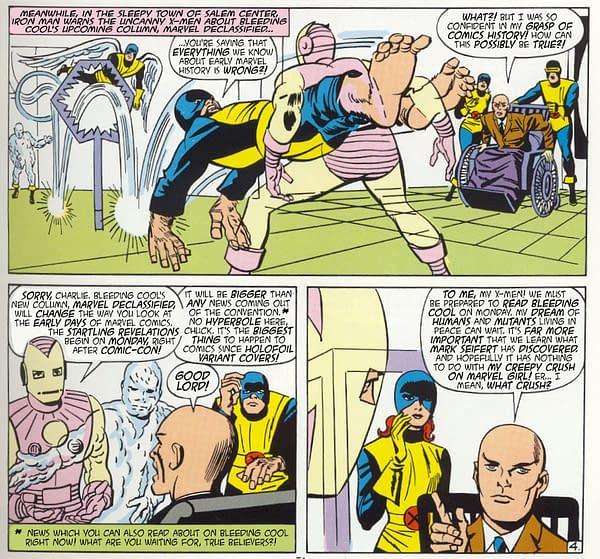 Enjoyed this article? Share it!