One Hour At Image Comics Expo With Cameron Hatheway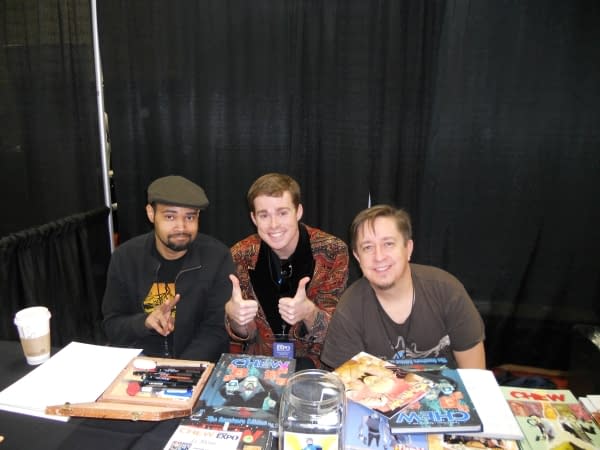 Cameron Hatheway writes for Bleeding Cool;
I arrived at Oakland International Airport on windy and frozen morning. For roughly and hour and some change, a 3-year old child was crying and kicking at my seat throughout the entire flight, taunting me to turn around and punch it in the face. The two small bottles of Jägermeister I snuck on board (I won't tell you where) helped calmed the nerves, so that child can thank its lucky stars that such a magical export from Germany exists. Had I been sober, that child wouldn't have lived to see adulthood, and I would be finding it difficult to get my monthly CHEW fix in the San Quentin state prison.
Driving throughout Oakland, I was extremely tense. Not because the neighborhoods slowly decayed block after block, but because I'm a San Diegan, and a Chargers fan. I was expecting to get car-jacked around every turn, and dragged-out of my vehicle and stabbed because they could smell the San Diego on me. Luckily for me, they were all probably sleeping-in from all the puppy-raping they were doing last night (for they've been known to do that). Finally, the Oakland Convention Center came into view, and that's when things started to grow uncomfortable.
Chain-link fences topped with razor-wire surrounded the entire convention center, with armed guards at each corner tower. It was already a gray morning, but somehow the skies were five shades darker above the convention center, with ravens circling overhead. There was a line out the door, single file, of die-hard fans, praying to be deemed worthy enough to get in steal a quick glimpse their idols. A loudspeaker blared the same message over and over; "DO NOT MAKE EYE CONTACT! DO NOT SPEAK TO THEM! DO NOT MENTION JIM LEE! DO NOT MENTION THE INFINITE!" Once in English, once in Russian, and once in German. A poor sap tripped and stumbled out of line, and instantly the guards and vicious attack dogs were on him, savagely ripping huge chunks of meat from his legs. His cries of agony were quickly silenced after a large guard beat his head in with a steel pipe, sending a warning to the other fans in line to not fuck-up. I took a swig of Jäger from my hipflask and quietly got in line.
Beyond the doors were three stages of TSA-style pat-downs, cavity searches, and poking and prodding. You went in clothed, you came out naked as a jaybird. Thankfully because of my press credentials, I was only stripped-down to my boxers, so my hipflask remained hidden (I won't tell you where). There was a large pit in front of the registration desk, where fans were instructed to throw in all their money. Every single Washington to every last Lincoln. Fans were making the first of many sacrifices, for in order to be admitted into the same room as their gods, they must toss all their wealth aside. Only credit and debit cards were allowed to be kept, for there were ATMs inside (with a $7.50 transaction fee). In the hallways leading up to the main room, propaganda posters lined the walls with what I assumed were Robert Kirkman's piercing eyes on every one. Phrases differed from poster to poster, but all echoed the same messages that were being played over the loudspeakers outside. "DO NOT MENTION THE INFINITE! DO NOT MENTION TONY MOORE! DO NOT MENTION TYRESE GIBSON'S MAYHEM! KIRKMAN IS WATCHING!" Blood was slowly dripping from my shirt from the PRESS button they stabbed into my chest, and as I approached the main room I took another quick swig from my hipflask, entering the great beyond.
At first there was a blinding white light, and silence. When my eyes adjusted, I could not even process the images I saw.
Towards the back of the room there was an Aztec pyramid erected, with a line of half-naked fans climbing the stairs to the top. Blood gushed down the pyramid, and flames sporadically shot-out from all sides. At the top in only a loincloth stood Robert Kirkman, savagely beating his chest with arms covered in freshly spilled blood. Before him lay a great stone table, with a dead fan sprawled across with a sacrificial knife jutting out from his chest. "KIIIIIRKMAN!" he roared, licking the blood off the blade. Two guards removed the corpse from the table and tossed it off the side of the pyramid, beckoning the next fan to meet their favorite creator. This was all too much for me; it felt like I stepped into an Avatar comic book.
Dodging a falling corpse or two, I quickly bypassed the pyramid and made my way towards Artists Alley, where it was tables filled with artists and publishers as far as the eye could see. Without the presence of DC and Marvel, Image reigned supreme at their own convention, and all the smaller publishers had quickly acquired a table to snack on any scrapes that the top dog flicked their way. As I walked down the middle of the aisles, publishers and creators with arms outstretched grasped at me, some motioning at me to come their way. One or two begged I look at their ashcan, another offered me a postcard with his original doodle of Spawn. Upon closer inspection it seemed they were all shackled to their tables, unable to leave. Before I could even ask them how they could leave to use the lavatories, the unwelcomed stench hit me square in the nose, and I feared that I would pass-out from the odor. At the end of every table there was a designated waste pail, some filled to the brim with feces.
Regaining my footing, I made my way towards the iron cages at the far side of the room, where I discovered both John Layman and Rob Guillory signing away inside. "Rob, John, I thought you both were big deals?" I nervously asked, perplexed by their situation. Before he even said a word, I could smell the alcohol on Layman, signing literally anything you put in front of him, including his empty bottle of cheap bourbon. "It's all a show!" he slurred, waving his Sharpie around wildly. "I don't even write the comic! Kirkman does! But don't tell anyone that I said that, or else they'll send me to the Rape Dungeon again!" And with that he burst into tears, sobbing uncontrollably at the path life had chosen for him. "Look what you made him do! He's crying again!" Guillory shouted, slamming down his sketch pad. In one smooth movement he quickly took off his cap, removed a 12-inch dagger, and extended his arm through the bars, swiping at me wildly. "YOU SAW NOTHING!" he bellowed, "NOTHING!" I slowly backed away from the cages, but not before purchasing a signed (and personalized) copy of CHEW #24. They say you are what you eat, and it appeared to me that John Layman was feasting on nothing but despair porridge that convention.
Figuring I wanted to leave than spend another five minutes there, I noticed I was starting to be followed by security. They were onto me, and it seemed I wouldn't be leaving in one piece. I asked too many questions, and smelled too many foul smells. I casually made my way over to the convention map, and spied something curious; Robert Kirkman's Aztec Sacrifice Pyramid was on one side of the room, and Rob Liefeld's Chamber of Excruciation was on the other. Dead center was the Image Enlightenment Booth, with access to the loudspeakers. I took out my hipflask, had my final sip of Jäger, and quickly formulated a plan.
Three armed guards were following me at this point, with five more surrounding the Image Enlightenment booth. Still with flask in hand, I pretended to take one final swig as the guards started surrounding me, with guns at the ready. In one lightning-fast movement, I threw the empty canister as hard as I could at the guard with the eye patch, hitting him square between the eyes. Instantly I ducked, and the guards all around me started to open fire. Amidst the confusion, the guards were taking themselves out with their own weapons, and several nearby fanboys were caught in the crossfire. "Oh the humanity!" I heard Ron Richards of iFanboy shout, and after the gunfire stopped I sprinted towards the Image Enlightenment booth. Jumping over the table I duck-and-rolled to safety, and saw I was right underneath the loudspeaker microphone. Before anyone could tackle me, I hit the button, and shouted into the mic "WHEN'S THE NEXT ISSUE OF THE INFINITE COMING OUT?!"
And with that, everything went silent. Shock had paralyzed the entire convention center, and all hell was about to break loose.
Kirkman atop his sacrificial pyramid started to slowly but steadily get angry, huffing and puffing and beating his bloody hands on his bare chest. "WHO MENTIONED THAT COMIC? WHOOO MENTIONED IT?! KIRKMAN! KIIIIIRKMAN!" He roared, charging down the pyramid while swiping at those in line with a double-bladed battle axe. Blood splattered every which way, and dozens of fanboys could be heard muttering ecstatically about how they were touched by Robert Kirkman in their final breaths.
On the other side of the arena, Rob Liefeld was in the beginning stages of Hulking out. Hips, biceps, glutes, and neck were bulging beyond that of the average human being, and ferociously Rob stomped forward, demanding to know who brought up the comic that was not to be named. "I WILL DESTORY EVERY SINGLE ONE OF YOU! I WILL EAT YOUR BABIES AND YOUR BABIES BABIES!" he roared as he nabbed a Lord of the Rings replica Anduril sword (which was waaay overpriced if you ask me).
Both Kirkman and Liefeld had been avoiding each other all convention, so it made each of them more furious when they came face to face at the Image Enlightenment booth. Quickly I scampered-off underneath the booth table, and made a mad dash towards the exit. Behind me both Kirkman and Liefeld had engaged in combat, and both were hurling words as well as weapons. I could feel in my bones every clash of steel, and in my mind echoed the battle-cries. "KIRKMAN!" "HAWK AND DOVE!" "KIIIIIRKMAAAAN!" "DEADPOOOOOL!"
Chunks of ceiling started to fall as I blindly dodged towards the exit. I briefly bumped into Brian K. Vaughan, told him how much I'm looking forward to Saga, and a second later a piece of rubble smashed him into a pulp. "So much for that series," I thought to myself as I kept running. I later wondered how much I could get for on ebay for my shirt that was splattered with BKV DNA.
Just as I made my way outside the convention center, the entire structure collapsed on itself, and millions of voices suddenly cried out in terror and then were suddenly silenced. I looked behind me and saw only a pile of concrete and broken dreams. So much for the Image Comics Expo in 2013.
In the end, I take with me only memories of that fine hour spent at the convention. I met all the people I wanted to meet, and even got some Brian K. Vaughan blood on me for free. It'll be awfully hard for Image to carry-on with their company in 2013, but something tells me they'll be back in the headlines in a big way soon enough.
Now then, where's the nearest comic book store from here?
Cameron Hatheway is the host of Cammy's Comic Corner, a weekly audio podcast. You can follow him on Twitter @CamComicCorner.