Creator's Commentary: Pasquale Qualano Talks Dejah Thoris #3
Dynamite has sent us a creator's commentary by artist Pasquale Qualano for Dejah Thoris #3, with a script by Amy Chu and a cover by Mike McKone.
The Princess of Mars faces off against the Jeddak of Thurd in a deadly game of Jetan in order to win her team back.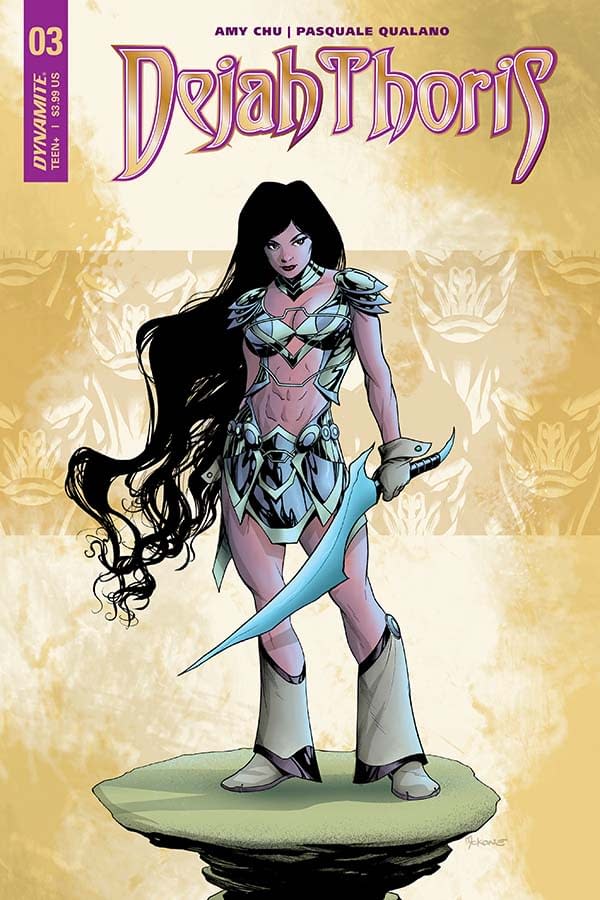 *****
Hello there, and welcome back to Barsoom! Artist Pasquale Qualano here!
We pick up where we left off in our last issue as Dejah Thoris and Kajas are taken to the hall of the Jeddak!
Page 1:
The Jeddak welcomes Dejah in his throne room. I love the Valentina colors in this page. She always makes something spectacular of my art.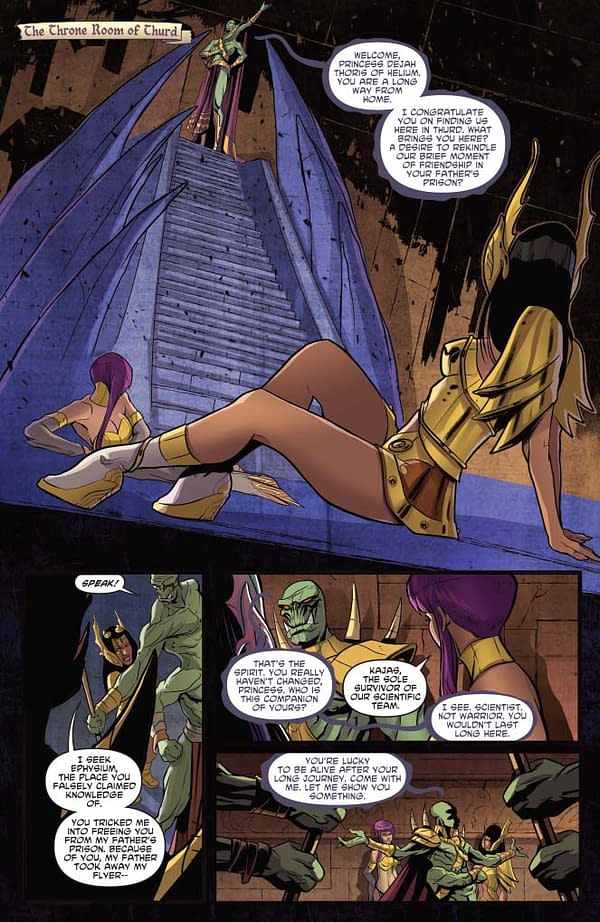 Page 2:
Nars the Jeddak shows Dejah the ruins of his city and, in panel two, the poverty of his people.
For this page, I took inspiration from the ruins of the Arabian ancient city.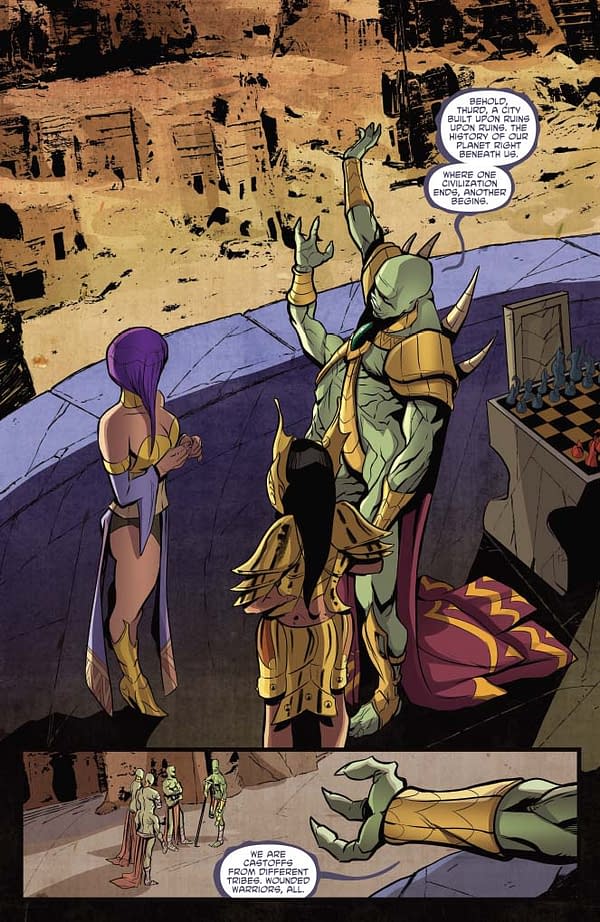 Pages 3, 4, and 5:
This is starting a flashback of the story of Nars and his people.
Looking at a new city to establish themselves, as in the ruins, they rebuild a community. The White Apes are attacking the Tharks! I love to draw battle scenes and soldiers in action. The Tharks are fighting like a proud tribe.
When the Red Martian troops get here, they do not spare any lives.
And: Dejah's father captures Nars!
Pages 6 and 7:
End of the flashback, and Nars challenges Dejah.
To play Jetan chess is not the way you 'd imagine.
Page 8:
Splash page! I've drawn a large crumbling outdoor arena. I had a great time to drawing this page.
Always thanks to Valentina's colors for the vibe of this page.
Page 9:
I love Amy's idea for a challenge of Jetan chess in the ancient arena – with gladiators!
Page 10/11:
Double splash page!
Amy always gives me the opportunity to express myself in my art.
I love to work with Amy. In this double page spread, I draw the start of the battle … Tharks vs. Red Martians! Here too I had a lot of fun drawing this page.
Pages 12 and 13:
Nars and Dejah playing chess, but the Jeddak is in trouble.
Page 14:
Nars doesn't respect the rules, he lets new gladiators in the arena!
Page 15:
Sajad is fighting mightily. I love to draw Sajad in action.
In the last panel, Dejah grabs a weapon from one of the guards.
Page 16:
Dejah shoves Nars hard into the arena and Nars falls at the feet of Dejah . I like to draw Dejah as a warrior princess
Page 17:
Sajad grabs Nars and holds his blade to the Green Martian's neck.
In panel two, we see Dejah's fiery gaze.
Nars surrenders.
Page 18 and 19:
Nars leads Sajad, Dejah and Kajas through the city. And on page 19, we have a splash page with Tharks working.
Page 20:
Another splash page.
The Jeddak points to a big jagged hole in the ground!
In our next issue, #4 , you'll have a big adventure! What lurks under the ground? Don't miss it!