Peter David Suffers A Stroke On Holiday (UPDATE)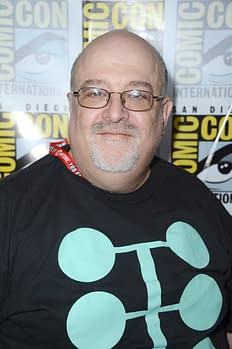 Peter David writes;
We were on vacation in Florida when I lost control of the right side of my body. I cannot see properly and I cannot move my right arm or leg. We are currently getting the extent of the damage sorted out and will report as further details become clarified.
Current writer of X-Factor for Marvel, with a massive body of work from comics like Incredible Hulk to Aquaman to Fallen Angel, TV like Babylon 5 to Space Cases to Ben 10, and novels from Star Trek to Knight Life to Apropos Of Nothing, and a raconteur in his own right, Peter David is a legendary comics creator. He and his family are in our thoughts and prayers.
UPDATE: Kathleen David writes;
Celebration Hospital did a great job of getting him in and starting treatment. His blood pressure was scary scary high so their first job was to get it back to closer to normal. They did some tests and a CAT scan to check for a stroke. The CAT scan didn't show anything but they were going with their observations and the evidence that his blood work was not good and getting worse. The decision was made to transfer him down to Florida Hospital in downtown Orlando where they could do an MRI and some other tests Also Florida hospital has the best cardiac unit and they were worried that he had a heart attack or a cardiac episode (having told Peter that he might be having a cardiac episode, he put on his best comic guy voice and said, "Worst Episode Ever." So Ariel got to take "ride in an ambulance" off her bucket list as she went down to the hospital with Peter while I dealt with getting us out of our hotel room.
…
He went into the Florida Hospital in the Cardiac Care Unit as they try to ascertain what exactly happened. They did an MRI about midnight along with some other tests. They came to the conclusion that it was not a heart attack but a stroke and moved him to the neurology unit where he is now.
As he stated, he has lost most of the use of his right arm, his right leg is incredibly weak, the vision in his right eye is blurry, and the right side of his face is drooping slightly. But the brain is there with all its quips and quick retorts. He has had the nurses laughing a lot.
Today we figure out what the next step is and where it is going to happen. Tonight the New Year Begins and for us it is a very different beginning than we thought we were going to be having.