Comic book veteran writer Peter Milligan has been in the wars, rather.
Had a seizure last night. Feel physically and emotionally sick today. Forwards!

— PETER MILLIGAN (@1PeterMilligan) September 5, 2017
A lot of worries, concern and well wished from those who know him or know his work followed and Milligan was grateful.
To everyone who's wished me well, thanks! And to those who haven't: you're the one who has to live with yourself.

— PETER MILLIGAN (@1PeterMilligan) September 5, 2017
But he didn't lose the ability to exploit the situation for what really mattered:
Probably the only thing that'll make me well again is you pre-ordering this comic!!! https://t.co/3eHGJWMPGy

— PETER MILLIGAN (@1PeterMilligan) September 7, 2017
Kid Lobotomy with Tess Fowler the first ongoing title from the new Black Crown imprint from IDW, showrun by Shelly Bond…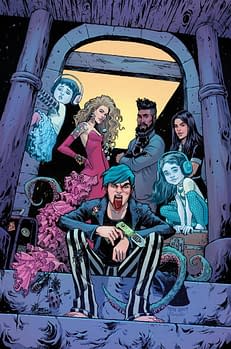 KID LOBOTOMY #1 CVR A FOWLER (MR)
(W) Peter Milligan (A/CA) Tess Fowler
Kafka meets King Lear by way of Young Frankenstein in KID LOBOTOMY, a dark, demented, monthly satire that follows a dysfunctional family of hoteliers. Will sibling rivalry, seduction, and shapeshifting eventually lead to sanity or salvation?
Big Daddy is a rich hotelier who, in a cracked echo of King Lear, appoints his youngest descendant to manage The Suites, a peculiar hotel located behind the Black Crown Pub. Affectionately known as Kid, his good looks and swagger can't hide a rough childhood of strange therapies and brain operations that have awakened inner demons and psychodramas. This of course makes him eminently qualified to perform lobotomies. A failed rockstar/successful madman gets one last change to prove his worth-and regain his sanity-by turning the hotel that was once his childhood sanctuary into a lucrative business, despite a host of obstacles-including his own sister-who would love nothing more than to see him fail miserably.
Kid Lobotomy is co-created/written by Peter Milligan (Shade, the Changing Man, Brittania, Hellblazer) and illustrated by Tess Fowler (Rat Queens) with "A" covers by Fowler, a "B" cover by Frank Quitely, and a retailer incentive cover by comics superstar Frank Quitely (Jupiter's Legacy, We3)
Bullet points:
•  Grab your cockroach! Black Crown debuts here!
•  Special 23 pages of story in the first issue!
•  Letter columns, creator interviews, process pages & more!
•  Previews for upcoming Black Crown series!
Oh, look, it's working:
Peter it's done. I've preordered at Gosh and I can't wait to get hold of it. Hope u get better soon.

— Samir (Abusimsim) 🙃 (@_simsima1980) September 8, 2017
I'm already feeling a little better because of this! https://t.co/K95e41Ju9c

— PETER MILLIGAN (@1PeterMilligan) September 8, 2017
Hope you get better, Peter!
Enjoyed this article? Share it!