Love Yourself, the ninth volume of cult-hit comic book Princeless by Jeremy Whitely, Emily Martin and Brett Grunig, published by Action Lab Entertainment, has had all four solicited issues cancelled. Which seemed like rubbing it in, in the same week that Bleeding Cool noted that Whiteley's Future Foundation for Marvel Comics was coming to a very early end.
But, it was not to be, For although these individual issues will no longer be published in 2019 as originally planned, I understand that the ninth volume of this comic will instead be published as an original done-in-one graphic novel in 2020.
Princeless tells the story of Princess Adrienne, a princess who questions and challenges expectations and stereotypes associated with princesses. From a young age, Adrienne resents any limitations placed on her as a princess and struggles against them in order to define her own role. On her 16th birthday, she is tricked into imprisonment in a tower, as is the expected fate of any princess in the land. Instead of waiting for a prince to rescue her, Adrienne escapes from her tower with the aid of her guardian dragon, trades her dress and crown for armour and sword and sets out to rescue her six sisters from their own prisons.
Here's what the ninth volume was looking like before the big changeover…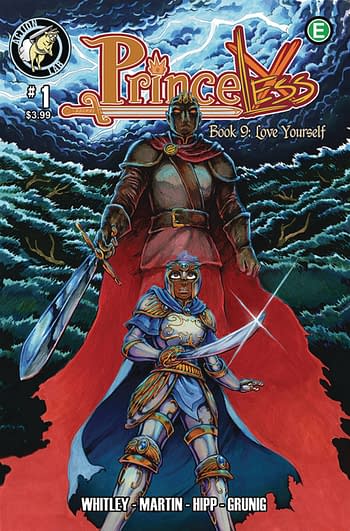 PRINCELESS BOOK 9 LOVE YOURSELF #1
(W) Jeremy Whitley (A) Emily Martin & Various (CA) Emily Martin, Brett Grunig
A storm is gathering. Now that the Black Knight has been unmasked, Adrienne knows things she'd never considered before and the path to saving the day becomes clear. It leads one place: into a labyrinth outside Castle Ashe. Meanwhile, Devin is a prisoner and headed right into the heart of the elf kingdom. The only person who can save him is Tempest, but after last issue, she's unconscious. How will he make it out?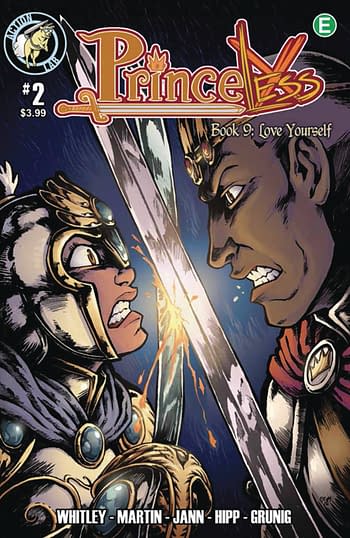 PRINCELESS BOOK 9 LOVE YOURSELF #2
(W) Jeremy Whitley (A) Emily Martin & Various (CA) Emily Martin, Brett Grunig
Some time ago, King Ashe locked his daughter Adrienne in a tower to wait to be rescued. Adrienne broke out, saved several of her sisters, and was on the way to save the last one. But now she's face to face with the one foe she's never been able to overcome: her own father. Now it's Adrienne versus King Ashe for all the marbles. Meanwhile, Devin is loose in the elf castle and looking for Tempest, but he's about to find something much more important.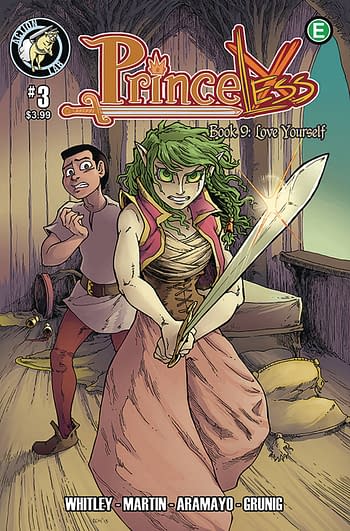 PRINCELESS BOOK 9 LOVE YOURSELF #3
(W) Jeremy Whitley (A/CA) Emily Martin, Brett Grunig
Last issue it was beginning to look like Adrienne finally had a chance at what she wanted, but then it was all snatched away from her. Now, after all this time spent saving sisters, Adrienne has one last person left to save – her own father. And far off in the woods, Devin and Tempest are being hunted by an assassin bent on finishing a long overdue contract. Not everyone will make it out of this in one piece.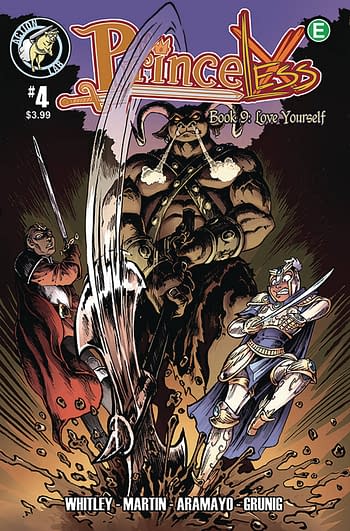 PRINCELESS BOOK 9 LOVE YOURSELF #4
(W) Jeremy Whitley (A/CA) Emily Martin, Brett Grunig
Book 9 of Princeless comes to an epic conclusion as Adrienne faces off against the terrible monster who wants nothing more than to destroy her father. But even if she wins the day, far away in the woods Devin has put his life on the line to protect something he cares about and it's up to Tempest to make sure he doesn't lose that life.
Enjoyed this article? Share it!