Psychiatric Tales Presents A Glimpse Behind The Scenes of Mental Health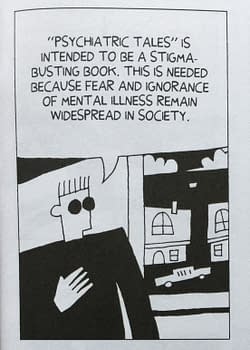 The stigma of mental health and its misrepresentation and villainization in the media is so commonplace that it has been a cliche for generations. Darryl Cunningham's collection of comics, Psychiatric Tales, gifts the viewer with a rare, humanized vision of what it is like for those who work within the mental health field, and for those who suffer from mental health afflictions. It is a candid, with simple though evocative black-and-white drawings in a style reminiscent of newspaper strips, and a simple layout that doesn't detract from the seriousness of the subject and allows the reader to fill in the details with that of people from their own lives.
Psychiatric Tales includes stories of dementia, depression, and personality disorders, and how they affect people who suffer from mental illness, and those around them without resorting to horror-movie tropes or forgetting that these are very debilitating conditions that impact real people every day of their lives. Unlike modern horror cinema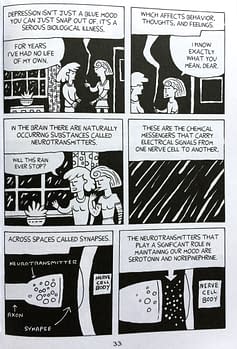 and lurid detective novels about the dangerous mentally ill people out to get you, and promote discrimination and maltreatment of the mentally ill, Psychiatric Tales replaces fear of the unknown with first-hand knowledge. With mental illness impacting about one fifth
of Americans (see: Nami), and other people world-wide, it is important for people to see compassionate and reality-based portrayals in the world around them.
I would recommend this book to anyone wishing to know more about mental illness; and hope that any of our readers who suffer seek help and find the help and understanding they need and deserve.