Puffin vs. Penguin OGN by Helaine Becker and Kevin Sylvester
Puffin vs. Penguin is a new graphic novel by Helaine Becker and Kevin Sylvester, to be published in the autumn of 2023.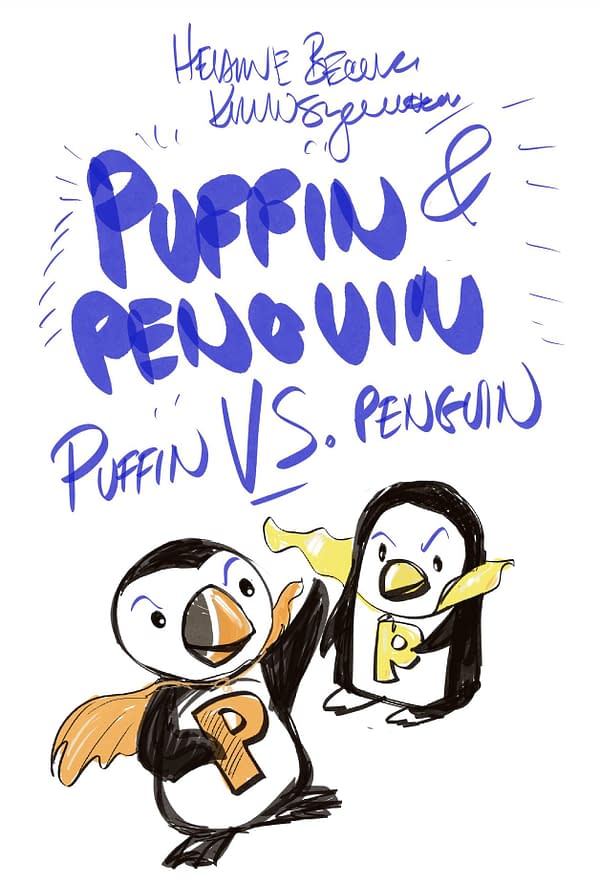 Puffin vs. Penguin is a middle-grade graphic novel about friendship and collaboration and was picked up by Katie Scott at Kids Can Press,
Helaine Becker has written over ninety children's books, including A Porcupine in a Pine Tree, Deck the Halls, and Dashing Through the Snow; You Can Read, and Sloth at the Zoom, non-fiction, including Counting on Katherine: How Katherine Johnson Saved Apollo 13, Megabugs, Worms for Breakfast, Hubots, Zoobots, Monster Science and Don't Stress! and novels including Gottika, Dirk Daring, Secret Agent, and How to Survive Absolutely Anything. She has written four seasons of Dr. Greenie's Mad Lab, a TV segment on Planet Echo.
Kevin Sylvester is a Canadian broadcaster, writer and cartoonist, a popular sportscaster for national radio sports on CBC Radio, and anchored the radio coverage for four Olympic Games. He is also known for writing or illustrating the Minrs and Neil Flambé Capers novel series, as well as Sports Hall of Weird, Gold Medal for Weird, Don't Touch That Toad, Splinters, Game Day: Meet the People Who Make Sports Happen, Showtime: Meet the People Behind the Scenes, Follow Your Money: Who Gets It, Who Spends It, Where Does It Go? and Shadrin Has Scored for Russia.
Helaine Becker's agent Susan Schulman at Susan Schulman Literary and Kevin Sylvester's agent Michael Levine at Westwood Creative Artists represented the pair for world English rights.
Kids Can Press is a Canadian-owned publisher of children's books, with a list of over 500 picture books, non-fiction and fiction titles for toddlers to young adults. Started in 1973 as an initiative from the Ontario College of Art to take advantage of the growing nationalism within Canada during the '70s to provide locally relevant children's material, the company was purchased by Canadian animation firm Nelvana in 1998 for $6.1 million. Their list includes characters such as Franklin the Turtle, the single most successful publishing franchise in the history of Canadian publishing, which has sold over 65 million books in over 30 languages around the world.