Back in February (which seems a lifetime ago, right?) Bleeding Cool let you know that the then-upcoming Joker 80th Anniversary 100-Page Super Spectacular #1 would feature the Punchline Origin, the origin of hot new Batman character, Punchline. Which was handy to know before the comic book went to Final Order-Cut Off and was something DC Comics failed to mention in the solicitation. Three months later, it's going to FOC again. This time, however, we have a little preview of what is to come.
UPDATE: In his latest newsletter, writer James Tynion IV states;
The first out of the gate is going to be the JOKER: 80TH ANNIVERSARY SPECIAL, which has its FOC on Monday. This is going to feature a story that reveals Punchline's secret origin (spoilers: she is an original character, and wasn't any of the older characters you've been tweeting at me asking if she is). Mikel Janin drew the story, and did a f-cking phenomenal job, and I am very very excited for you to read it. This whole book is going to be something twisted and special, and highlight the greatest villain in all of comic bookery.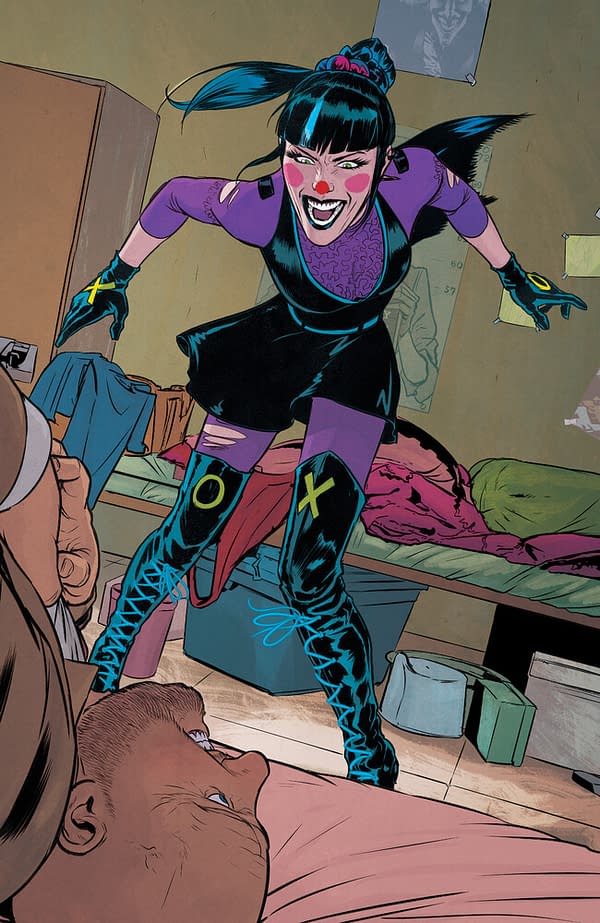 "WHAT COMES AT THE END OF A JOKE?"
Spinning out of the pages of his best-selling run on Batman, series writer James Tynion IV tells the origin story of the sensational new character Punchline! With stellar art from the acclaimed art team of Mikel Janín and Jordie Bellaire.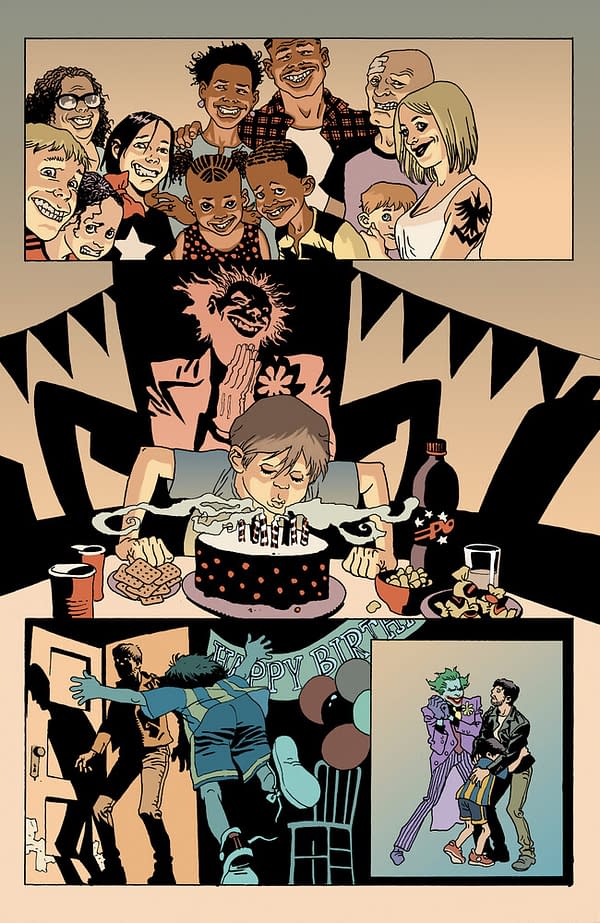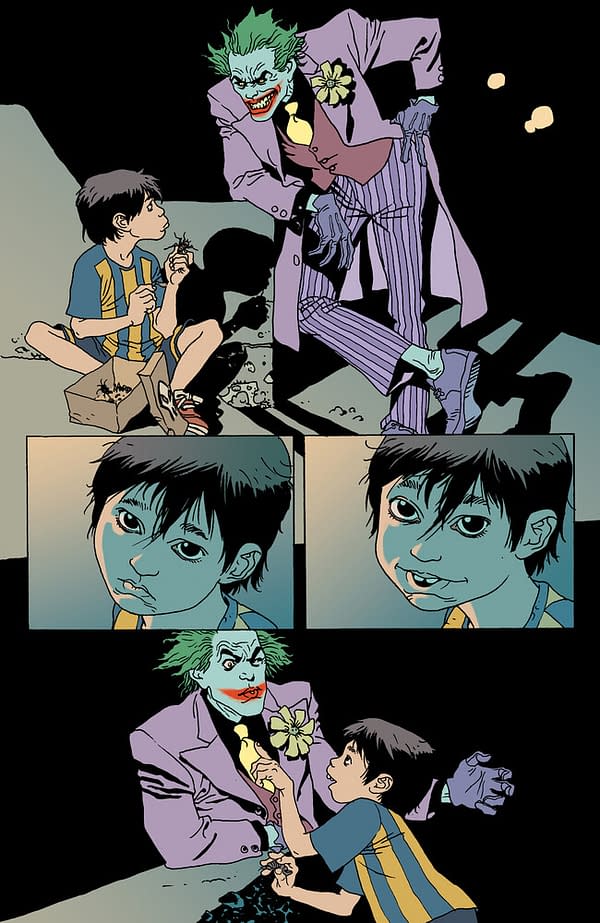 "BIRTHDAY BUGS"
The Joker turns birthday clown in this tale by Tom Taylor and Eduardo Risso. When The Joker goes to the home of an accomplice that did him wrong, he finds the man's young son sitting alone picking apart bugs on his stoop. The boy assumes that the Joker is the clown for his birthday party and tells him that no one is coming. The Joker finds this unacceptable and goes around the neighborhood, "convincing" families to attend the birthday party and make it the best day he's ever had. As for the boy's father, he's in for the worst moment of his life!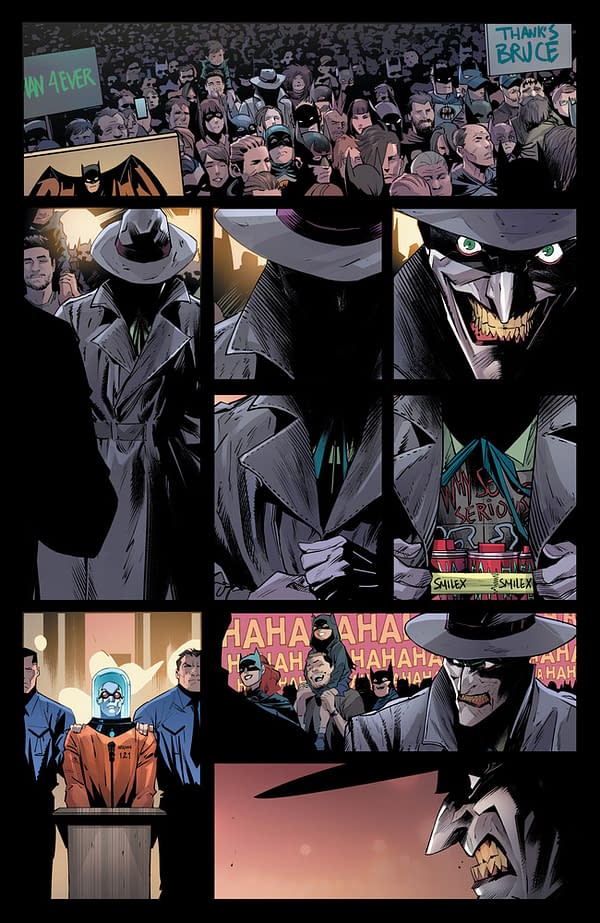 "KILL THE BATMAN"
In a story set in a not-so-distant future the Joker has finally made his dream come true of killing the Batman and we see the all the DC universe in mourning. But this act doesn't provide the catharsis the Joker thought it would…he needs an encore…something at Batman's public memorial perhaps? Written by acclaimed screenwriter Gary Whitta, popular writer/podcaster Greg Miller and rising star comic artist Dan Mora.
This is a must-have one-shot for any fan of The Joker; this 100-page tribute also includes stories from fan-favorite creators such as Scott Snyder and JOCK (The Batman Who Laughs, Batman: The Black Mirror), Denny O'Neil (Batman) and Jose Luis Garcia-Lopez, Paul Dini, Brian Azzarello and Lee Bermejo (Joker), Tony S. Daniel (Batman) and more. The comic book also features a gallery of covers spotlighting key moments in The Joker's history, along with a gallery of tribute from renowned comic artists such as Kelley Jones, Ivan Reis, Fiona Staples, John Romita Jr. and others. For the ultimate collector, eight variant covers will be available (check stores for details) celebrating eighty years of the Harlequin of Hate.
The Joker 80th Anniversary 100-Page Super Spectacular will be available in open and operating comic book stores and participating digital platforms on Tuesday, June 9, 2020 for $9.99.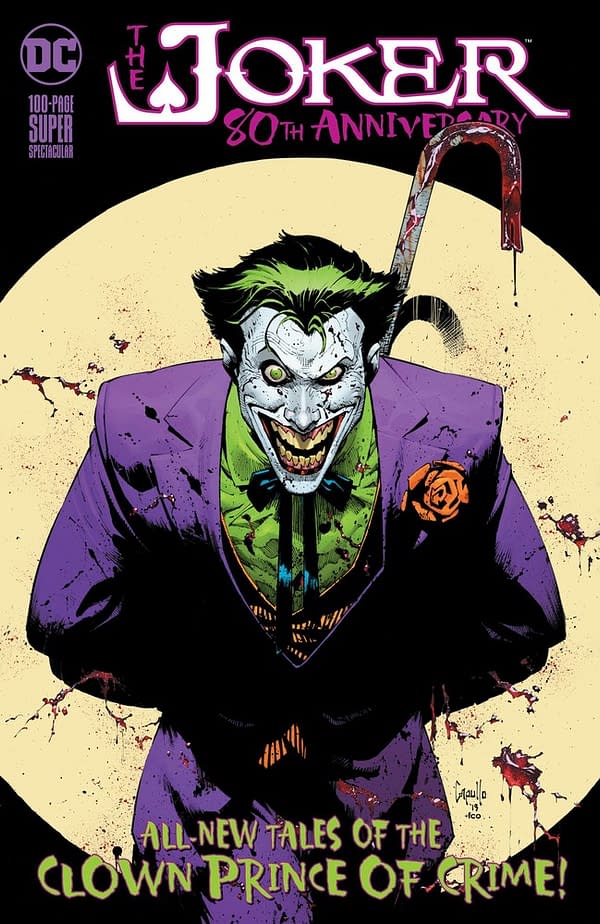 JOKER 80TH ANNIV 100 PAGE SUPER SPECT #1
(W) Brian Azzarello, Paul Dini, Dennis O'Neil, Scott Snyder, Tom Taylor, James TynionIV, Others (A) Rafael Albuquerque, Lee Bermejo, Simone Bianchi, Tony S. Daniel, Mikel Janin, Jock, Jose Luis Garcia-Lopez, Eduardo Risso, Riley Rossmo, Others (CA) Greg Capullo
The Clown Prince of Crime celebrates 80 years of chaos! The Joker has been the greatest villain in comics since his debut and to celebrate we have a who's who of comics' finest talent giving the Harlequin of Hate the birthday roast he deserves. The stories feature a range of terror and anarchy, showing how the Joker has impacted Gotham City from the police to Arkham Asylum, from the local underworld to the Dark Knight and his allies! Make sure to RSVP to this birthday bash-you wouldn't want to wake up with a Joker Fish on your doorstep, would you?In Shops: Apr 29, 2020
SRP: $9.99

A 1940s variant cover by Arthur Adams;
A 1950s variant cover by David Finch;
A 1960s variant cover by Francesco Mattina;
A 1970s variant cover by Jim Lee and Scott Williams;
A 1980s variant cover by Bill Sienkiewicz;
A 1990s variant cover by Gabriele Dell'Otto;
A 2000s variant cover by Lee Bermejo; and
A 2010s variant cover by Jock.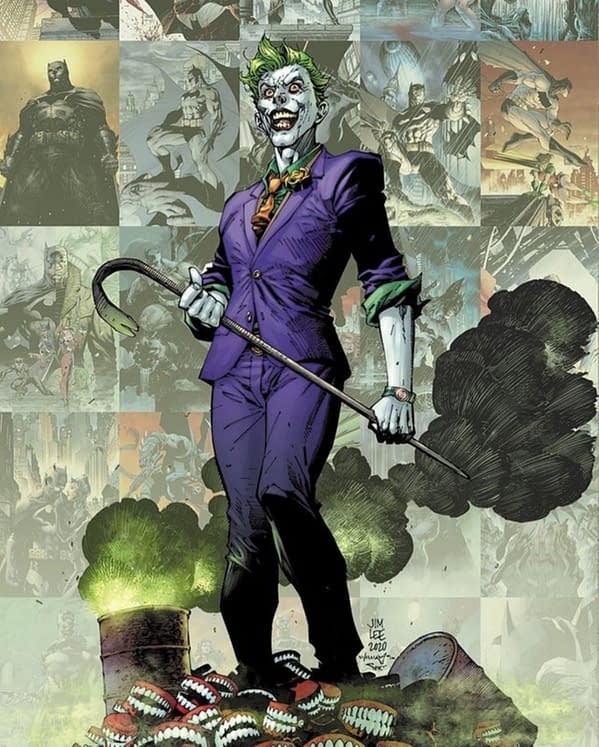 Enjoyed this article? Share it!