Explosive publisher BOOM! Studios has announced another original graphic novel from middle-grade horror master R.L. Stine. Just Beyond: The Horror at Happy Landings will feature art by Kelly and Nichole Mathews and a cover by Julian Totino Todesco, and is scheduled for release in May 2020 from BOOM!'s KaBOOM! imprint. The comic is about body-snatching aliens at a campground.
More info from the press release:
This new original graphic novel takes readers to the supposedly serene camping grounds of the forest preserve at Happy Landings where things take a decidedly terrifying turn when the Walden family encounters a pair of body-snatching aliens.

ENJOY YOUR VISIT TO HAPPY LANDINGS!

Family camping trips are supposed to be fun, but for the Walden family, they're an absolute nightmare! After a creepy, unidentified bird attacks their mom in the forest, Parker and Annie find themselves face to face with two strange creatures that suddenly enter the kids' brains and take control of their bodies. Can Parker and Annie break loose of this horrific control and convince their family of what's happening, or will the creatures take over their lives for good?

JUST BEYOND will be published through the company's award-winning KaBOOM! imprint, marking the first time R.L. Stine has originated new concepts in the comic book medium as part of his multi-book agreement with the publisher. With the release of his debut novel Blind Date in 1981, R.L. Stine established himself as one of the most important voices in horror for a new generation. This was followed up with the release of Fear Street in 1989, which remains the best-selling YA series in history with more than 100 books published thus far, and Goosebumps in 1992, which transformed Stine into a worldwide celebrity. The series was soon adapted as a hit TV series and recently returned as a blockbuster film starring Jack Black in 2015 from Sony/Columbia Pictures, with a sequel hitting theaters October 12, 2018. Stine has continued to create exciting new horror concepts for younger audiences each year, in turn becoming one of the most successful American novelists of all time.
And Stine, who has written approximately eight billion skillion books, admits he doesn't get to go outside too much.
I'm not an outdoors person. When I'm in the woods or out in the country, I think of all the creatures who live there, and I instantly begin to think of horrifying encounters. This story goes JUST BEYOND my normal imagining: What if you were camping out–and you were invaded by creatures from another planet?
Meanwhile, Kelly and Nichole Matthews apparently speak in unison, as if they themselves were scary characters from an R.L. Stine book, saying together:
It's exciting to return to the world of Just Beyond with a new, out-of-this-world experience. We hope you enjoy the Horror at Happy Landings!
One more quote from BOOM! Editor-in-Chief Matt Gagnon? Ok.
R.L. Stine brings all of his celebrated humor and horror to his newest graphic novel, JUST BEYOND: THE HORROR AT HAPPY LANDINGS. Old fans and new readers alike will discover brand new thrills and chills from the master of middle-grade scares himself as we run into strange creatures, body-snatching aliens, and much more. Artists Kelly & Nichole Matthews are immensely talented and bring this world to life with stunning art. This is a creative collaboration that we can't get enough of.
See the cover below.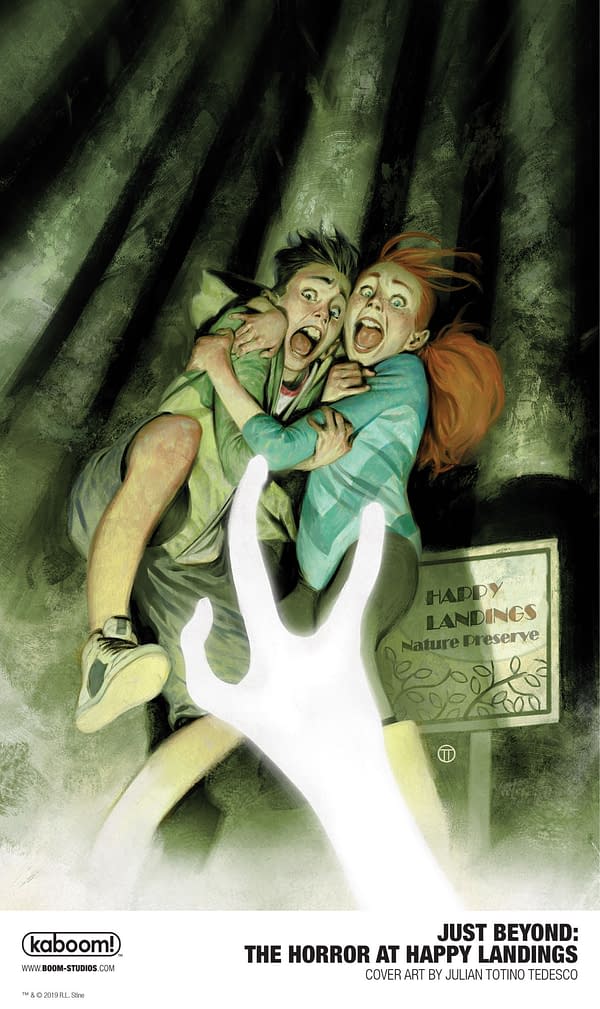 Enjoyed this article? Share it!