Saturday Trending Topics: 52 Con Pickup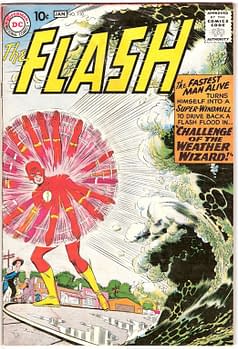 Since it's looking like March Madness is going to be a bust for me this year, it's particularly nice to see con season picking up steam: better weather is right around the corner, the industry is shaking off the last of its winter frost, and con panelists and other guests start dropping info of interest — such as the intriguing New 52 info Siike Donnelly has been picking up at Megacon this weekend about what Geoff Johns, Jim Lee, and company have in store for us this spring.
Most-Read Comic Stories Today:
The Return Of Wally West, Donna Troy And Darkseid – Siike Donnelly Explodes At Megacon
Another fan asked about the Kord Industries and New Gods references in O.M.A.C. to which the panel replied was obviously intentional. There will be future references to these characters and many others. That led us to a young man that asked about Wally West, to which of course I clapped and seconded. Dan and Eddie gave an answer that is going to keep me at bay with nerd rage for a while longer. He said because there were de-aging Barry, they didnt want him to be the same age as Wally.
Full Monthly Marvel Solicitations For May 2012. Mostly.
Courtesy of Midtown Comics' listings and skipping the trades, here's a look at the Marvel solicitations for May 2012.
Geoff Johns And Jim Lee Explore Pandora For Free Comic Book Day With Kenneth Rocafort And Gene Ha
Well, it appears that the free comic will focus on Pandora, the strange hooded woman from the end of Flashpoint and the first issues of all the New 52.
Most-Read TV/Film Stories Today:
Here Comes Red 2 – Who's Back And Who Hit The Sacks?
And so it is, I think. According to The Hollywood Reporter, "Bruce Willis, Morgan Freeman are likely to return", and we've already heard from Helen Mirren that she'd be on board.
Nice: Lauren Faust's Supergirl, As Seen In Her DC Nation Show
For her next trick, she's launching a DC Nation short called Super Best Friends Forever.
First Clip From The Amazing Spider-Man
Waaaaaay ahead of schedule, here's the first actual clip from The Amazing Spider-Man to find its way online. A simple situation, pumped full of dramatic irony.