Another wonderful week in comic books. And people said the comic books would warp your mind. In Multiversity: Thunderworld, they warp reality. Including the very comic book you (or at least I) am holding. I wonder if there's a Garguanza in there? Inhuman #10 does give Spider-Man one of his better lines. And, Axis aside, one of Medusa's better looks – for her hair at least. She could probably do wit a suede jacket on top or something. I mean, she;s a Queen, she doesn't need to do the whole dominatrix thing, she;s already got the power. I mean, check Darkseid in Earth 2: World's End. You don't see him in leather chaps and a whip. Because he's Darkseid and folk just kneel to him. Or, in Batman And Robin, they are crushed. Oh yes, for those who find the main Batman title a little too down to earth, this one has Batman on Apocalypse, in the Hell Bat armour fighting Darkseid all to try and save Damian and making a heartbreaking choice in the process. So, you know, that should do you, with an ending moment that may be your favourite of the day.Though if you are looking for a more realistic tone of violence… Zero is no slouch. And no one is coming out of this one still looking attractive. Talking of Axis, Iceman is now all Iceheart, and in Axis:Revolutions gets accused of Icemansplaining for his sins. And gets she cold shoulder. No, wait, that's what she gets… anyway, apparently it's really hard to be an Iceman and Bobby wants to tell you all about it. Man, why don't you get a tumblr? From Justice Inc #5, yeah there's plenty of skeevy behaviour masquerading as action and derring do today, it seems… time for the women to man up as usual. Well, as long as it gets a result. Lone Ranger Vindicated #2 there. Of course, if you can't beat them…
…be them, as in Steven Universe #5. So what do Girl Scouts in Wytches learn if not about zombies? Ghosts? Apparently so. Lumberjanes #9 takes a postmodernist approach to telling ghost stories. It just doesn't work! Talking of which… Look everyone, the rain is purple, from The Wicked + The Divine. You know, if I ran around dressed up in a goblin suit I would do my utmost best to not ride around in hoverglider, because accidents like this always happen. More goblin supervillains die by being pierced by their own hoverglider than in any other way, including pumpkin bombs or falling from a great height. Axis: Hobgoblin gives us just one more statistic to add to the others. We all know Wayward is a bit like Buffy The Vampire Slayer. We also know the main character has a rather involved mother. Well, we all know what happened to Buffy's mother… but in Wayward could there be a way back?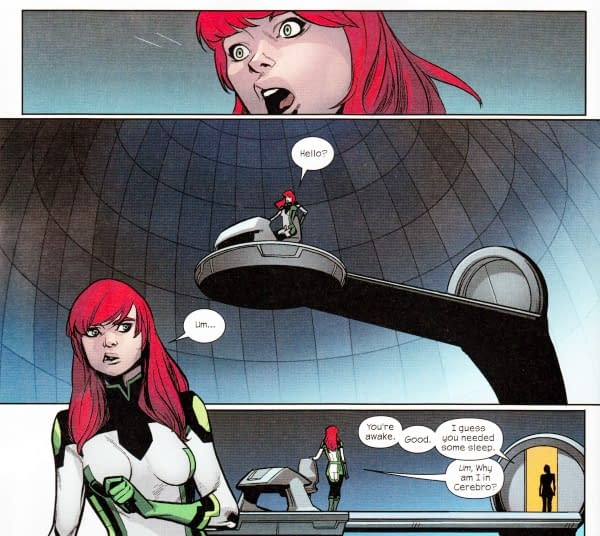 616 Young Jean Grey, on a trip to the Ultimate Universe seems rather taken aback to see that Cerebro looks just like it does in the films.

Ms Marvel rocks a Star Trek Next Generation reference today. Must have been watching reruns on BBC America. Well, I suppose everyone need an excuse for a party, from Alex + Ada. Although maybe…
…someone might want to come along to pick up tips. Still if he's going to throw food around, he wouldn't be welcome at any party, from Manifest Destiny. Okay, so today's Batman is a freak out of an issue. This kind of hide-and-seek storytelling is usually best told with a darker, less detailed style, with far more shadow and less defining lines of cartoony features. It is a testament to Greg Capullo's skill that he can maintain the popularity of his style, but still knock scenes like this out of the park to greater success than those who influenced him. And for Scott Snyder for realising this and constructing scenes with a purple boxing glove on a spring and a certain someone hidden under the bed without anyone stopping him… but it's not the only strange disparity around today.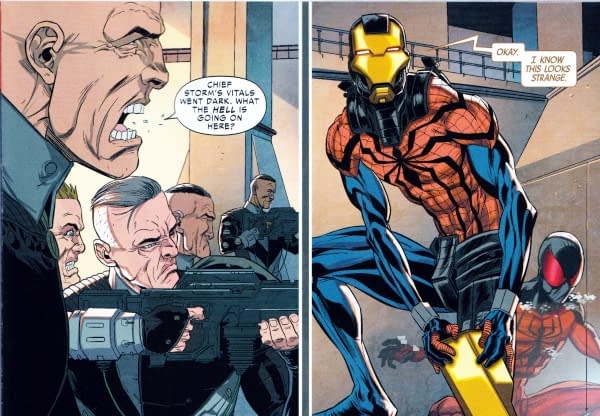 Yes, yes,Scarlet Spiders, it really really does look strange. So expect a toy of this for San Diego.
Some people might see an advantage in having bits of their body shrink at will, such as i Harbinger: Faith #0…. But I think it's this page from Catwoman that's my favourite of the day. The bright blast of the shot, and the darkness and stillness and space of what occurs afterwards. Something bright has ended and there is silence and peace – and darkness – afterwards with the night sky glistening down. No it isn't, he's Batman, the only explanation you could ever need, straight from Batman/Superman today. I wonder if that works in other spheres? "We need to operate on his heart, do you have training?" "I'm Batman"."The nuclear reactor is going to blow". "I'm Batman". "Quick, Donald Trump's hair has become unwoven and it's threatening to engulf the city unless comeone can weave it back together by hand!" "I'm… busy".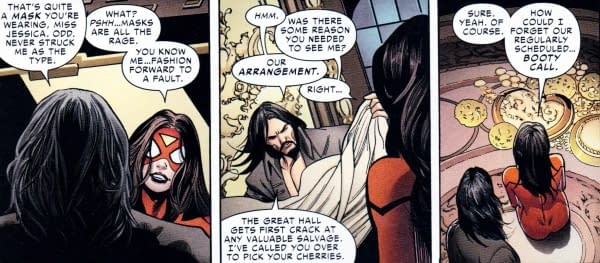 Spider-Woman totally goes there as an interdimensional spider-pirate. There must be a pirate joke about this already, mustn't there? Not a good one or anything… The Bunker #8 does a realistic impression of what Pinky And The Brain would look like in real life. This would be flirting in today's New Teen Titans if it wasn't just so disturbing. "Single finger"? "Sweet, sweet fire?" Come on guys, get a secret headquarters already. Is there any more disturbing a phrase out there waiting to happen? That will do. Thank you Bob's Burgers #5. Someone could tell the rhyming demon Etrigan, in today's Batwoman, that rhyming "all" with "all" really shouldn't count and he should go back to demon school. See Demon? Clive Barker's Hellraiser: Bestiary #5 knows how it's done. Man, will we ever get a Clive Barker-written Demon? Batman Eternal has Catwoman discover her inner female gaze. Still it beats the time Hitman summoned her by throwing a dead cat on a spotlight and shining it into the sky.
Yeah, he really did.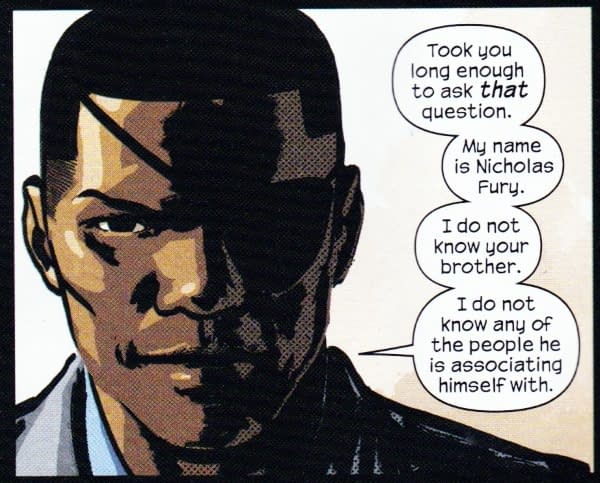 Ultimate Nick Fury may look like Samuel Jackson but young Ultimate Nick Fury in Miles Morales: Ultimate Spider-Man. I mean, check it… Maybe the superspy had some work done? And as Misty Knight does the kind of impossible kick in All-New Captain America before revealing something that will change the Marvel Universe forever… Though Weapon X Program seems to do a good job at showing what would actually happen in such circumstances. Red Hood And The Outlaws gives us one theory on the existence of time.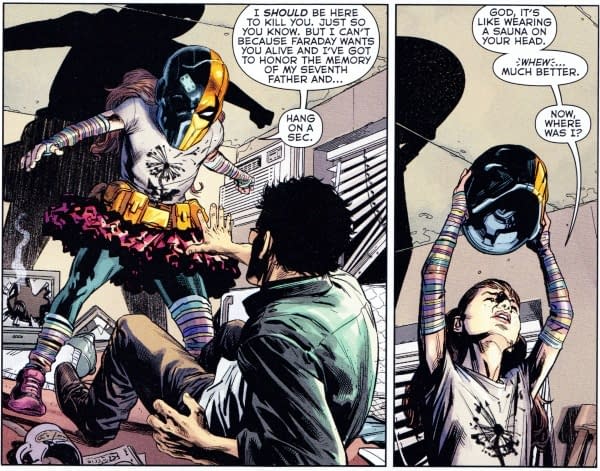 Which the New 52: Future's End wishes to disprove instantly, as well as expose the real impractiality of superhero helmets, even if you aren't a small child. Crimson Society #3 knows the best way to enjoy an evening, curled up with popcorn, a cat and an old film and a rampaging chained up monster. It just adds ambience Terrible Lizard also knows the comforts and bonhomie of a carnivorous monster at your side. It's what every girl, and woman, wants out of life, it seems. Stumptown #4 turns physical disability into intuitive detection. Nice mirror panel work though, reminds me of Neonomicon without the fish rape. So far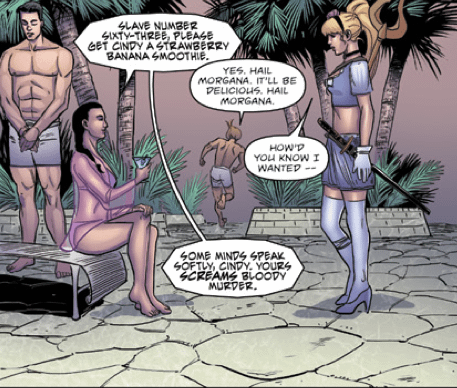 Cinderella: Ag Of Darkness #2 reveals the true power of someone who would make killer tips as a waffle waitress. "But you can't make her drink". Game Of Thrones #23 also partakes in a little mindreading.
Flash Gordon Holiday Special does its best to be like the Star Wars Christmas Special from so, so long ago… and, like the Force and Midichlorians has to be explained away. Just in case you thought hat Quentin Tarantino might be going more mainstream, less edgy, more cuddly, Django/Zorro #2 soon gets rid of that notion.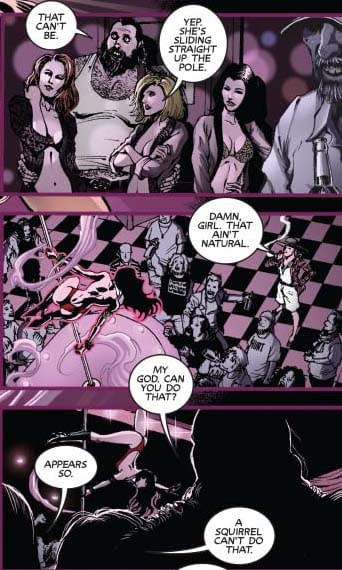 Vampi: Feary Tales #3 finds a new use for Vampirella's gravity defying powers that, I get the feeling, her original creators would rather approve of. You are really, really wrong about Magnus. Is that what you wanted?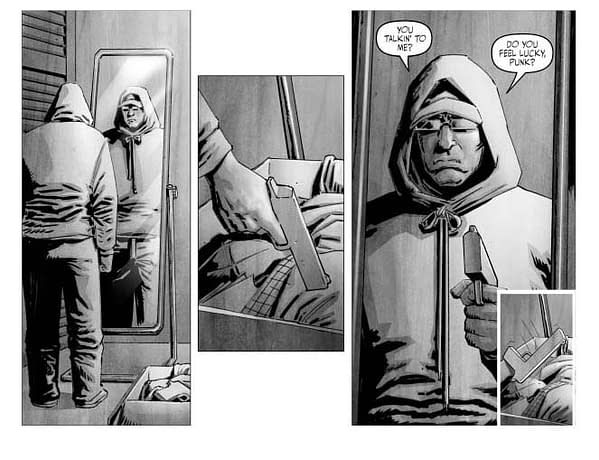 Taxi or Dirty Harry? It's always a tricky choice which psychopath to go for. Damnation of Charlie Wormwood #3 does its best.
When Priest wrote Deadpool, he talked about having a moment of enlightenment where he realised he could make mock of the main character and play him as Bugs Bunny. Q2: The Return Of Quantum And Woody #3 shows us that it's still rabbit season… Well open your eyes mate, and you can see for yourself? All that complaining about looking and both your eyes are tight shut! The Death-Defying Dr. Mirage #4 seems t be logic-defying right now…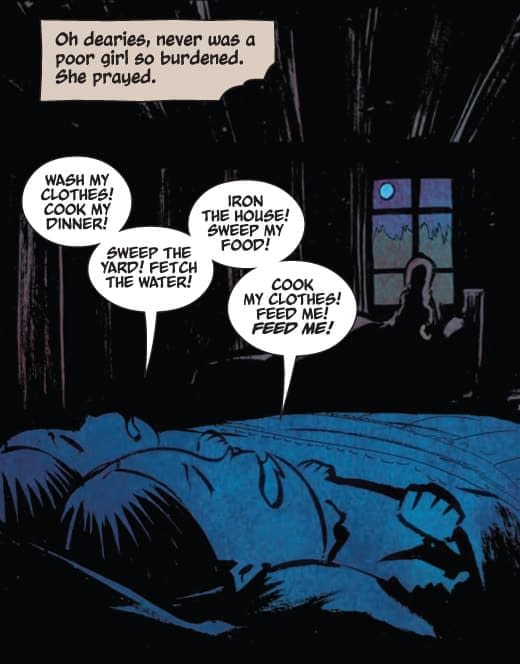 Jim Henson's The Storyteller: Witches #4 featuring the tale of Baba Yaga, an original The Storyteller teleplay adapted and illustrated by Jeff Stokely. And I am totally going to read this to the kids when they next complain about tidying their rooms/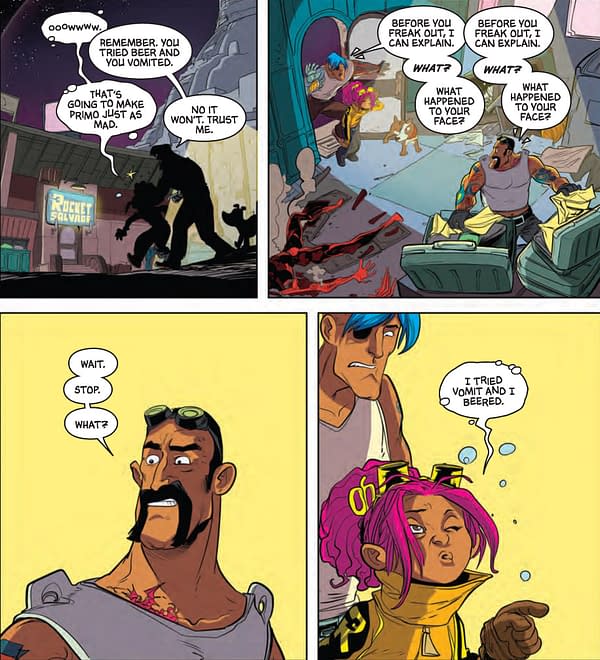 Rocket Salvage #1 by Yehudi Mercado of Guardians Of The Galaxy and Bachan. Might be worth picking up when you pick up Guardians for a double dose of that sort of thing. What sort of thing?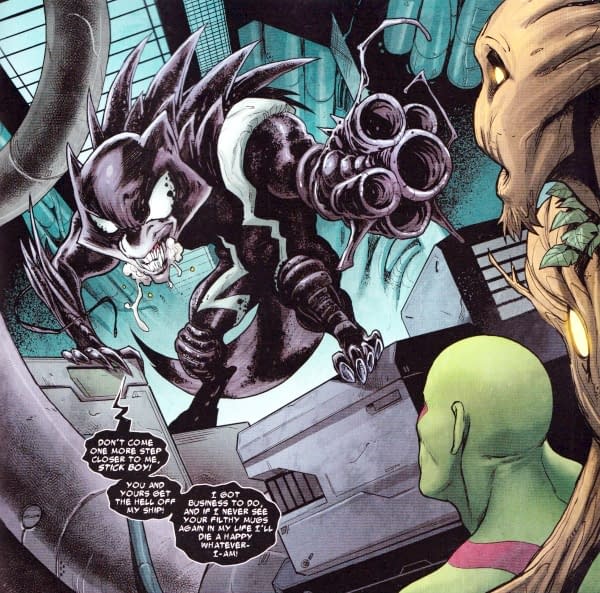 That sort of thing.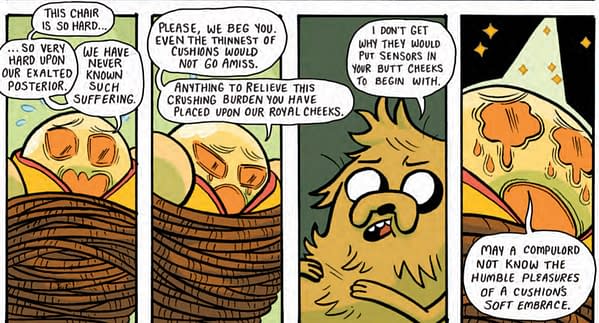 Adventure Time: Banana Guard Academy #6 talks about having a painful bottom in more verbose terms than I have ever known. Maybe you should torture him, Monty Python style, with the comfy chair!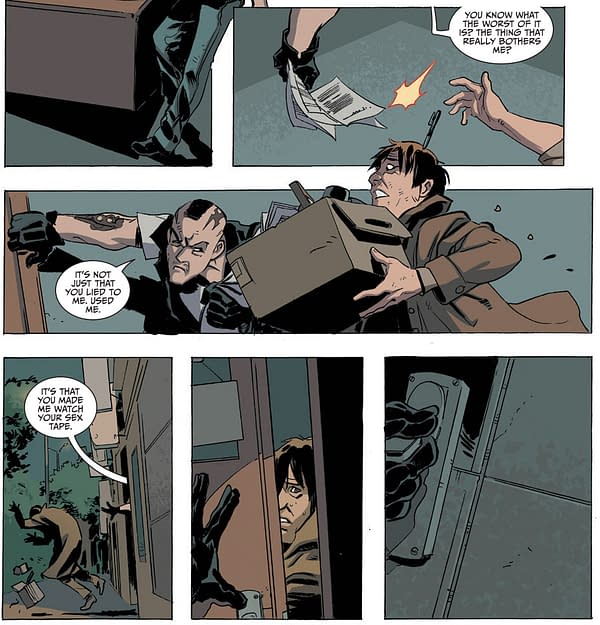 Sons of Anarchy #16 – The #LastRide may be over, but the story hasn't ended. But we may be due a little anarchic fappening….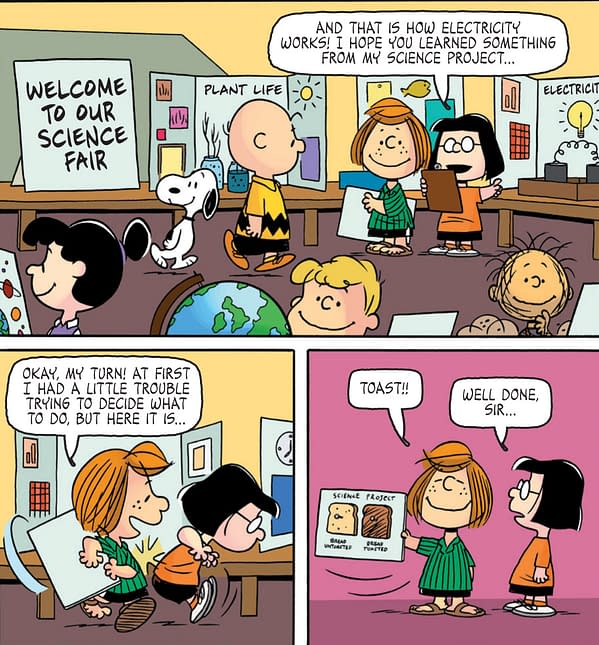 I know which exhibit I'd like to eat, in Peanuts #24. People always forget the practical applications… so what will you pick up today?
Comics courtesy of Orbital Comics, London. Currently exhibiting the work of Sean Phllips.
Enjoyed this article? Share it!