I thought it was my Doctor Who comps, I really did. This box sitting on my desk from IDW Publishing, sent to me while I was at San Diego and waiting for my on my return. And so I didn't open it. And it sat there for a couple of weeks when I decided I wanted to sent a copy to a reviewer who told me that she just couldn't read the digital file and to be frank I couldn't blame her. That was kind of the point of the comic – to be read as a comic.
So I opened my comp box. And, instead, I found… this. A big black box, an embedded metal key and the legend IDW THE FIRST DECADE.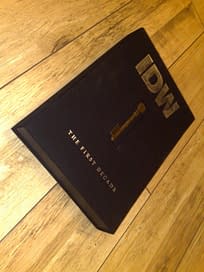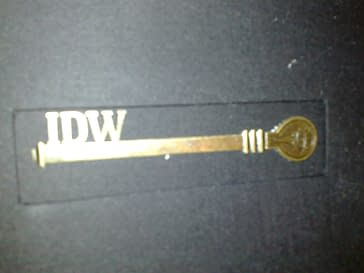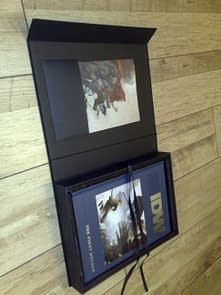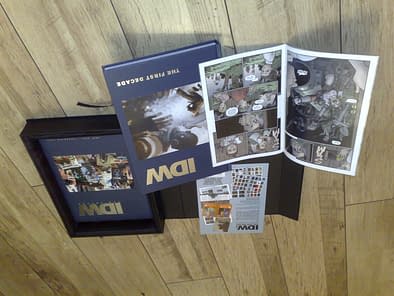 Ooh.
I open the box to find two hardcover books snuggled in their own comfy bed, one detailing the history of IDW, the other reprinting all of the covers. Including the one from George W Bush & The Weapons Of Mass Distraction and another book I kind of ghost-wrote a chunk of. Oh and my CSI death comic as well. Nice. And a special exclusive comic in its own little pouch featuring never-to-be-reprinted tales from Locke & Key, Fallen Angel, Wormwood and Zombies Vs. Robots Meet Popbot, that sort of thing.
The history isn't exactly a scathing expose of the company, but it's not a completely positive hackjob either. It covers failures as well as successes, including a TV show that was shot with scant realisation of the specific problems with filming in a live bar – getting decent sound for example. And thgere are the books that sold poorly, though given as much love as the riotous successes. But this really is an inside look into the company, now the third biggest publisher to direct market stores in the USA. And lots and lots of interviews with the people who've made their comics.
This is beautiful and glossy with fold out posters and strips and, well, it makes the likes of Absolute Sandman look positively floppy in comparison.
Okay, yes, this is a vanity thing. More copies sent out to IDW contributors and supporters copies actually sold in shops I would expect, especially with its $75 cover price. But what a beautiful present to receive.
Thank you.
Enjoyed this article? Share it!