Anyone remember Batman: Digital Justice? An early computer generated comic book by Pepe Moreno set in a future Gotham being ravaged by the Joker computer virus. It takes the grandson of Jim Gordon to become a new Batman, with a sentient computer and a robot butler to take down the Joker threat.
Take that and cross it with the Wii game No More Heroes.
And you get Batman Incorporated #8. I mean, seriously, take a look.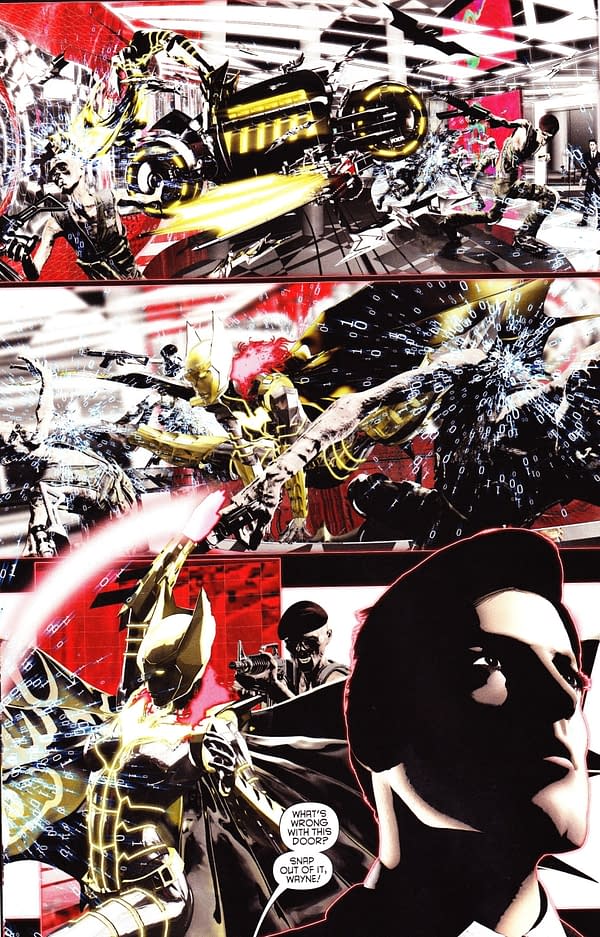 It's clumsy, it's brash, it's all over the place and as a result it's all kinds of wonderful. With Bruce Wayne controlling his own avatar and a Batman avatar simultaneously as his new Internet 3.0 gets some rather nasty invaders. Bruce has to save himself, his investment and his investors form being wiped out and he does it in the most visually challenging way possible. And everyone else starts looking a bit like they're in one of those Taiwanese topical animations.
This is proper Morrison, this is not-dulled-down-by-franchise Morrison, this is an industrial espionage thriller set inside a new kind of internet, and ripped onto the printed page by Scott Clark and Dave Beatty, seemingly without anything like house style, good taste or editorial involvement getting in the way.
It is quite clearly the maddest comic book you will buy today. And buy it you will. Possibky with some headache medicine. Don't blink too quickly while reading it either, you might be subject to a seizure.
And there's even a little bit of Tron.
And the ending? Well, this is the last Batman Incorporated until the DC Relaunch, and then some. So we get a slightly metatextual context given the delay between this issue and the next with Chris Burnham in 2012. And a look to Batman Inc to come as well.
***SPOILERS ***SPOILERS ***SPOILERS ***SPOILERS ***SPOILERS ***SPOILERS ***
Enjoyed this article? Share it!