Marvel has yet another A4: Empyre teaser, which is eith a Fantastic Four/Avengers crossover or something to do with British imperial paper sizes. And has explained all the previous teasers… and we were pretty much there.
A FINAL BATTLE NO ONE SAW COMING…

Writers Al Ewing, Dan Slott and Valerito Schiti bring you 2020's earth-shattering event, EMPYRE! In preparation for this monumental addition to the Marvel Mythos, we've been revisiting the classic stories that have led up to it. In four stunning teasers, the industry's top artists have reenvisioned events such as the Kree-Skrull War and its aftermath, the Celestial Madonna Saga, and of course, the story of Kree-Skrull born Teddy Altman, also known as the Young Avenger Hulkling and now, we are proud to present the glorious cover to EMPYRE #1 by Jim Cheung!

EMPYRE #1 arrives in comic shops, on the Marvel Comics App, and on Marvel.com this April! And stay alert, True Believers, because later this week, we'll be announcing the other titles where you can follow this milestone event that Editor-in-Chief CB Cebulski describes as "One of the most incredible science-fiction sagas Marvel has ever put to page!"
Going to be a big, big crossover. Will Avengers and Fantastic Four be part of the crossover event perhaps?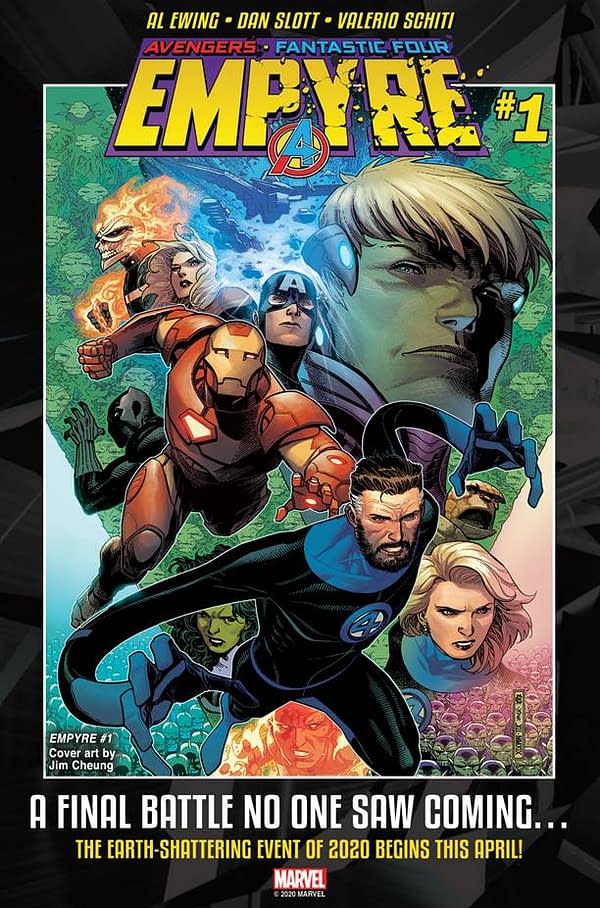 We had the Celestial Madonna, to begin with…
A CELESTIAL UNION
The Celestial Madonna heralded the Celestial Messiah…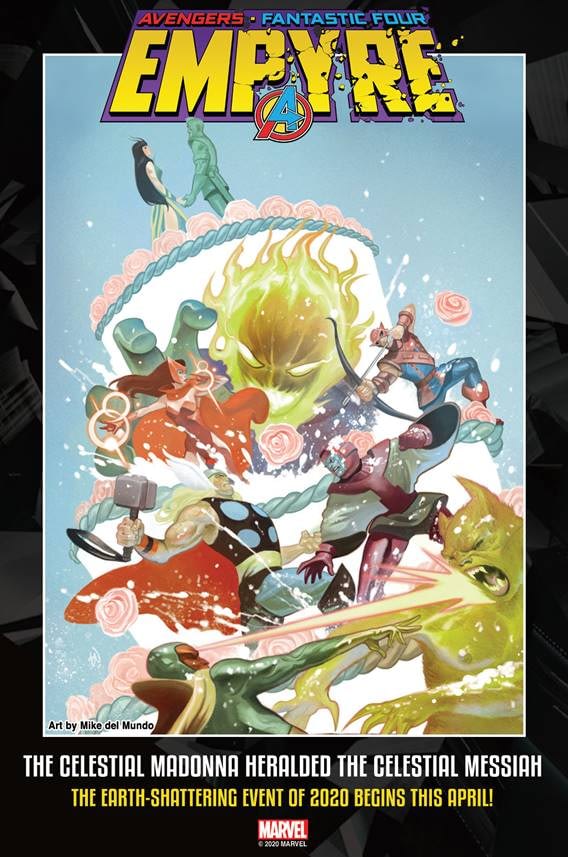 …now we have the aftermath of the Kree/Skrull War…
AN UNHOLY ALLIANCE
The Aftermath of the Kree-Skrull War led to an unholy alliance…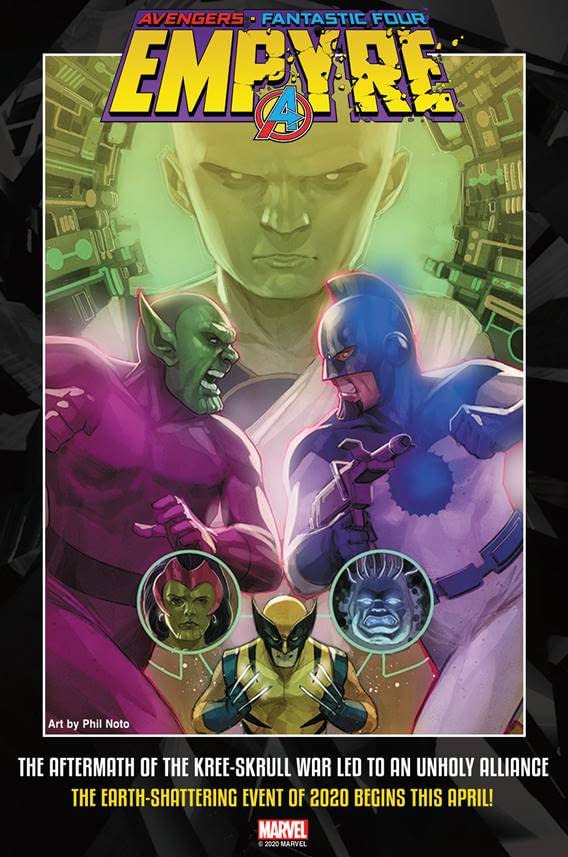 And for Hulkling… and his parents, the Skrull Emperor's daughter Princess Anelle and Kree warrior Captain Mar-Vell, it's all rather Saga-like.
A DESTINY FULFILLED
THE SAGA OF A YOUNG AVENGER SET THE FINAL STAGE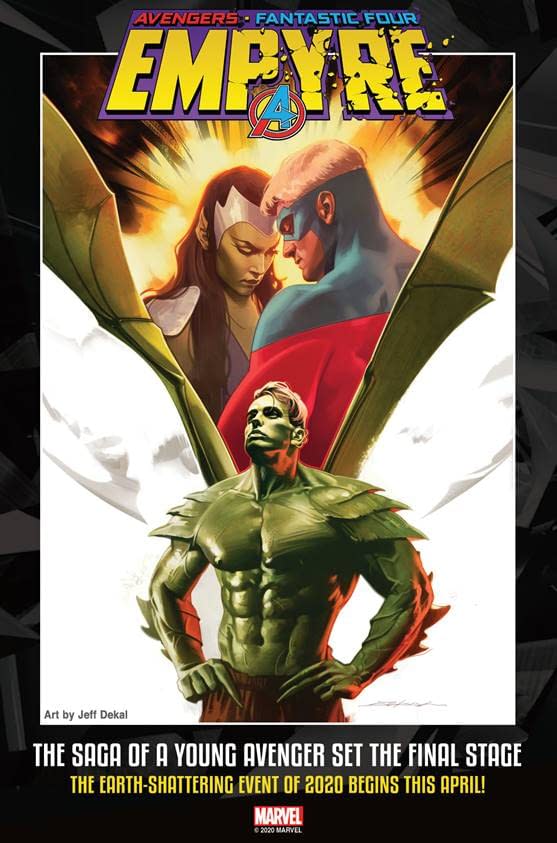 A CONFLICT MILLENNIA IN THE MAKING
The Kree-Skrull War was just the beginning…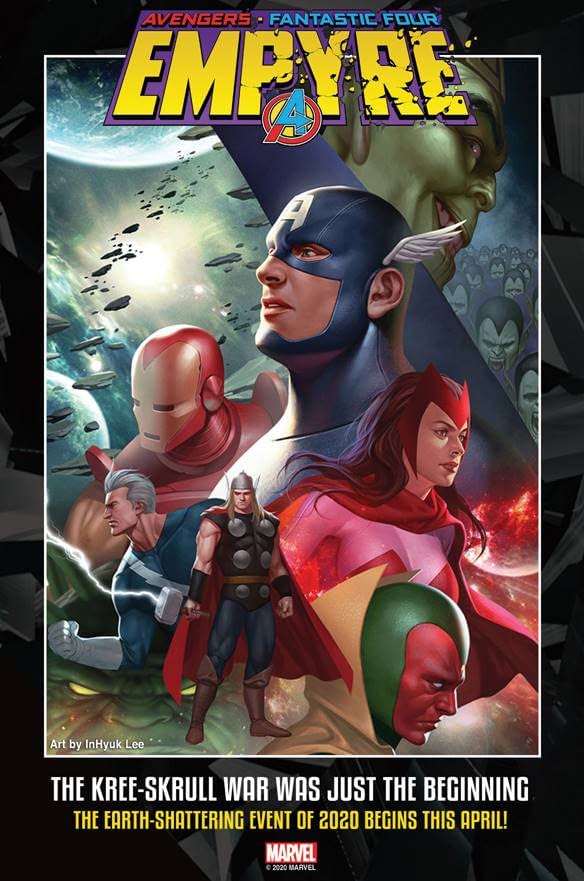 Looks like you all have a lot of reading to do.
Enjoyed this article? Share it!