Advance Review: Black Mask's We Can Never Go Home – Sometimes Your Life Does Change Forever At 17
We all had those moments in our youth when things felt like they were spiraling out of control and there was a very real question of whether something decisively bad might happen–whether it was contemplating running away from home, getting in a car accident while driving without permission, getting caught drinking or getting high, there were those moments where we thought, "What if my life is never going to be the same?" Were we going to get kicked out of home, school, get a criminal record, all while we were "good kids" really? The fear was real because we had built up authority structures in our own minds to the point where they seemed to control our fate and that "future" of ours adults were always telling us about.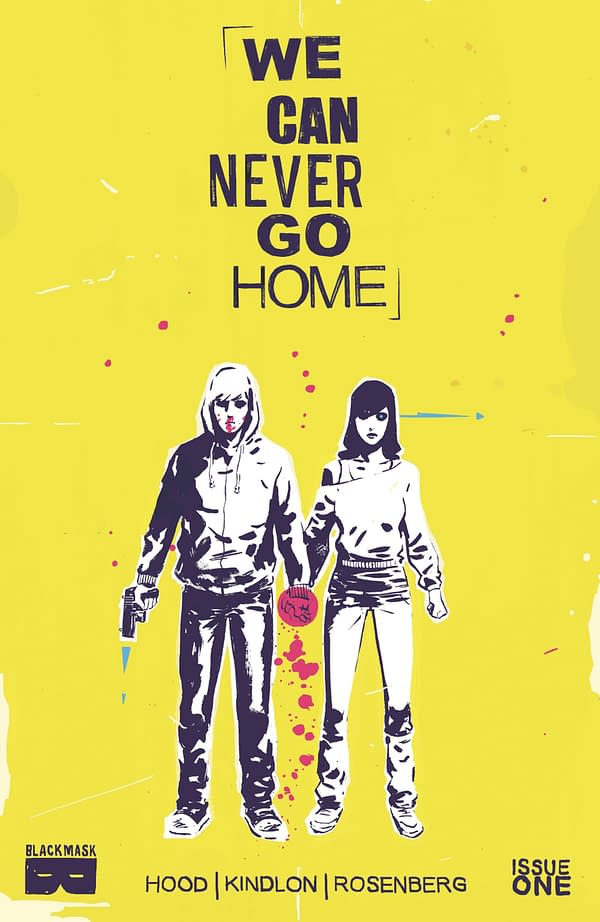 Matthew Rosenberg and Patrick Kindlon are the writers on Black Mask Studios' new book We Can Never Go Home that taps into all this–only it's scarier and worse and better in ways that the imagination can enhance in order to bring all those fears, and even some of that sense of adventure to the surface in a condensed way. These are the stories that in many ways we felt we lived when we were, only here they "actually" happen. Rosenberg and Kindlon are joined by artist Josh Hood and colorist Amanda Scurti, and it's hard to dream up a more perfect creative team for the subject matter of the book. Plenty of comics are written about young people and plenty of stories are about coming of age. Some of them even involve violence and criminal underworlds, and some might include bizarre, unpredictable superpowers, but those books don't have the combination of these team members at work. Wood and Scurti blast the eyes with a strange, intense world that feels familiar to our teen experiences and yet we have no sense of reassurance that we know things are going to be ok. Danger lurks in Scurti's vivid color palette, even as it sets off the characters strikingly epic and attractive.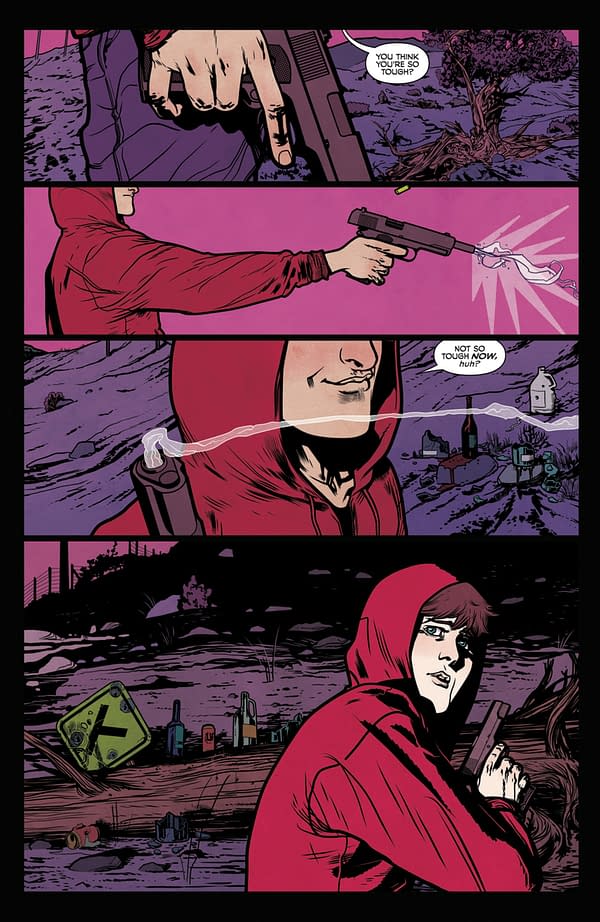 I'm going to attribute to Rosenberg and Kindlon (who together make up "Ashcan Press", and were the writers on 12 Reasons To Die and Menu) also a certain depth of raw feeling, an edginess to the dialogue and interaction of characters Duncan (the "geek" as he's deemed), and Madison, (the "popular" girl who can also shoot lightning powers around), and the idea of "getting out" of the environment that has trapped them growing up becomes poignant in tandem with the more fantastic elements of the story. In other words, this is a very character-driven narrative, and the way that these characters think is what sets them apart in their high-school environment. Madison doesn't care who goes to Homecoming, Duncan doesn't care if he's thought of as a nerd or geek, and that makes them kind of dangerous. Exploring that danger becomes the central drive of the book as the tension builds. Based on the first two issues that I've seen, it looks like it's becoming a story about people saving each other from their own imprisoning lives, but having to think carefully about the consequences of that choice and how they obtain their release. Or at least cleaning up after the mess of hasty decisions.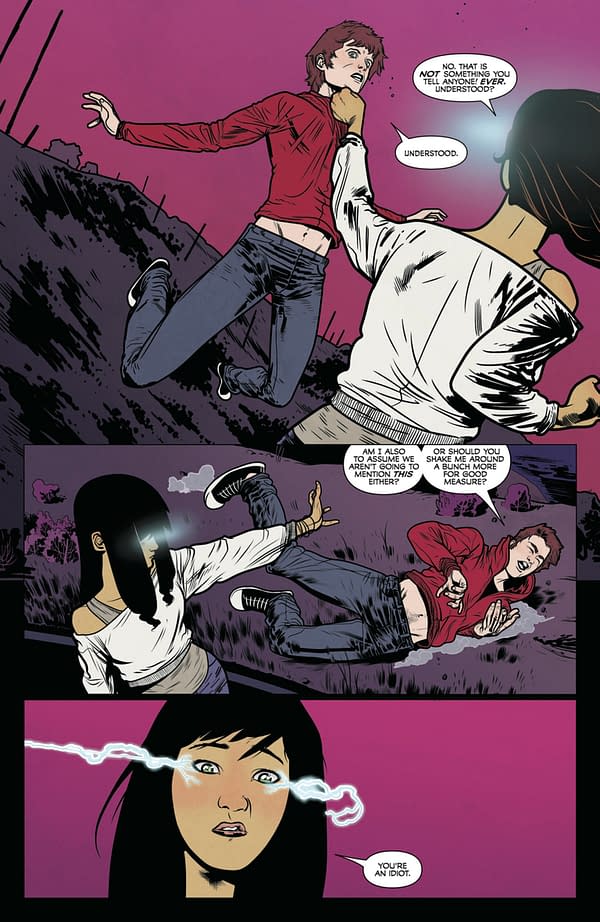 The solicit information gives us a window onto what's coming up for our overly independent characters:
A well worn mixtape, a stolen convertible, a duffel bag full of cash, a fully loaded .45, and super-powers. Seventeen and on the run is the only way to see America right. Teenage outcast Duncan and popular girl Madison share a secret – they can do things other people can't. But their abilities take them down a dangerous path. After a deadly accident they are left with no choice: leave home and never come back. We Can Never Go Home is a new chance to fall in love with the doomed misfits who need to run away to find themselves.
This five part series from Black Mask Studios arrives in shops and various platforms on March 25th and is currently listed in Previews with the order code: JAN151093.
You can actually download a Previews Prevue that shows off some of its excellent artwork here too.