Advance Review Of Oddly Normal #10: A New Pet And The Last Single Issue Before Books Begin It's Oddly's first full week at Menagerie Middle School! It's also the last single issue release for Oddly Normal, but don't worry…instead of the books being print released every month they are going to be collected into books that will consist of five chapters each. Writer and illustrator Otis Frampton is working with Image Comics to also have the series released digitally on a monthly schedule, so fear not! There's a lot more coming from Oddly Normal. With all of that said, I'm thrilled to talk about issue #10. So far we've experienced quite a journey with this inspiring main character. Now it's time for Oddly to interact with some new characters, including her new pet.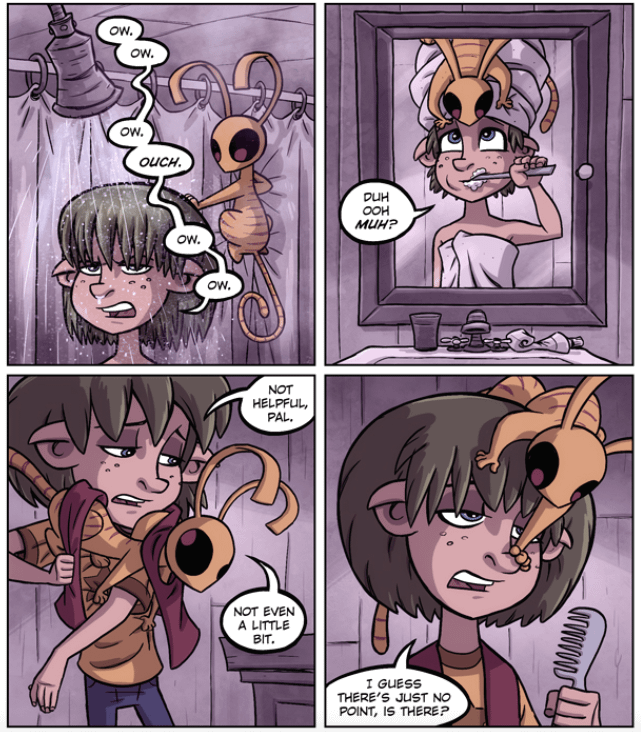 The start of the week at school means a lot of things, but Oddly's starts off with a lot of excitement as she meets some of the popular kids, and finds out something interesting about her mom. I really enjoyed the experience of going through Oddly's day with her and her friends. The cast of characters are so much fun. They just keep getting more and more colorful and quirky. Otis Frampton has created such a well developed world for us that you really feel like you're there, or better yet, sitting next Oddly in class listening to her whisper to her friends. I couldn't be more excited about where this comic is headed because I know it's going to continue to be such a great success. I urge you to pick up Oddly Normal #10 this week, and to follow Otis Frampton on Instagram and Twitter to stay up to date on all of the latest Oddly news. (He also posts really fun artwork as well.)

Christine Marie is a Staff Writer at Bleeding Cool, and bibliomaniac with a love for all things creative. She hopes to one day be a Superhero/Disney Princess/Novelist. You can find her on Twitter and Instagram @AWritersWay or on her blog writerchristinemarie.wordpress.com.