American Horror Story Season 8: Billy Eichner Teases "Secret Friend", Says New Season Is a "Wild One"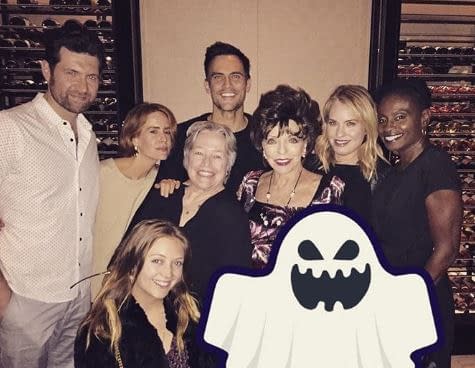 With two months to go before FX's American Horror Story premieres its eighth season, the "Murder House" / "Coven" crossover already boasts a killer lineup: Sarah Paulson, Evan Peters, Kathy Bates, Billie Lourd, Joan Collins, Denis O'Hare, Billy Eichner, Adina Porter, Dylan McDermott, Leslie Grossman, Cheyenne Jackson, and Emma Roberts. Looks like the parade of surprises and familiar faces joining Ryan Murphy's horrific universe doesn't end there, however: Eichner posted an image of some of the AHS cast members at dinner, blocking out one of the attendees and teasing the individual as "a secret friend":
With (some of) this season's @ahsfx cast at dinner a few weeks ago…and a secret friend…it's gonna be a wild one! Can't wait…. #AHS
Our first thought — and probably the most obvious one: Jessica Lange. Playing a prominent role in both the "Murder House" and "Coven" seasons, it seems unthinkable that Murphy would move ahead with the crossover if he didn't have both her blessing and her involvement — but it would also require some major double-duty acting on her part (as it will for a number of other actors). The individual could also be Anjelica Huston, who Murphy has expressed he's been pursuing for the upcoming season: "(We're) talking. I love her."
Fans of American Horror Story won't have to wait much longer to find out exactly how the "Murder House" and "Coven" seasons are going to mash up in Season 8, with Murphy's long-running horror anthology returning to FX on Wednesday, September 12 at 10 p.m. ET/9 p.m. CT.
American Horror Story: Murder House saw a family move into a haunted mansion in Los Angeles; while American Horror Story: Coven followed a girl sent to a special academy in New Orleans after discovering she's a witch. Murphy was originally on record as saying the crossover would happen, but no sooner than the ninth season. What impact this will have on previously announced cast members Paulson, Peters, Bates, and Lourd remains to be seen; with each (except for Lourd) having played a role in at least one of the two seasons.
Paulson's Billie Dean Howard appeared in "Murder House;" and her Cordelia Foxx appeared in "Coven." Peters played ghostly teen Tate Langdon in "Murder House" and fraternity president Kyle Spencer in "Coven." Bates joined American Horror Story during "Coven" as Madame Delphine LaLaurie.
https://twitter.com/MrRPMurphy/status/1007361446093586432
Fans will have to wait to see how many of Murphy's previous teases turn out to be true and not cruel attempts at distraction. Until then, here's a rundown of what we've learned about American Horror Story's eighth season from sources like Murphy's interview with Entertainment Weekly, FX's 'For Your Consideration' event for Emmy voters in April 2018 – but proceed with "may-end-up-not-being-true" caution:
● Describing the storyline behind the upcoming season as "very high concept," Murphy promises viewers a line-up of guest stars unlike any other snce the glory days of 1970s ABC hour-long "dramedies": "You will see so many fan favorites return that you'll feel like it's The Love Boat."
● Murphy has yet to comment on the rumored "Radioactive" title; and with the crossover now happening, it's legitimacy is further in doubt. He did warn fans that the season would have a huge twist to it: "It's a season unlike anything we've done because there's a big hook to it. There's a huge thing that happens in episode five."
● With work on the season currently underway ("We start shooting season 8 around June 16th."), American Horror Story's season 8 (Murphy did not address the Radioactive title rumor) will be set "18 months from today."
● Murphy is looking to take the upcoming season back to the more fantasy-horror elements of previous seasons – and in the process, pretty much gave away the secret and we missed it!
"It's heightened. It's not necessarily as real and grounded as the past season. We're sort of getting back to Asylum, and Coven. That's the tone of it."
● Peters's announced hairstylist role could also be in question, which was revealed during a portion of the FYC presentation when cast members from Cult were allowed to ask Murphy any question they had about the upcoming season (except if they were going to be in it). Peters asked if there would be wigs worn during season 8, which led to this response from Murphy:
"I'll tell you something about you, because I see how this is going. The funny thing is, we shot Cult and it was very taxing on Evan, and around Thanksgiving, I was talking to Evan and he said, 'You know this show is so hard, it's so difficult to do'. So your part this year is a comedic part, you are comedic and you play a hairstylist."
● Collins is expected to play Peters's grandmother, another revelation from Murphy's onstage Q&A. Cult's Grossman wondered if Peters would get to work his on-screen styling skills on Collins' hair: "Joan Collins? Yes. She plays Evan's grandmother."
● Porter asked about minority casting for the upcoming season, which Murphy confirmed: "I will tell you that three of our leads are indeed minorities."