'It's Always Sunny in Philadelphia' Season 13, Episode 1 Review: Still Not Basic or Played Out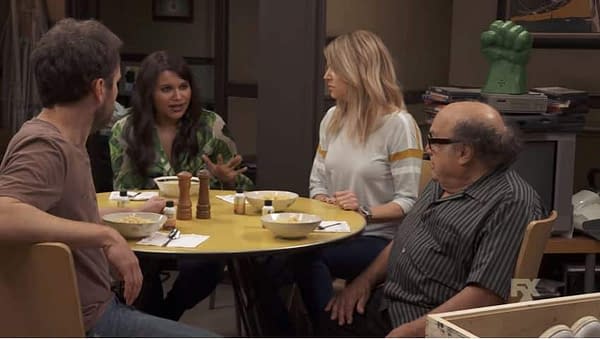 Welcome to Bleeding Cool's weekly review of FXX's long-running comedy It's Always Sunny in Philadelphia; as the series barrels its way into a hopefully lucky 13th season, we're taking a look at season premiere 'The Gang Makes Paddy's Great Again.'
So after months of rumors, speculation, innuendo, and teasers, the crew from Paddy's Pub is back to their tasteless displays of righteous depravity – except our Dennis (Glenn Howerton)-free friends have cleaned up their act (a little) with new "gang member" Cindy (Mindy Kaling), who's no stranger to pulling off scams herself. So everything's just peachy – until Mac's (Rob McElhenney) "in-case-of-no-Dennis-break-glass" emergency back-up plan finally comes into play…
It's Always Sunny in Philadelphia s13e01 'The Gang Makes Paddy's Great Again': Meet Cindy, the new, ethnically diverse female member of the gang who can successfully pull off scams. Everything is working until Mac introduces a new member: a life-like sex doll that looks exactly like Dennis. Written by David Hornsby; Directed by Todd Biermann.
The Gang Returns… mostly…. in the 13th season of the FXX original comedy series It's Always Sunny In Philadelphia. Mac (Rob McElhenney), Charlie (Charlie Day), Dee (Kaitlin Olson) and Frank (Danny DeVito) return to their duplicitous, scheming ways at Paddy's Pub, while Dennis (Glenn Howerton) takes on the new role of father in North Dakota.

Even without Dennis Reynolds, the Gang has its hands full as Charlie hopes to have a child with The Waitress, Mac sets out to understand his newfound sexuality, Dee takes feminism to new heights, and Frank goes to great lengths for the Gang to experience the greatest moment in Philadelphia sports history – an Eagles Super Bowl victory.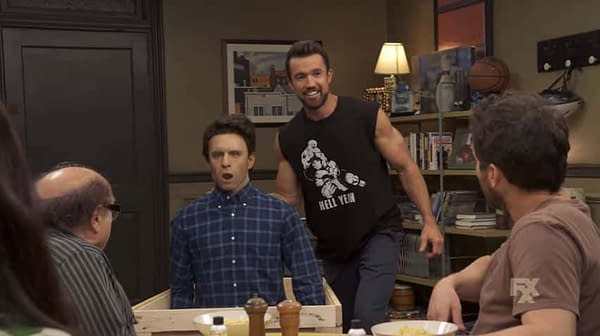 Here's a look ahead at what we can expect from the next three episodes of It's Always Sunny in Philadelphia:
It's Always Sunny in Philadelphia s13e02 'The Gang Escapes': To boost productivity, Dee hires an at-home "Escape Room Experience" service to come to Dennis and Mac's apartment. Will they escape? Who will get the credit? What could go wrong? Written by Megan Ganz; Directed by Lauren Palmigiano.

It's Always Sunny in Philadelphia s13e03 'The Gang Beats Boggs: Ladies Reboot': To one-up the guys, Dee has organized an "all-female reboot" of the Wade Boggs challenge on a first-of-its-kind, allfemale flight headed to L.A. for the women's march. Written by Dannah Phirman & Danielle Schneider; Directed by Kat Coiro.

It's Always Sunny in Philadelphia s13e04 'Time's Up For The Gang': Paddy's has been put on a list of bars that are sexually hostile to women, and the gang must attend a sexual harassment seminar to get off the list. Written by Megan Ganz; Directed by Kat Coiro.