AMC Showcases "Kick-Ass Women," Better Call Saul, and More at Fandom Summit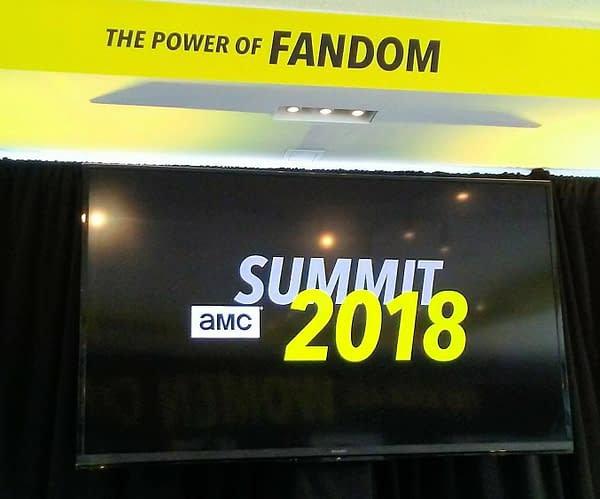 With a line-up of diverse shows that includes The Walking Dead, Preacher, Dietland, Better Call Saul and Into the Badlands, AMC prides itself on both the quality of its programming and the relationships its built with the fandom around each series. To that end, the network hosted AMC Summit 2018: An Exploration of Fandom in New York City on Wednesday to offer some unique insights into storytelling approach and other creative processes behind a number of popular series; and present AMC's approach to meaningful fan engagement.
AMC/SundanceTV/AMC Studios President and General Manager Charlie Collier kicked off the morning with opening remarks; with AMC/SundanceTV/AMC Studios-Original Programming President David Madden serving as between-panels emcee. Attendees were then introduced to KR&I Founder and President Susan Kresnicka, whose The Power of Fandom presentation did an amazing job dispelling a number of myths about "geek culture" and fanbases; and detailing AMC's approach to making the viewing experience a more personal one for fans.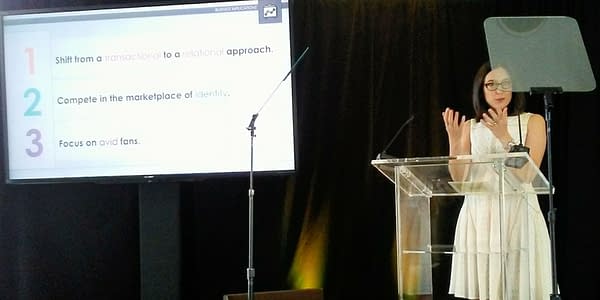 Here's a look at some of the highlights from the three panel discussions that followed, focusing on the importance of strong female characters; adapting books and comics for television; and a masterclass with Vince Gilligan and the crew from Better Call Saul. We've also included some audio from Bleeding Cool's questions for the panelists: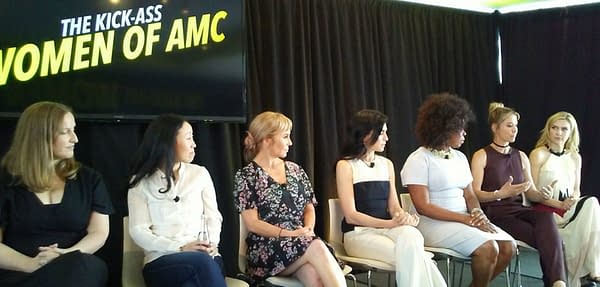 The Kick-Ass Women of AMC: Honoring the trailblazing women who create and embody AMC's diverse characters and bold storytelling, this panel celebrates the fearless females whose powerful performances in front of and behind the camera, engage, empower and inspire. Their work continues to challenge the status quo and in this candid conversation, they will reveal their thoughts and opinions about many of the current social and societal issues that women in entertainment face today.
Moderator: Tamron Hall (Deadline: Crime with Tamron Hall)
Panelists: Melissa Bernstein (Better Call Saul), Angela Kang (The Walking Dead), Marti Noxon (Dietland), Julianna Margulies (Dietland), Lorraine Toussaint (Into The Badlands), Jenna Elfman (Fear The Walking Dead) and Rhea Seehorn (Better Call Saul)
● For The Walking Dead Executive Producer/Showrunner Kang, one of the most important reasons for The Walking Dead universe's success is that everyone gets to be the hero – no "women waiting around to be rescued" over here:
"Our characters they're women – they go toe to toe with the men. We don't write damsels in distress. Or sometimes if they are the men are males in distress. The women save the men just as much as the men save the women. It's really a story about survivors who help each other through the apocalypse. "
● Fans of The Walking Dead can expect an almost "new car smell" to the show's upcoming ninth season and a little time-jumping thrown into the mix, with Kang adding: "What's really fun for me is we're working on a season that has a really fresh look and feel…We're playing with time in the story, we're jumping forward in time."
● Into the Badlands' Touissant knows why she comes across as a kick-ass woman on screen: she's one in real life ("I know I'm a kickass woman and so I think that maybe translates to the work."); and that it's an understanding about herself that she learned from those who came before her and influenced her: "I come from these women that didn't know that they couldn't do it. They didn't know about a glass ceiling. So I just didn't expect one."
● For Dietland's Margulies, the #MeToo movement and the growing public debate over/discussion about sexual harrassment will bring about some positive change for women on all professional levels – a change that's been long overdue:
"The best thing in my mind that has come out of this is for the women that are coming up in this industry, who I can't imagine will ever be asked to go into a hotel room alone with a producer, a director or anyone who might be their boss or give them a job. That there is this conscious collective discussion that that is not okay and is not needed. Unlike when I was coming up and was asked to dress sexy and go there on a Saturday and you were just constantly in fear and afraid to speak out about it. That's gone."
● Margulies cited her Dietland character Kitty Montgomery as another example of the sexist double-standard that still flow throughout the business world: "What I find interesting is that if she were a male she would just be considered an amazing boss, but because she is a female, she is a villain because she gets what she wants and she's really good at her job and she tells people to f**k off and is very brash ."
● As an actor, Seehorn appreciates the opportunity to have a "hands-on" approach to shaping Kim Wexler on Better Call Saul; and how that approach helped make Kim more believable and relatable:
"That's how they approach my character and that is not only what they tolerate in my contribution but what they expect in my contribution is making her a three-dimensional human being that never has to fit in the slot of what female characters are or what female characters do. She's a human, which should not be revolutionary but for some reason it is."
● Fear the Walking Dead's Elfman revealed that she appreciates where she's at in her life and career when it comes to how she approaches acting now: "I don't care about looking beautiful. I don't care how close the camera is. I want the viewer to experience my humanity via the storytelling of the humanity of the writers."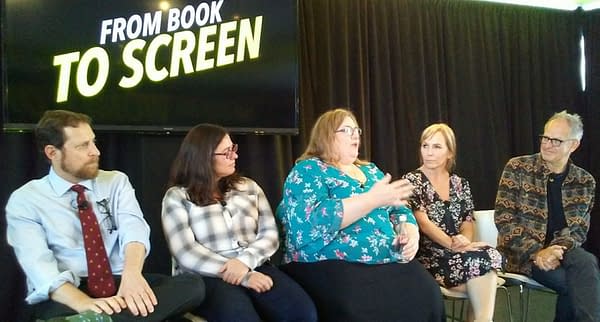 From Book to Screen: What does it take to adapt the written word from novels and comics and ensure that complex characters and stories translate from the page to the screen? Critically-acclaimed authors, producers and showrunners provide unique insight into the development process, share the importance of staying true to their source material and reveal their techniques and approach to properties that speak to an audience of extremely dedicated, knowledgeable and opinionated viewers.
Moderator: Cynthia Littleton (Managing Editor TV, Variety)
Panelists: Scott M. Gimple, Chief Content Officer, The Walking Dead; Jami O'Brien, Showrunner/Executive Producer, Nos4a2; Sarai Walker, Author, Dietland; Marti Noxon, Showrunner/Executive Producer, Dietland; and Stephen Cornwell, Executive Producer, The Little Drummer Girl
● As popular as Dietland was, Walker never imagined her novel would be adapted for television – for one sadly brutal but honest reason: "It has just been surreal…I thought there was no way that this will ever be on TV, there is just no way someone will put a fat woman as a lead character in a TV show"
● Intrestingly enough, new chief content officer for The Walking Dead universe Gimple never imagined he'd find himself in the position he's now in – basically because he didn't see Robert Kirkman's comic book as a television series:
"I was a fan of The Walking Dead comic before I was working in television and then as I was working in television, and as I was reading it, it never crossed my mind that oh yeah this is going to be a TV show. In fact, i just never thought it would be a TV show, but then I saw those posters in Los Angeles and it was a photograph that recreated one of the panels and tore my mind open"
● When it comes to adapting a popular author like his father John le Carre, The Little Drummer Girl's Cornwell explained that it's important to both honor the original work and adjust to changing audiences – and how television has become a great venue for long-form storytelling:
"There are multiple levels of expectation, there is a very personal commitment to him to try and do something that honors him and speaks to those stories and bringing them in to a new audience, often in the present. And actually today I think broadcast offers an extraordinary opportunity to do that, I think the golden years of television allow us to explore story and character and innovation and a cinematic form of storytelling, which is extremely exciting"
● Noxon found Dietland's complexities a challenge to adapt, likening it to a certain Chuck Palahniuk novel:
"Dietland is very surreal. I likened it to Fight Club it's really full of dense ideas and has these surreal touches and it's very internal, so it was a real challenge to adapt. It has these two very different storylines, but on top of it you're killing guys and showing naked ladies"
● But while those complexities may have been a challenge, Noxon knew that Plum was a charatcer who could really connect – connect with viewers in much the same way she connected with Noxon: "I knew it could work, when I figured out that Plum in the book is such a likeable character. That her inside voice made me fall in love with her and that everything that happened to her, felt like it was happening to me."
● In the following raw audio sample from the panel, Gimple, Walker, Noxon, and Cornwell answered Bleeding Cool's question about what changes they made from the source material that worked well on the small screen and why: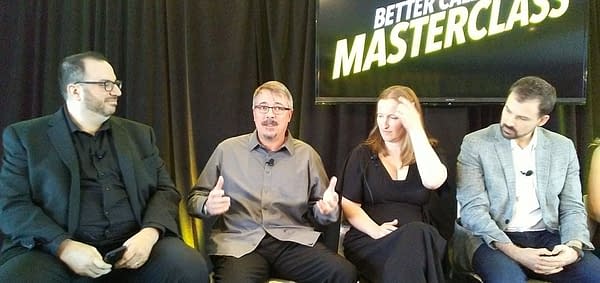 A Masterclass with Better Call Saul: Take a deep dive into the Emmy Award and Golden Globe-nominated series with the creative team behind Better Call Saul as we approach the new season that follows the twists and turns of Jimmy McGill's devolution toward Breaking Bad anti-hero Saul Goodman.
Moderator: Alan Sepinwall (Chief TV Critic, Rolling Stone)
Panelists: Vince Gilligan, Co-Creator/Executive Producer; Melissa Bernstein, Executive Producer; Gordon Smith, Writer/Supervising Producer; actress Rhea Seehorn; Jennifer Bryan, Costume Designer; Judy Rhee, Production Designer; and Marshall Adams, Director of Photography
● A couple of quick hits for the upcoming season: Chuck McGill (Michael McKean) will stay shuffled off this mortal coil (translation: he's staying dead); those cowboy boots that Jimmy/Saul wore in Breaking Bad will be making their debut; Bernstein said this about "new characters" making their way to Better Call Saul this year: "We have a couple of new characters that we will be reintroducing to the world….We have Lalo coming our way;" and Gilligan couldn't stop teasing his excitement over what's to come:
"I get to sit up here and unabashedly say now that I'm a bit removed, this show is just so damn good. I could never sit on these panels and say that before because it sounded like a jagoff. Season four is just so good. Everyone on this panel did such great work. I can't believe the level of quality on this show. It gets darker, it gets richer. It's still got has funny in it. God forbid that would ever go away completely. But on the venn diagram of "Breaking Bad" and "Better Call Saul"…the overlap in the center is getting bigger and bigger."
● When asked about Seehorn and what her transition into the Breaking Bad universe was like, Gilligan had nothing but high praise for the actor:
"Rhea Seehorn fits so well into the universe, I can't imagine the show without her. She can do anything. Comedy, drama, she can make you laugh, she can make you cry. She has fit so well into this world, this universe of Breaking Bad and Better Call Saul that I can't imagine the show without her."
● In another raw audio sample from the panel, both Gilligan and Smith went into great detail when Bleeding Cool asked when was the moment in Better Call Saul's run that they knew the series was no longer "just" a Breaking Bad prequel but a quality show in its own right:

Here's a look at Bleeding Cool's photo gallery from AMC Summit 2018: An Exploration of Fandom:
---
---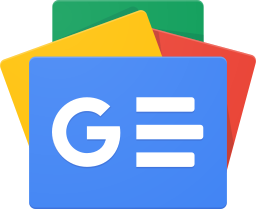 Stay up-to-date and support the site by following Bleeding Cool on Google News today!