Arrow Season 7: Writers Celebrate Production Start; Stephen Amell Teases "Big Announcement"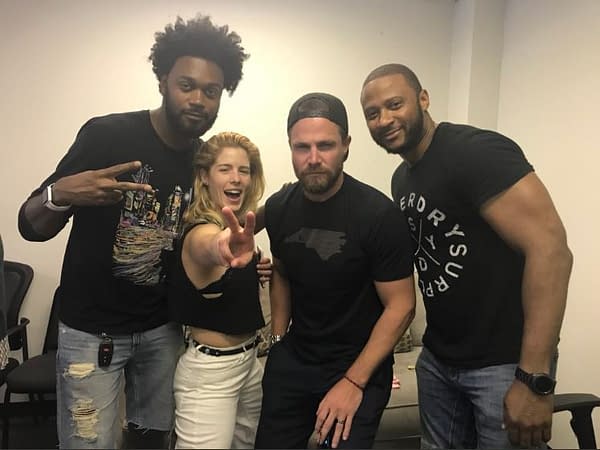 While the sixth season of the CW's Arrow may have ended on a bit of a downer for viewers – with Oliver Queen (Stephen Amell) shuffling off to the "Shawshank-on-steroids" otherwise known as "The Slab" – production on the series' upcoming season 7 appears to be starting off on the right foot. Under the leadership of new showrunner Beth Schwartz and facing a move to Mondays at 8 p.m. ET beginning October 15th, Arrow held its first table read of the season on July 5th and tweeted out some familar faces (Amell, Emily Bett Rickards, David Ramsey, and Echo Kellum); as well their choice of celebratory treat:
Happy #ARROW table read day! A few familiar faces stopped by today… 😉 pic.twitter.com/KMJggUbN0t

— #ARROWforever (@ARROWwriters) July 5, 2018
Special guests require special treats! 😋 #ARROW pic.twitter.com/kJqXsJgbVO

— #ARROWforever (@ARROWwriters) July 5, 2018
And then the big day came…
HAPPY FIRST DAY OF PRODUCTION! #ARROW

— #ARROWforever (@ARROWwriters) July 6, 2018
But let's not forget about Amell's tweet from July 5th, teasing a "big announcement" on Monday – and leaving Arrow fans dangling from a cliff by their fingertips until then. Show-related, or career related? Hmmm…
Big announcement Monday. So thankful for all the people in my life who made it possible.

— Stephen Amell (@StephenAmell) July 5, 2018

https://www.youtube.com/watch?v=rVFW6fIbDOM
There has been no shortage of close calls for Oliver Queen when it comes to protecting his Super Hero identity, but in the season six finale, he was finally backed into a corner and forced to reveal himself to the world as the Green Arrow. Now, Oliver will come face-to-face with many of the criminals he placed behind bars, as he makes a new home for himself at Slabside Maximum Security Prison. Oliver will find himself vulnerable in a way unlike ever before when a mysterious new enemy begins to unravel his work as Green Arrow, challenging him to redeem his name or risk losing everything.

Arrow stars Stephen Amell as Oliver Queen, David Ramsey as John Diggle, Emily Bett Rickards as Felicity Smoak, Rick Gonzalez as Wild Dog, Echo Kellum as Mr. Terrific, Juliana Harkavy as Black Canary and Katie Cassidy as Black Siren.
Schwartz gave fans an early look at the season's first episode in a tweet less than two weeks ago; with 'Inmate 4587' written by Schwartz and Oscar Balderrama, and directed by James Bamford:
First day of prep on the premiere! #ArrowSeason7 @ojbalderrama @JamesBamford 🏹 pic.twitter.com/A7QSnucvyg

— Beth Schwartz (@SchwartzApprovd) June 26, 2018