Premier art comics publisher Nobrow have taken a major step today into engagement with digital media, introducing their iPad app for Nobrow titles. The move wasn't exactly a foregone conclusion. Plenty of indie and art comic publishers have not yet made such a leap, and in the case of Nobrow, the publisher are known for their high quality production materials and the ways in which design is matched to the printed page.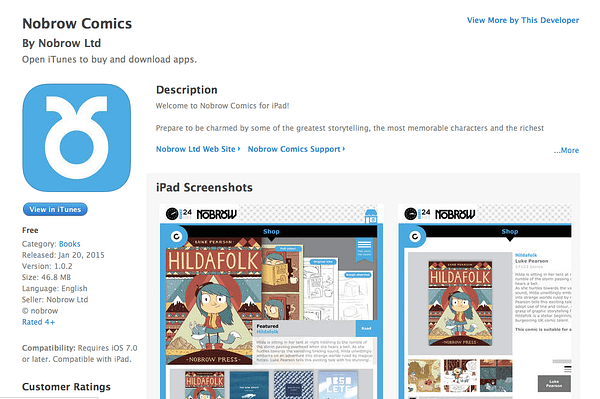 But the truth is, Nobrow's books represent the work of some of the most stunning visual narrative artists working today and that's going to come through on the digital screen, especially as Nobrow's books have tended toward longform narrative in the past two years or so and are headed confidently in that direction.
The app launched today, and Nobrow says:
Nobrow has spent the last five years specializing in high quality printed comics, aiming to push the boundaries of what design and print can offer. The whole time, we have also been keeping a keen eye on the digital evolution of the publishing industry and the exciting developments in the field of comics. And now, today, we are extremely proud to announce the launch of the Nobrow Comics App for iPad.

Designed in-house, we've worked very hard for the past year to make sure that the Nobrow Comics app has the same special, unique features that have made our books stand out all these years—the artists we work with deserve it. This jump into digital is by no means a replacement of our efforts in printed work. We will continue to work in and champion the very best in print, but it was time to step up and embrace the wider audience that a digital platform can offer the artists we are lucky enough to publish.
Nobrow will be piloting and demonstrating the app coming up at Angouleme and spreading the word about the digital options now available for their titles. The app has features such as "page view", "panel view" and even "layers" that may allow you to read the comic in its non-color and even roughs state, making for an "enriched" experience of reading beyond the finished product.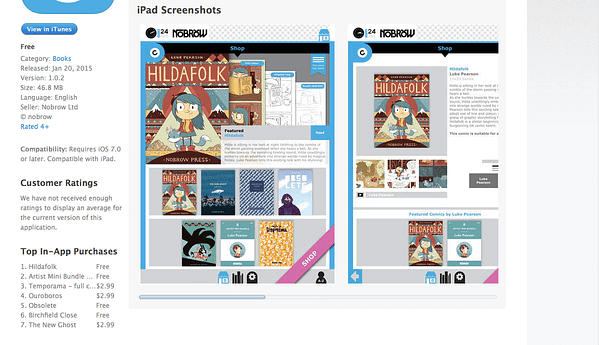 Here's their trailer to introduce you to their digital debut:
[vimeo]https://vimeo.com/115964411[/vimeo]
Nobrow have also announced that on Friday the 30th of January from 8AM to 11AM EST, their digital lead creative James Wilson will be leading a live Twitter chat on #NobrowApp.
You can find the new app here on iTunes.
Enjoyed this article? Share it!