The Cast Of Misfits On Gender-Swaps, Friendships (Awwww) And The Possibility Of Simon And Alisha Returning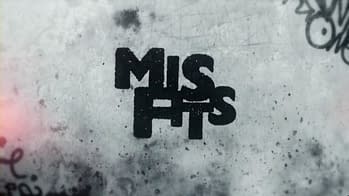 Misfits is one of the few things I still bother to turn the TV on for these days, so when I ran into Iwan Rheon, Nathan Stewart-Jarrett and Antonia Thomas at last night's VIP gala screening of Steve McQueen's new film Shame, I grabbed them and grilled them.
First up, I cornered Stewart-Jarrett, who faced new challenges this last season when his character, Curtis, gained the power to change his gender at will. It was an interesting twist which led to probably one of my favourite episodes of the season, wherein Curtis had to deal with date-rape, dating a bisexual woman as both himself and his female counterpart, and getting his period. And that's just in one day.
Bleeding Cool: Nathan, you tackled a pretty tough episode this season, how did you approach the script?

Nathan Stewart-Jarrett: With fear? And trepidation. I think it was just about him unravelling, I thought it was really about him losing his cool. Because he was very chilled and kind of stoic, so it was quite nice to play a different side of him.

BC: Curtis has a new power now, the power to zombify people. Are you going to miss your old power?
N S-J: Will I miss it? I don't know, we'll have to see. It's a cooler power but it has its pitfalls…

BC: Yeah, kind of end-of-the-world pitfalls.

N S-J: Yeah, that's a pretty serious pitfall.

Iwan Rheon (Simon) and Antonia Thomas (Alisha) will not be returning next season, but Rheon will be starring in Rowan Athale's Wasteland and Thomas will be seen in feature films Rearview and Eight Minutes Idle, both released this year.
BC: You guys are very sadly going to be leaving the show. What do you think you'll miss most?
Iwan Rheon: I think working with the guys… [gestures towards Nathan]

Antonia Thomas: Oh yeah, definitely.

N S-J: I'm going to miss you!

IR: We've spent so much time together and we're all such good mates now and we're like a family, that it's going to be really sad and strange.
BC: Any ideas about what you want to do next?

AT: I'd love to move into film, but theatre as well. I kind of just want to keep it varied as much as possible.

BC: Hopefully it will be a long-running show, so do you think it's likely that you'll make a return down the line?

IR: You never know what will happen with Misfits. No plans at the moment, but you never know…

I also asked if they could give any hints about what we can expect next season, but according to Stewart-Jarrett "it's all still unwritten".
Get cracking, Overman.