Everything You Thought You Knew About Those 'Better Call Saul' Flash-Forwards Might Be Wrong
Over the course of three seasons (with the fourth season currently airing on AMC), Better Call Saul has moved out from underneath the "a prequel/sequel to Breaking Bad" umbrella and defined itself as a series that can more than hold its own.
That said? Those black-and-white mini flash-forwards that give us a glimpse into the future of Saul Goodman-Jimmy McGill (Bob Odenkirk) are a special treat for Breaking Bad fans. With Jimmy now living the in-hiding life of Cinnabon manager "Gene," show co-creators Vince Gilligan and Peter Gould have given viewers a look at a post-Walter White (Bryan Cranston)/Breaking Bad finale world.
But this is the Breaking Bad universe, people…did you really think it would be that simple?
During a visit to the Better Call Saul Insider Podcast, Odenkirk, Gilligan, and Gould joined host Kelley Dixon to discuss "Gene's" fate – and that's when the show's creators brought up the possibility that those "Gene" scenes might not take place after Breaking Bad series finale 'Felina' after all. The scenario could mean that Walter White is alive and active during those moments – and offers them another option to consider for a Heisenberg appearance.
During the broadcast, Odenkirk decided to grill Gilligan and Gould "as a fan," asking if "Gene" would consider coming out of hiding if he knew about Walter White's death. Gilligan and Gould's responses would blow open a Pandora's box of possibilities that could turn three seasons worth of fan assumptions on their heads:
Gilligan: "Bob brings up an interesting question. Speaking of which: Do we even know in our Omaha sequences, our Gene sequences… I mean, has it (Walter White's death) happened yet?"

Gould: "We haven't defined that. We haven't said how long Gene has been in Omaha."

Gilligan: "It's a good question. Like you said, we don't know yet. It's a good question. Has it happened yet, has it not? As you say, Peter, we have not defined it."

Gould: "It's an open question. It's one that will have to be answered at some point — like a lot of these things."
The fifth season of AMC's Better Call Saul can't come soon enough…
When Entertainment Weekly reunited the cast of Breaking Bad for its 10th anniversary earlier this summer, Cranston, Paul, Gould, and Gilligan were asked about the possibility of a White/Pinkman story arc for Better Call Saul — with all four giving the idea a major thumbs-up. While they all agree there needs to be a good enough reason for them to appear, it feels like this might be happening much more sooner than later.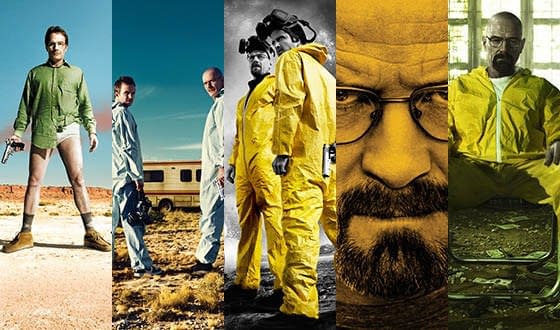 For Paul, it's his faith in Gilligan's creative hand that would bring him back to the role:
"My attitude towards it is the same I had from when Better Call Saul first started: if Vince decided to put Jesse in Better Call Saul, it's going to be for a reason, and that reason's going to be very satisfying for me. I trust in Vince. I don't think he would just do that to satisfy the fans. It would have a purpose, and whether or not he decides to find that purpose or searches for the purpose, I don't know. But if he does find that purpose, I'm happy to jump on board."
Cranston not only agreed with Paul, he had a "couple of ideas" of his own on how Walt and Jesse could be used:
"If he asked, I would just say yes. [Vince] takes such meticulous care of his characters and the story, and he changed our lives. 'Yes' is the answer. Even if it's just a brush-by. A quick little something. We've come to know people who we've seen before but we don't know that we've seen them before, because we were in the store and we just passed by them. Or we might even have a word or two. 'Oh no, please go ahead.' 'Thank you for holding the door.' And then five years later, you would never remember that. So something as minuscule as that could be very interesting in the fabric of the whole thing. We have those kind of encounters every day, and I think that would be fun for the audience — and the most honest."
For his part, Gilligan couldn't see it not happening — particularly because it looks like everyone wants it: "I desperately want to see both of them on Better Call Saul. Peter wants it, the writers do, the actors do." But with the anticipation and expectation that's built up over the past three seasons, Gilligan knows their appearance has to be more than just a phone call or a "walking across the street" scene:
"[I]t wouldn't feel as satisfying if it was just a cameo or an Alfred Hitchcock walkthrough," he says. "I think we've waited long enough. We damn well better have a good reason for them to show up. I just hope we figure it out because I've got to hear, 'Yeah, bitch!' one more time."
Better Call Saul airs Mondays at 9 p.m. ET/PT on AMC.