Better Call Saul: Bob Odenkirk, Peter Gould on Saul Goodman's "Birth," Season 5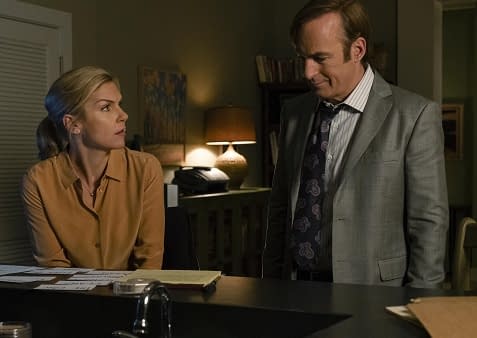 And in that moment, Jimmy McGill (Bob Odenkirk) was gone – and Saul Goodman stood in his place.
Before Kim's (Rhea Seehorn) still-unbelieving eyes – as well as our own – Jimmy "broke bad" in last night's season 4 finale of AMC's Better Call Saul ('Winner'), going "full Saul" to get his license back by making use of Chuck (Michael McKean) one last time and showing that he can peddle in emotions just as easily as he can peddle in burner phones. Victory secured, Jimmy made one last move that even Kim didn't see coming: legally changing his law-practicing name. As Breaking Bad fans know all too well, Jimmy's three-word "reassurance" to Kim will prove to be a harbinger of dark times ahead: "S'all good, man."
Now that the dust has settled and the smoke's cleared (and we've become a little more forgiving of the whole "super lab" subplot that was a little weak), Better Call Saul co-creator (with Breaking Bad creator Vince Gilligan) Peter Gould and star Odenkirk spoke to Entertainment Weekly in separate interviews to offer some perspective on Jimmy's (de)evolution into Saul and what it means for the the fifth season:
● For Odenkirk, saying "goodbye" to Jimmy was tough but found the Saul declaration freeing and refreshing:
"It feels like a new beginning. It's weird, I like Jimmy McGill. I, personally, as a human being, wouldn't go near Saul Goodman, but as far as the tensions within the show and playing the character and the journey of this plot, it was freeing to say that, and to go to that connecting point to pure Saul Goodman energy. I's what everyone's been asking about, everyone's been waiting for, and to some extent some audience have said, "When's it going to happen? It's taking too long!" And everybody who said that, now that they see this moment, I think a lot of them are gonna say, 'Too soon!' [Laughs] But the truth is, it's just great. I love Jimmy McGill, but it's just great to just get there. We're firing all the rocket boosters off now. Sooner than you think, we're going to be at Saul and just doing Saul things….

It's a declaration that Jimmy is Saul now — that's what he's committing to, and I loved it. Like I said, it was a freeing moment for me. It was a watershed moment of joy and energy. Even though I don't like Saul, I like playing Saul, and I like the energy that courses through Jimmy when he is Saul."
● The look on Kim's face after she realizes she was conned by Jimmy's emotional stand-up act at his hearing (combined with that painfully uncomfortable rooftop face-off) has serious implications for the couple moving forward, but Gould remains cautiously optimistic about the couple's future:
"I will say two things that give me a little bit of hope for their relationship. First of all, that was an awful fight on the roof. But also, maybe it's a door to a more honest relationship. Possibly. Because the two of them have been keeping their own counsel about so many things, there have been so many sins of omission between them: Kim started doing public defender work and she didn't mention it to Jimmy for quite a while, and Jimmy was selling phones on the street and wasn't telling Kim. I think they're in a different place. There's a little bit more honesty there because Jimmy especially has expressed his fears about the relationship. They came out as accusations, but in another way of looking at it, they are and were his fears.

So it's a question. I think it can go either way after an argument like that. And Jimmy doesn't know that he fooled Kim. He may have scammed her, but his back was to her in that room. He was scamming the members of the board. We'll see. I think that these two have a deep affection for each other, and I think they may have a little further to go down the road. I'm hoping."
Odenkirk doesn't have quite the same rosy outlook for the duo, and it all comes down to "The Power of Saul":
"I think they're doomed. I don't know if they break up pretty, I don't know if they split up in a way that's like, "Hey, you go your way, I go mine, all the best to you." I don't think that's what happens. I really think that Jimmy McGill, when he becomes Saul, for the first time in a long time feels powerful and effective. And that is an incredibly important thing for a man to feel. I won't speak for women, but I think guys who never feel that they can let their energy run, and that they can have some control over their world — it'll kill you to never feel that. And as wrong as it is — and I think it's a bad choice to be Saul — it is a persona that somehow matches some of Jimmy's strengths — many of them — with what the world wants from him, or is willing to allow him to do. So he feels strong. And that's a very encouraging thing, especially for this character who's really been undercut many, many times in his effort to play by the rules."
● As for what fans can expect from season 5, Odenkirk offered some "fan perspective" on the story points he'd like to see covered:
"I really can only speak to this as a fan. With what I know about the time that's left in there for them to tell this story, in the sense that they'd like to end this piece with some acknowledgement of Gene and his world and what he can make of it; they can't just leave him unconscious on the floor of a Cinnabon. [Laughs] They have to get him somewhere. They have a lot of work to do plot-wise. Certainly as a fan, I want to know what happens with Nacho and Lalo, and I want to know how Jimmy interacts with the two of them. When we see him in Breaking Bad, he's on his knees, and he thinks Nacho and Lalo are going to blow him away. So, whatever he did with them didn't go well."
While Gould offered-up a one-line teaser that should keep fans' brains busy for the next few months:
"We know who Saul Goodman is, but who is Saul Goodman to Kim Wexler?"