This is the Lucio Parillo cover to Queen Sonja #8 from Dynamite.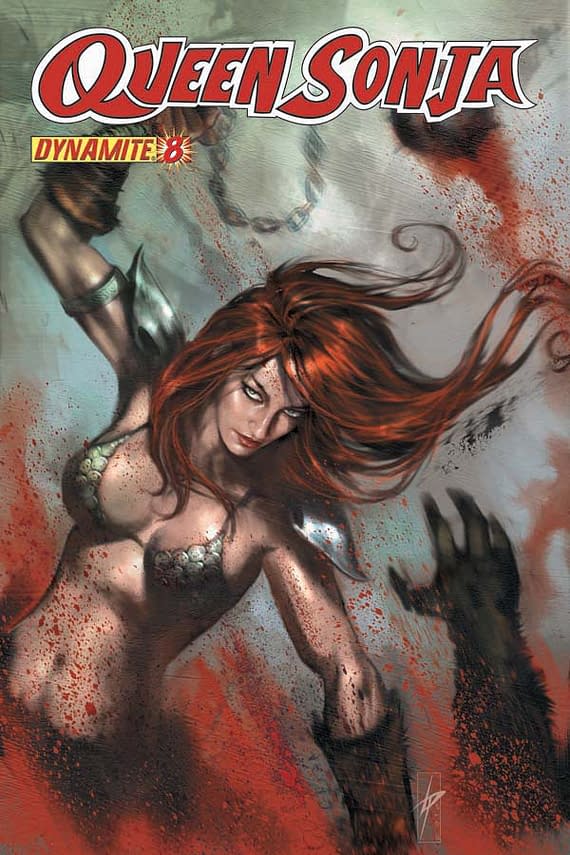 Let's start by saying that the breasts here don't seem particularly bizarre. A bit shiny, a bit too stuck-in-place. And okay, I'm sure "Queen" Sonja is flauting all sorts of royal protocol with this kind of get up in the first place. But, no, it's the splattered blood that concerns me more.
I mean, I know that chainmail bikini has got to cut into the flesh in some places, but this is a bit over the top.
But what is it with semi-naked women and blood these days? I remember watching Divorcing Jack with a friend of mine (oh, okay, Brendon Connelly) to his complaint "the first time I see Laura Fraser's breasts and they're covered with blood" but now it seems de rigeur. You can't go topless in a movie without being splattered in the red stuff.
Of course the heavy-eyeliner ironic stare-towards-the-audience is far more disturbing. A kind of "yeah, you caught me, almost nude, chain-whipping someone to bits before feeding them to the boars. So what, I'm Queenie now."
You know, I bet we don't get a scene of her washing the sticky coagulated blood out of her hair, later. Or even between the scales of her chainmail two piece.
Enjoyed this article? Share it!