Boom! Studiuos and Archaia's comics out in August (mostly)… Fairy Quest will always top my list. But what will you be looking out for?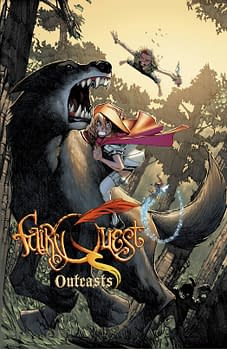 FAIRY QUEST: OUTCASTS #1
(W) Paul Jenkins (A) Humberto Ramos
(CA) A: Humberto Ramos; B: Humberto Ramos B&W
WHY WE LOVE IT: FAIRY QUEST is the passion project of Paul Jenkins and Humberto Ramos, the team behind REVELATIONS and a legendary run on Spectacular Spider­Man. They have put their heart, love, and creative wonder into this groundbreaking series, and we're excited to explore more of the world of Fablewood!
WHY YOU'LL LOVE IT: We all grew up reading fairy tales. We all love fairy tales! But if you enjoy your fairy tales with a twist like Fables, Fairest, or Once Upon a Time, FAIRY QUEST is the perfect series for you. Plus, Paul and Humberto have already made the fans their co­publishers with a successful Kickstarter.
WHAT IT'S ABOUT: The adventures of Red and Mister Woof have only just begun. In Fablewood, all of the stories that have ever been told live side­by­side. But it is an evil place, overseen by the awful Mister Grimm and his cadre of Think Police. Red and Woof want to escape to a world where their friendship isn't prohibited, but nothing can prepare them for what lies ahead in the Dark Forest.
FC, 32pgs $3.99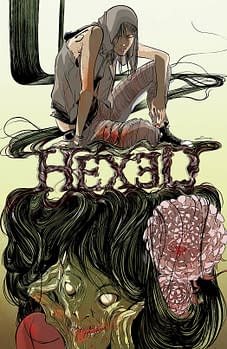 HEXED #1
(W) Michael Alan Nelson (A) Dan Mora
(CA) A: Emma Rios; B: Dan Mora
WHY WE LOVE IT: DAY MEN. 28 DAYS LATER. DINGO. Besides being one of our favorite writers, Michael Alan Nelson is one of the industry's preeminent voices in horror, and we couldn't be happier to be bringing back his fan­favorite creation HEXED for another dive into the depths of the Aether with an ongoing series!
WHY YOU'LL LOVE IT: Lucifer is the perfect mash­up of Buffy the Vampire Slayer and Lara Croft. Plus, HEXED was Pretty Deadly and Amazing Spider­Man superstar Emma Rios' introduction to the American comics scene back in 2008, and new series artist Dan Mora is poised to continue the trend with his lyrical, horrific, and wholly unique take on Lucifer.
WHAT IT'S ABOUT: Luci Jennifer Inacio Das Neves (most people just call her "Lucifer") is a supernatural thief­for­hire, stealing wondrous objects from the dark denizens of the netherworld for her mentor/mother figure, Val Brisendine. But when Lucifer accidentally
unleashes a terrible evil from one of the paintings hanging in Val's art gallery, will any of the tricks up her sleeve be enough to stop it?
FC, 32pgs $3.99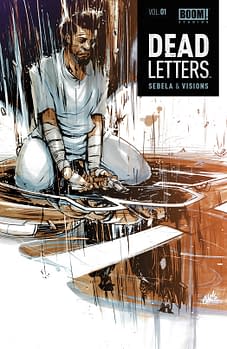 DEAD LETTERS VOLUME 1 TP
(W) Christopher Sebela (A/CA) Chris Visions
WHY WE LOVE IT: Here at BOOM! Studios, crime is in our blood. From our comic­turned­feature film 2 GUNS to our critically acclaimed series HIT, we've always had a passion for all things noir. DEAD LETTERS is the next step in our exploration of the genre.
WHY YOU'LL LOVE IT: Creators Christopher Sebela (Ghost, High Crimes) and newcomer Chris Visions have combined to create a perfectly moody tale that will evoke memories of your favorite noir story—then turn it on its head. Don't miss out on a wholly unique take on crime fiction perfect for fans of Richard Stark's Parker, Criminal, and Fell. "Christopher Sebela writes this thing to damn near perfection. …overall, this book looks supreme." ­ IGN
WHAT IT'S ABOUT: Waking up in a fleabag motel with bandaged arms and a revolver on his desk, Sam doesn't remember a thing—not how he got here, where here is, or who he is. But the armed men knocking on his door do and Sam will have to use every trick from his forgotten repertoire to outrun and outsmart his way through a hard­boiled wonderland of gang wars, femme fatales, and big secrets. Collects issues #1­4.
SC, 7×10, 112pgs, FC $9.99
BLACK MARKET #2
(W) Frank J. Barbiere (A/CA) Victor Santos
Under Denny's coercion, Ray has successfully procured and sold his first batch of Super DNA on the black market. The scary part? He's a natural, so much so that he and Denny need to expand their operation by bringing in some added muscle — a former hero with an axe to grind against the Supers who forced him out of the life.
FC, 32pgs (2 of 4) $3.99
ROBOCOP #2
(W) Joshua Williamson (A) Carlos Magno
(CA) A: Goñi Montes; B: Carlos Magno
OCP's massive overhaul on gun control has left the city of Old Detroit in the midst of an uprising. With RoboCop and Officer Lewis in the middle of a law they cannot support but must uphold, there is no end solution in sight that doesn't paint the streets in the blood of the innocent.
FC, 32pgs $3.99
HELLRAISER: BESTIARY #1
(W) Victor LaValle, Ben Meares, Mark Miller
(A) Colin Lorimer, Carlos Magno, Conor Nolan (CA) A: Conor Nolan
WHY WE LOVE IT: Over the past three years, Clive Barker has re­imagined the HELLRAISER mythos as only he could, building a long­form narrative that became one of the best­received horror comics in recent memory. Now, the Master of Horror takes us into his Bestiary for an anthology series—free of continuity, but full of shocking consequences.
WHY YOU'LL LOVE IT: HELLRAISER: BESTIARY will pick up where classic horror comics anthologies like Tales From The Crypt, Vault of Horror, and the more recent Flinch left off. And not only will some of comics' rising stars, such as Ed Brisson (Sheltered), and Michael Moreci (CURSE), get a chance to open the puzzle box in this series, but the first issue features the comics debut of award­winning novelist Victor LaValle (The Devil in Silver, Big Machine).
WHAT IT'S ABOUT: Step into the Bestiary for all­new tales of the LeMarchand Device and its guardians! This first issue contains the start of a six­part serial written by Mark Miller (CLIVE BARKER'S NEXT TESTAMENT) and Ben Meares (HELLRAISER ANNUAL 2013), and drawn by Carlos Magno (DEATHMATCH), where a group of mercenaries are hired to steal Pinhead's pins. Also, superstar author Victor LaValle teams with artist Colin Lorimer (CURSE) to tell a story set on the outskirts of New York City, as a close­knit community is torn apart by the presence of the puzzle box.
MATURE THEMES
FC, 32pgs (1 of 6) $3.99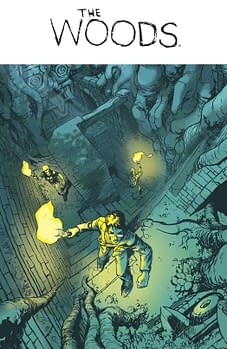 THE WOODS #4
(W) James Tynion IV (A) Michael Dialynas
(CA) A: Ramón Pérez; B: Michael Dialynas
In the woods, Karen, Adrian, and Calder explore the mysterious ruins of a past civilization as Sanami, Ben, and Isaac face off against a threat much scarier than the local fauna. At the school, Maria stokes revolution in the face of Coach Clay's fascist disciplinary committee.
FC, 32pgs $3.99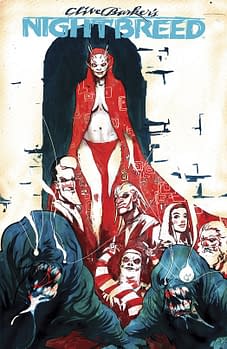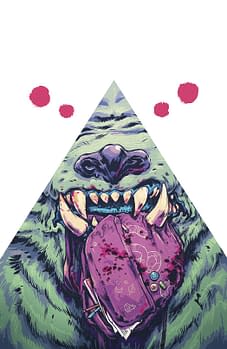 NIGHTBREED #4
(W) Marc Andreyko (A) Piotr Kowalski
(CA) A. Riley Rossmo; B. Christopher Mitten
"A monster lies in wait in me." The faith that once kept the demon inside at bay is abandoned. Ashberry's quest for the end times will break the beast out in full form. In another time and another nightmare, Chocolat must rip her children free from the clutches of the Vatican. Though her children are made by monster, they were born by egg in the nest of priest's clothing. A holy war for the ownership of her children must be waged.
MATURE THEMES
FC, 32pgs $3.99
THE EMPTY MAN #3
(W) Cullen Bunn (A/CA) Vanesa R. Del Rey
After the harrowing attack at the precinct, Langford and Jensen continue to follow the tenuous leads they've uncovered, traversing deeper and deeper into the dark underbelly of the Witness cult. But will they find the kidnapped children before Patient Zero strikes again?
FC, 32pgs (3 of 6) $3.99
THOMAS ALSOP #3
(W) Chris Miskiewicz (A/CA) Palle Schmidt
What is the supernatural mystery that tortures Thomas Alsop? To discover the truth, he must take a psychedelic journey to the past. There is a dark secret that will bring together colonial New York with the 21st Century, but only Thomas Alsop knows it. But will the world believe him?
FC, 32pgs (3 of 8) $3.99
EVIL EMPIRE #6
(W) Max Bemis (A) Marco Turini (CA) Jay Shaw
New story arc! With the true face of the Evil Empire revealed, the entire world has been turned on its head. Those who never thought they'd find themselves on the opposing side of society now have to resort to conforming to evil or go into hiding. Reese is now the leader of the underground resistance, but with the lines between right and wrong so blurred, she'll have to watch her every move.
FC, 32pgs $3.99
BIG TROUBLE IN LITTLE CHINA #3
(W) Eric Powell (A) Brian Churilla
(CA) A: Eric Powell; B: Joe Quinones
Charging down the Black Road of Hell in the Pork Chop Express, Egg, Pete and ol' Jack Burton are facing off against the mythical past of China. Demon thugs and the bulbous Seven­Faced Widow may stand in their way, but you know what ol' Jack Burton says at a time like this? "Have ya paid your dues, Jack?" "Yessir, the check is in the mail."
FC, 32pgs $3.99
SONS OF ANARCHY #12
(W) Ed Brisson (A) Damian Couceiro (CA) Garry Brown
In the wake of Damon Pope's death, there's a power vacuum left all along the West Coast and the Sons of Anarchy are determined to make sure the right crew fills it with whatever force necessary, and deadly force is always on the table.
MATURE THEMES
FC, 32pgs $3.99
CLOCKWORK ANGELS #6
(W) Kevin J. Anderson (A) Nick Robles (CA) Hugh Syme
Once, he was just a boy tending to the apple orchards. Now, Owen Hardy is flying a magnificent airship across the skies of Albion! In the course of this adventure he learns a secret about his own family, one that will take him to the hallowed Seven Cities!
FC, 32pgs (6 of 6) $3.99
STEED AND MRS. PEEL: WE'RE NEEDED #2
(W) Ian Edginton (A) Marco Cosentino (CA) Alice X. Zhang
John Steed continues the quest for the truth about his fellow agent, uncovering some secrets about the remote seaside resort he's investigating—and the locals are willing to go to extreme measures to keep Steed quiet. Meanwhile, Mrs. Peel weaves her way through the London Underworld before hitting the beach, as the return of Britain's coolest secret agents continues.
FC, 32pgs (2 of 6) $3.99
SUICIDE RISK VOLUME 3 TP
(W) Mike Carey (A) Artist(s): Elena Casagrande, Jorge Coehlo
(CA) Tommy Lee Edwards
Now awake, aware, and furious about what's been done to him, the murderous super­villain known as Requiem wants answers. There are huge gaps in his memories—he doesn't understand how he comes to be in this world he doesn't know, in this life that isn't his. But he does know there's no one he won't hurt or kill to get information. Not even Leo Winters' family. Mike Carey (Lucifer, The Unwritten) and artist Elena Casagrande (Hulk, Hack/Slash) continue to tell amazing stories in this critically acclaimed third arc of SUICIDE RISK, which also includes the thrilling standalone story illustrated by spotlight artist Jorge Coehlo (Polarity, Venom).
SC, 7×10, 112pgs, FC $14.99
GRACE RANDOLPH'S SUPURBIA VOLUME 4 TP
(W) Grace Randolph (A/CA) Russell Dauterman
From rising star writer Grace Randolph (Marvel's Nation X, Her­oes) and hot new talent Russell Dauterman, GRACE RANDOLPH'S SUPURBIA is a unique new twist on the superhero genre that takes a scandalous, TMZ­fueled look at what it's like to live with a superhero. Collecting the critically acclaimed fourth arc, join Hella, Eve, Gio, Zari, and Sara as the evil shapeshifter "Ruth's" ultimate plans come to fruition and the war is brought to the homefront.
SC, 7×10, 112pgs, FC $14.99
SUICIDE RISK #16
(W) Mike Carey (A) Elena Casagrande
(CA) Stephanie Hans
Having embraced her birthright, Tracey Winters taps into her power to set the world right—by whatever means necessary. And if she is anything like her father—now the vengeful Requiem—those means can be very bloody…
FC, 32pgs $3.99
TRANSLUCID #5
(W) Claudio Sanchez, Chondra Echert
(A) Daniel Bayliss (CA) Jeff Stokely
When did The Navigator truly become the legend? See the child become the man when young Cornelius steps up and helps a friend in need. But what will this victory cost him? Find out as The Horse's masterstroke is revealed. Will this be checkmate for our hero?
FC, 32pgs (5 of 6) $3.99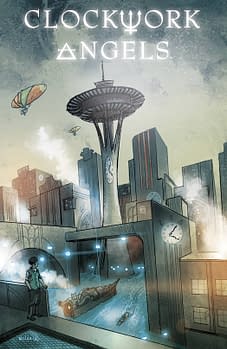 DEAD LETTERS #1–ECCC EXCLUSIVE
(W) Christopher Sebela (A) Chris Visions
(CA) Ibrahim Moustafa
Previously only available at Emerald City Comicon 2014, don't miss your chance to get this exclusive variant cover to DEAD LETTERS #1 by High Crimes artist Ibrahim Moustafa.
FC, 32pgs $9.99
CLOCKWORK ANGELS #1–ECCC EXCLUSIVE COVER
(W) Kevin J. Anderson (A) Nick Robles
(CA) Brett Weldele
Previously only available at Emerald City Comicon 2014, don't miss your chance to get this exclusive variant cover to CLOCKWORK ANGELS #1 by artist Brett Weldele (The Surrogates).
FC, 32pgs $9.99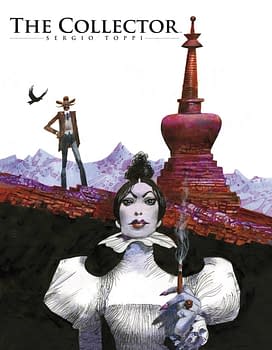 THE COLLECTOR HC
(W/A/CA) Sergio Toppi
WHY WE LOVE IT: The late Sergio Toppi remains one of the great master sequential artists whose work inspired a generation of illustrators and comic artists who followed him. The Collector is Toppi's longest­running original series, now translated into English for the first time since its debut in 1984.
WHY YOU'LL LOVE IT: Toppi's breathtaking line work and composition will leave you staring at his pages for hours. While this oversized edition serves as much as an art book as a comic, the adventures of the globe­scouring, daredevil Collector will appeal to fans of Indiana Jones, Five Ghosts, or Doc Savage.
WHAT IT'S ABOUT: Far from the auction halls of the elite, The Collector seeks out rare and mysterious artifacts across the world. He is at home in the salons of Paris as he is in the jungles of Borneo. Set against the backdrop of late 19th­century colonialism, The Collector is a delightful, swashbuckling adventure!
MATURE THEMES
HC, 9×11, 256pgs, B&W $29.99
THE LAST BROADCAST #4
(W) André Sirangelo (A/CA) Gabriel Iumazark
Ivan uses his hypnotism skills on Landell in hopes of finally helping Harumi locate Damon. However, what they learn may not be what they want to hear, especially when it leads them straight into the hideout of the Nonchalants, Backbone's arch­rival urBex team.
FC, 32pgs (4 of 7) $3.99
JIM HENSON'S THE STORYTELLER: THE NOVELIZATION HC
(W) Anthony Minghella (A) Hannah Christenson, Eva Eskelinen
(CA) Eva Eskelinen
WHY WE LOVE IT: Jim Henson was a master of fantasy stories perfect for all ages, and we're thrilled to get the novelization of his classic television series, The Storyteller, back in print in a beautiful hardcover collection featuring all­new illustrations.
WHY YOU'LL LOVE IT: This gorgeous hardcover includes stunning illustrations by Hannah Christenson (SPERA) and Eva Eskelinen (SPERA), as well as photographs from the Jim Henson Archives that provide a rare look behind the scenes of Jim Henson's Creature Shop during the filming of the Emmy Award­winning HBO television series.
WHAT IT'S ABOUT: Jim Henson's The Storyteller: The Novelization features nine tales of fantasy and folklore based on Jim Henson's beloved television series, beautifully written by late Academy Award winner Anthony Minghella, who also worked on the show.
HC, 6×8, 256pgs, PC $19.99
LUMBERJANES #5
(W) Noelle Stevenson, Grace Ellis (A) Brooke Allen
(CA) Noelle Stevenson
Archery is a vital skill for any Lumberjane — it teaches balance and precision, which these scouts are definitely going to need with the Bear Woman back! The Lumberjanes are on a chase through the woods and it might be time for some answers… as long as they don't lose anyone on the way…
FC, 32pgs $3.99
LUMBERJANES #1–WONDERCON EXCLUSIVE COVER
(W) Noelle Stevenson, Grace Ellis
(A) Brooke Allen (CA) Jess Fink
Previously only available at WonderCon 2014, don't miss your chance to get this exclusive variant cover to LUMBERJANES #1 by artist Jess Fink (We Can Fix It).
FC, 32pgs $9.99
STEVEN UNIVERSE #1
(W) Jeremy Sorese (A) Coleman Engle
(CA) A: Matt Cummings; B: Andrea Fernandez
WHY WE LOVE IT: STEVEN UNIVERSE is a show that captured our hearts almost immediately. We've been fans of Rebecca Sugar's from her work on ADVENTURE TIME for years and as the first lady to run her own show at Cartoon Network, we couldn't wait to collaborate with her!
WHY YOU'LL LOVE IT: A comic about a boy and his friends living in a small beach community, who just happens to have magical powers and fight monsters on the side?! Fans of ADVENTURE TIME and Sailor Moon are gonna dig this series presented in a zine­like format of mini­comics, recipes, games, and more!
WHAT IT'S ABOUT: Steven really wants to enter the annual Beach City Bike Race but
everyone else is a little worried. Steven just makes the cut­off for age, which means the other bikers will be a lot older than him. Connie agrees to help Steven the old­fashioned way through good ol' exercise but Garnet, Amethyst and Pearl have other plans…
FC, 32pgs $3.99
REGULAR SHOW #14
(W) Minty Lewis (A) Allison Strejlau
(CA) A: Andy Hirsch; B: Chelsea McAlarney
It's time to check out what happens at the coffee shop when Mordecai and Rigby are off on their own and Eileen is definitely up to something. What could possibly go wrong? Well, Mordecai and Rigby aren't the only ones who get into crazy things during the day!
FC, 32pgs $3.99
ADVENTURE TIME #31
(W) Ryan North (A) Shelli Paroline, Braden Lamb
(CA) A: Kostas Kiriakakis; B: Sam Ellis
The world of Ooo is a quiet place, where candy and creatures stick to themselves and nothing ever happens…it's almost ACCEPTABLE. It's a twisted adventure starring Ooo's most yellow Earl and there is pretty much nothing Finn and Jake can do about it.
FC, 32pgs $3.99
ADVENTURE TIME VOL. 4 MATHEMATICAL EDITION HC
(W) Ryan North (A) Shelli Paroline, Braden Lamb
(CA) Hannah Nance Partlow
Join best pals Jake the Dog, Finn the Human, and…the ICE KING?! It's a Dungeon Bro­Venture as this crazy trio jumps into a game of danger and feelings. Will the treasure at the end be worth all the crazy emotions, or have Finn and Jake finally found a quest they won't be able to finish? Don't miss these brand­new adventures written by acclaimed cartoonist Ryan North (DINOSAUR COMICS) and illustrated by ICE AGE's dynamic art duo Shelli Paroline and Braden Lamb in this deluxe hardcover edition.
HC, 8×11, 128pgs, FC $34.99
ADVENTURE TIME: BANANA GUARD ACADEMY #2
(W) Kent Osborne (A) Mad Rupert
(CA) A: Aimee Fleck; B.Kelsey Sunday
Root Beer Guy has his first class of Banana Guard recruits and it's time to send them to boot camp. With the Head Banana Guard looking over his new class, what could possibly go wrong? Unfortunately, these Bananas are a little more than bruised by this new class and they're not going to make it easy. Will Gingerbread Muto, Tree Trunks, Gum Drop Lass, Peppermint Butler, and Mr. Cupcake make it through?
FC, 32pgs (2 of 6) $3.99
THE AMAZING WORLD OF GUMBALL #3
(W) Frank Gibson (A) Tyson Hesse
(CA) A: Missy Pena; B: Christina Chang
It's a game of truth or dare and Gumball is determined to win. He's going to prove that he's got the guts and he definitely wants the glory and completing all the dares without ever having to resort to a truth…hopefully no one breaks an arm!
FC, 32pgs $3.99
ADVENTURE TIME VOL. 2 ENCHIRIDION HC
(W) Ryan North (A) Shelli Paroline, Braden Lamb
(CA) Stephanie Gonzaga
Previously only available at conventions, this deluxe, oversized, extremely limited edition of the ADVENTURE TIME VOL. 2 collection features a die­cut, leather­bound cover.
HC, 128pgs, FC $74.99
ADVENTURE TIME 2014 ANNUAL #1–C2E2 EXCLUSIVE COVER
(W) Frank Gibson, Becky Dreistadt
(A) Becky Dreistadt (CA) Mad Rupert
Previously only available at C2E2 2014, don't miss your chance to get this exclusive variant cover to ADVENTURE TIME 2014 ANNUAL #1 by REGULAR SHOW: SKIPS writer/artist Mad Rupert.
FC, 32pgs $9.99
REGULAR SHOW: THE MACHINE MINI-COMIC
(W/A/CA) Jon Chad
Miss out on this 2013 SDCC Exclusive? Now's your chance to pick up the REGULAR SHOW mini­comic by the crazy talented Jon Chad, featuring an accordian­style comic that you will never want to end!
FC, 6×4, 12pgs (Accordion-Style Fold) $34.99
BRAVEST WARRIORS VOL. 3 TP
(W) Joey Comeau (A) Mike Holmes (CA) Tyson Hesse
Catbug is the most dangerous creation in the universe and now it's up to Chris to save the world and Catbug…through punches. It's the tournament everyone has been waiting for—MULTIVERSE BATTLE CHESS BLITZ BLOODBATH! Will our heroes be up to the challenge or is it already too late? Find out in these brand­new missions, written by acclaimed cartoonist Joey Comeau (A Softer World) and illustrated by Mike Holmes (True Story), featuring short stories from Three Word Phrase creator Ryan Pequin.
SC, 7×10, 128pgs, FC $14.99
BRAVEST WARRIORS #23
(W) Kate Leth (A) Ian McGinty
(CA) A:Tara Helfer; B: Renata Latipova
Chris is missing and it's up to the Bravest Warriors to save their good friend and kind of leader. Will the Bravest Warriors be able to save Chris from the slug people even though they're one member short? And what nefarious purpose could they have for the team's residential Emotion Lord? Join Danny, Beth, and Wallow as they try to get to the bottom of this and save their friend.
FC, 32pgs $3.99
BEE AND PUPPYCAT #4
(W/A) Natasha Allegri
(CA) A: Natasha Allegri; B: Zac Gorman
Bee and PuppyCat are running for their lives! Things are taking a drastic turn on this mission and Bee might be the only one who can save the day…if only she knew how to actually use a sword! PuppyCat has its hands full this time around. Hopefully, things aren't as bad as they look
FC, 32pgs $3.99
GARFIELD #28
(W) Mark Evanier (A/CA) Andy Hirsch
The Fat Cat keeps on bringing the laughs through the Summer! This month, a trip to the park for a barbecue leads the gang to meet a genie, and Garfield also gets caught up in a hilarious case of mistaken identity.
FC, 32pgs $3.99
HEROBEAR AND THE KID: SAVING TIME #1–ECCC EXCLUSIVE COVER
(W/A/CA) Mike Kunkel
Previously only available at Emerald City Comicon 2014, don't miss your chance to get this exclusive variant cover to HEROBEAR AND THE KID: SAVING TIME #1 by Mike Kunkel, featuring the first­ever cover featuring a color other than red.
FC, 32pgs $9.99
Enjoyed this article? Share it!