A Very Brady Renovation: HGTV Reunites Brady Kids for "70s-Inspired Rehab" of TV Home
"Here's a story, of six ex-child actors
Who were looking to renovate their TV home
But since it's nearly 2019, they had to film it
And shop it to HGTV…"
Okay, maybe it doesn't have quite the same ring to it as the original theme song for The Brady Bunch had back in the day, but it's true: Mike and Carol Brady's (Robert Reed, Florence Henderson) bunch are reuniting for HGTV's A Very Brady Renovation (working title). The series will follow a full "'70s-inspired rehab" overhaul of the house used for exterior shots in the classic ABC sitcom, which ran from 1969-1974 and grew in worldwide popularity over the years through syndication.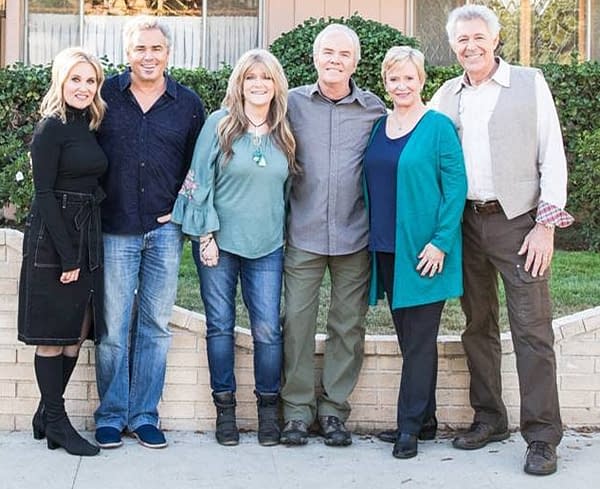 Reuniting for the first time in fifteen years (from left), Maureen McCormick (Marcia), Christopher Knight (Peter), Susan Olsen (Cindy), Mike Lookinland (Bobby), Eve Plumb (Jan), and Barry Williams (Greg) helped kick-off A Very Brady Renovation at the iconic Studio City home. The stand-alone series is scheduled to premiere on HGTV in September 2019.
The Bradys weren't alone, though: joining them for an on-camera walk-through of the house were network personalities Jonathan Scott, Drew Scott, Mina Starsiak, Karen E Laine, Leanne Ford, Steve Ford, Jasmine Roth, and Lara Spencer.
Here's a look at the entire team, as well as an overview of the series from HGTV: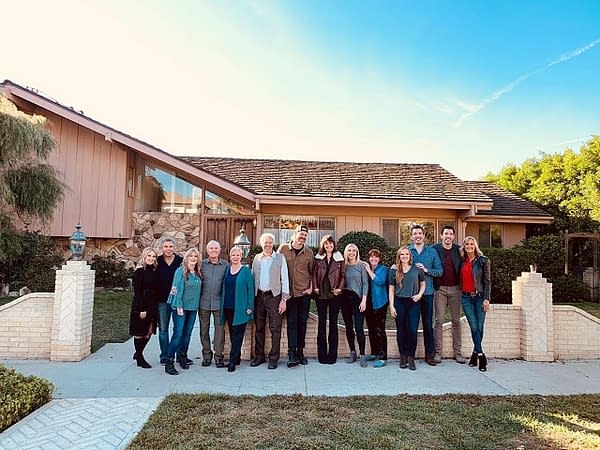 Exterior shots of the real house were often used to establish a sense of time and place for the Brady family. In the coming months, HGTV will execute a show-stopping transformation by adding 2,000 square feet to its original footprint — all without compromising its instantly recognizable street view. HGTV home renovation stars also will reimagine the popular show's interior set design, working to ensure that the final renovation results stay true to the spirit of the Brady Bunch family home that everyone loves and remembers. From the unforgettable signature wood-paneled living room with floating staircase to the orange and green kitchen and the kids' Jack-and-Jill bathroom, The Brady Bunch house will forever hold a special place in television history and American pop culture.
Reporter's Note: That's all fine and great – but a warning? If you even think about swinging a hammer in the direction of 1313 Mockingbird Lane – we riot!