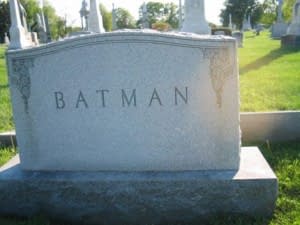 It took a long and winding path to get to this story. But here we go.
The Search For Bruce Wayne. The Return of Batman. Two series by Grant Morrison kicking off from Summer 2010. After his apparent death (twice) and revelation that Bruce Wayne is stuck somewhen in the past (possibly crossing the spirit path of Captain America, I dunno) word is that DC will be bringing their world's greatest detective in rubber back in a series of series, the details of which are completely unknown (to me, I mean) save for their working titles (which may be old) and that it's all part of the Big Grant Morrison Batplan for 2010. For which, one day, I wish DC publish big hyperlinked blueprints. That would be nice.
Oh come on, how long did you think he'd be dead for anyway? And odds are there will be a number of clever surreal twists to this return to delight the senses. Enjoy…
Enjoyed this article? Share it!