Well, there's a thing. Immortal Hulk has been Marvel's most consistently high-quality comic for the past two years, is already a classic and is vying to be one of Marvel's greatest runs in its 80 years of history.
Courtesy of lead creators Al Ewing and Joe Bennett, they have taken the Hulk away from superheroics, action-adventure, even traditional monster comics, and taken it back to its horror roots, recognising the original inspiration of both Frankenstein and Doctor Jekyll and Mister Hyde. With a Hulk – and fellow gamma-irradiated characters – no longer transforming out of rage but with the moon – even if they've been killed before. It has given us body horror, Devil Hulks, the combination of the scientific with the supernatural, and an overwhelming creeping feeling of dread. And with the previous issue showing us just what a Hulk could be for the future of the Marvel Universe – and the one that follows, Immortal Hulk #26 goes for a full anti-capitalism message expressed by Bruce Banner to the mass populace. He probably got the idea from Professor Xavier.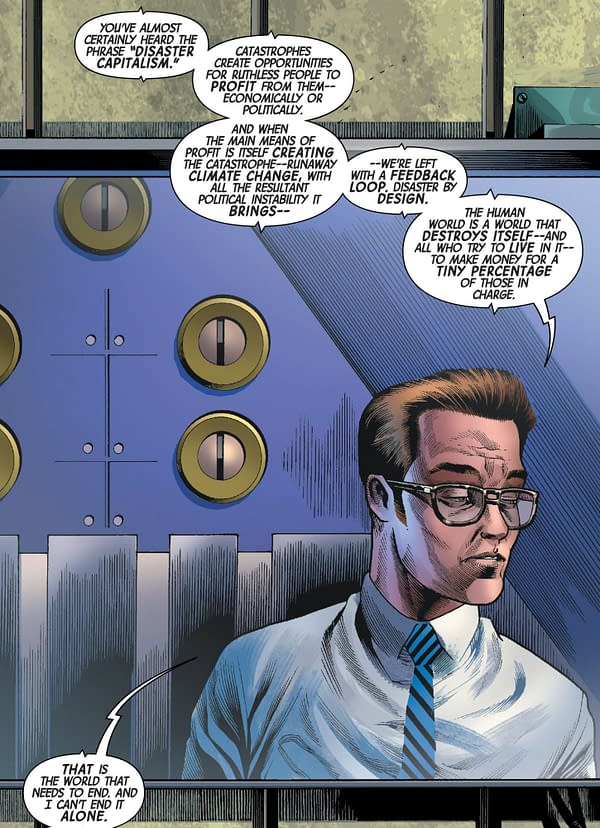 Of course he is not alone. And he lays out what he is going to do.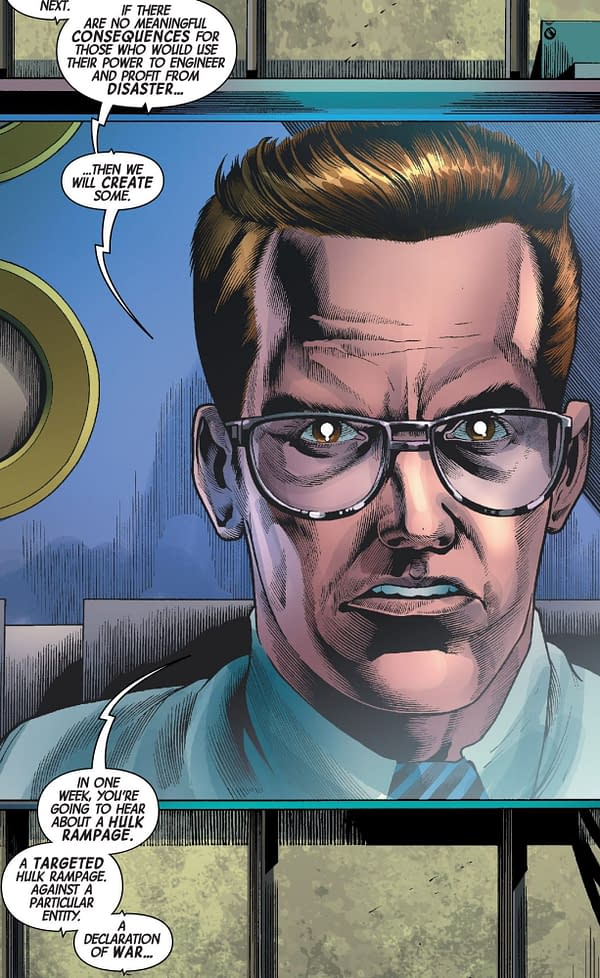 He's the Hulk. He doesn't pussy-foot around. We get to see the world reaction.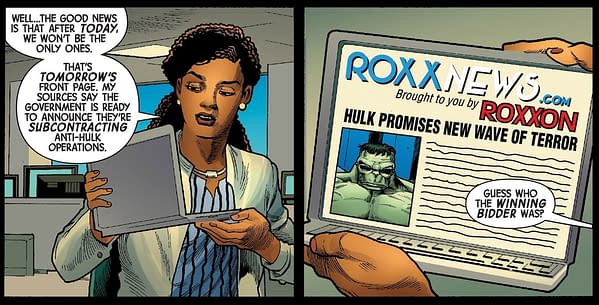 Or at least the media reaction.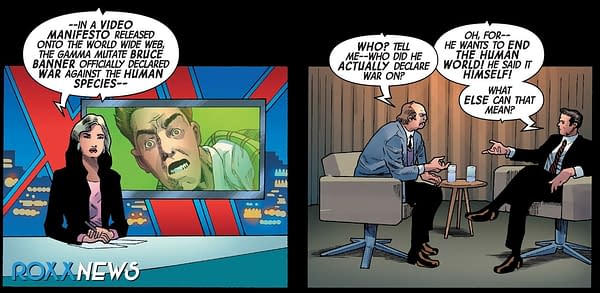 Roxx News there, owned by Roxxon Industries, the big oil company of the Marvel Universe, and all sorts of other nastiness.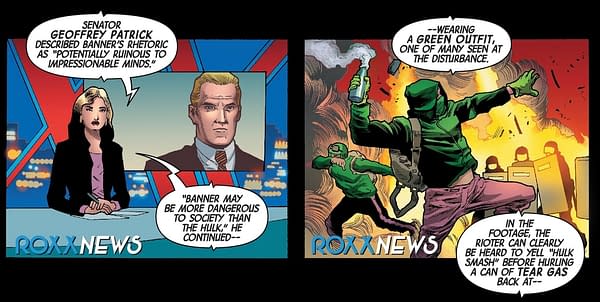 With support for Bruce Banner turning into green-themed riots…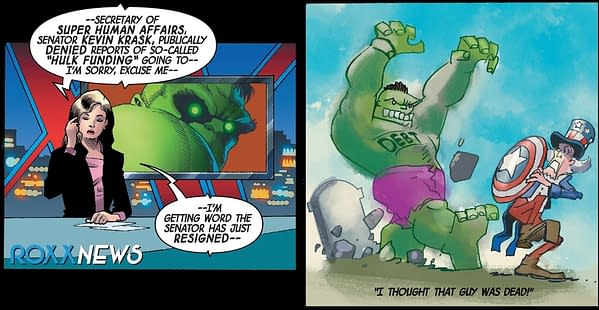 And even political cartoons playing up the funding that was given to an anti-Hulk agency, now seized by Bruce Banner and being put to his own purposes.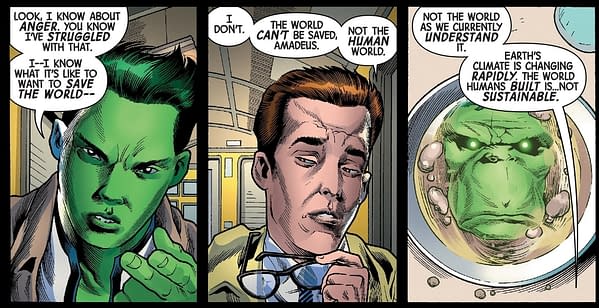 All the time while Bruce Banner is explaining his thinking further to fellow Hulk, Amadeus Cho.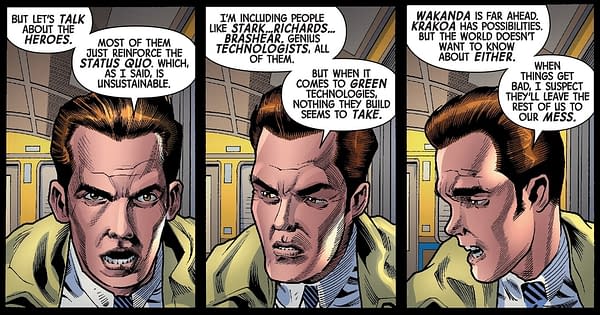 Told you he'd heard what Professor Xavier had to say. But he has capitalism to talk about.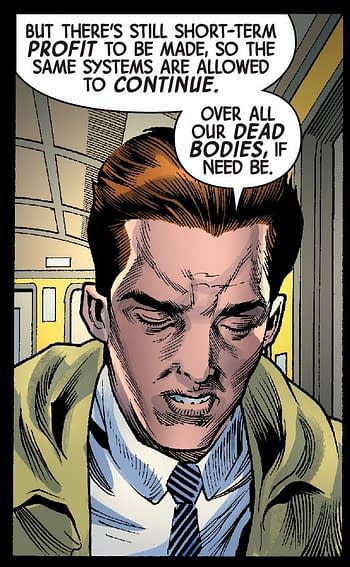 But also seeing if there's a way to instil capitalist principles to solve capitalism. By making the Hulk a cost of business…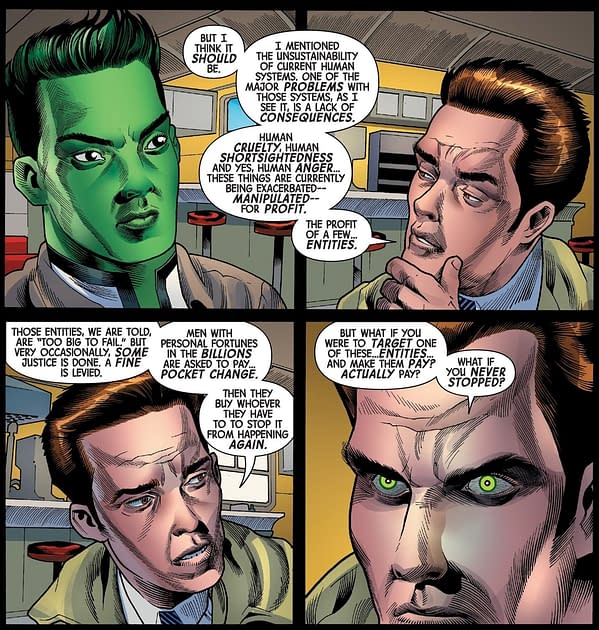 Who knew that Bruce Banner could be so…. green? You know, when he's not turning red…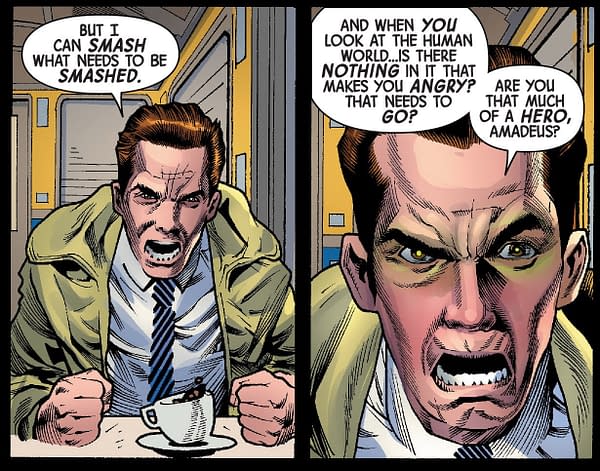 Though it's Amadeus who mentions what colour Bruce Banner really is…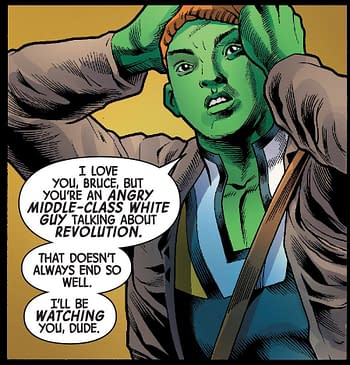 And he's not the only one. Over to the true monsters at Roxxon Industries…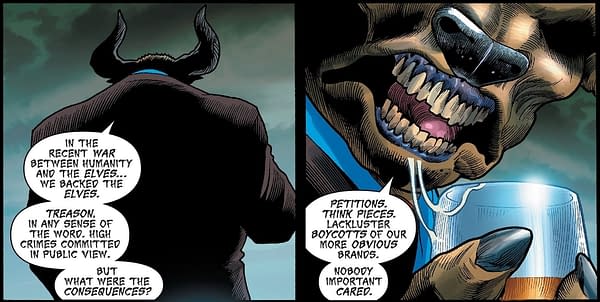 IMMORTAL HULK #26
(W) Al Ewing (A) Joe Bennett (CA) Alex Ross
• He's got an underground fortress. He has powerful allies. He's even got henchmen.
•  He's got everything he needs to declare war on human society as we know it. He's the most dangerous man in the world…
•  …and BRUCE BANNER is just getting started.
Parental AdvisoryIn Shops: Nov 06, 2019
SRP: $3.99
Artist Joe Bennett had both Immortal Hulk #26 and The Infected: King Shazam out yesterday, quite a workload. That may be less in months to come as he has been going through the worst of times on a personal level. Our thoughts and prayers from all at Bleeding Cool, Joe.
Enjoyed this article? Share it!