Chris D'Lando Left Marvel Comics Yesterday
Chris D'Lando used to report from comic conventions for Bleeding Cool. Then, one day in 2013, he joined Marvel Comics in their marketing department. As Junior Sales & Communications Admin at Marvel, he worked alongside Joe Taraborrelli under David Gabriel and was responsible for much of the coverage of Marvel Comics in the media.
Yesterday, that was no longer the case. He told Bleeding Cool,
As some of you may have noticed, I am no longer with Marvel as of May 1st. I have valued my time there immensely, and am so grateful for the opportunity I was given, but I needed to make a change. I've had the chance to work with some of the best creators in the business, some of the hardest working behind-the-scenes people as well as great folks outside the company– all of whom I look upon fondly. I'm now ready to move on to the next great opportunity and possibly try some other things (so keep me in mind!), both within the comics world and beyond. I'll always be a Marvel kid at heart and oh what a ride it has been.
This is how Marvel changed him. From… …to….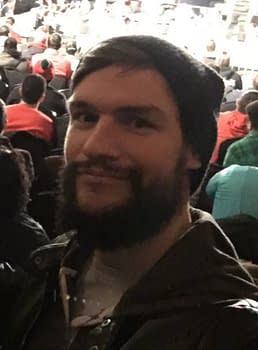 It took his fresh face that long to grow the beard. Initial response has been swift.
Good luck Chris! There's always a place here if you ever fancy coming back…