Tuesday Trending Topics: Cutting Up Kirby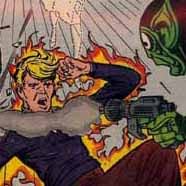 Eek. I must admit I can barely look at this, even given all the givens — it's a low grade copy, one of many, etc, etc — but I've spent too much of my life trying to preserve old paper. And of course, obviously, the process is part of the message, since the material could have been scanned and sliced digitally. But though the process does make me cringe as they no doubt intended, I will be curious to take a peek at the end result.
Most-Read Comic Stories Today:
Homeless Batman To An Inviting Cloak And Dagger – Cosplay With Kristen Leigh At ECCC
Thanks to Kristen Leigh, and her photographic skills at ECCC, here's a look at some rather fun cosplay and a little celebrity to boot…
Cutting Up A Copy Of Fantastic Four #2 With Scissors
I can feel some people's sphincters tightening when they see this. Shaky Kane, of Bulletproof Coffin, about to cut up a copy of Fantastic Four #2, featuring the FF fighting Skrulls… and it's no mere threat. Here's what happened next.
Review: Avengers Vs X-Men #1 – The Message Is Not Everything
This is what you might call a critic-proof book. No matter what I say, enough of you are going to buy this comic. And those who weren't were probably never going to. Tonight, tomorrow, whenever, it will end up in your comic collection alongside the first issues of Blackest Night, Fear Itself and Schism. So I can pretty much say what I like in the full knowledge it won't make a blind bit of difference to anyone.
Most-Read TV/Film Stories Today:
An April Fool Story About James Cameron Directing Prometheus 2 Gets Out Of Hand, Ends Up Being Rather Funny
This should be embarrassing for Deadline and The Guardian.
If Doctor Who Were A 16 Bit RPG
Episodes of Doctor Who from the 64 bit era, bust down to 16 bit pixel art.
BuzzFocus has run an interview with Ben Jones, producer on the DC Nation show currently airing in the US. And they discovered a new character about to get the animated treatment.