Dan Forcey Leaves Platinum Studios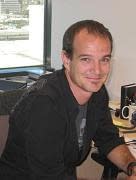 With Cowboys And Aliens getting closer to a release date, Platinum Studios is losing one of their most visible faces.
Dan Forcey, VP of Content Development sent out a mass email saying
After 9 years of learning a lot and meeting some amazing people, as of today I will no longer be working at Platinum Studios. I wish everyone there nothing but the best of luck and really look forward to what the future holds for me. I'm sure Platinum will continue to prosper and do amazing things without me and I look forward to applying everything I learned here in the next stage of my life.
His name and credits are still on the company website.
Dan has been with the Platinum since 2002 as Communication's Manager before gaining promotion in 2007, but maintaining his public face of the company, especially in relation to its creators.
Previously he was a stuntman, fight choreographer and tutor, and did stunt work for Platinum's upcoming Dylan Dog.
What this means… I don't know. Platinum was one of the most traded shares last Friday, dropping from 18 cents to 15 cents a share.
Is something up? More than usual, I mean?