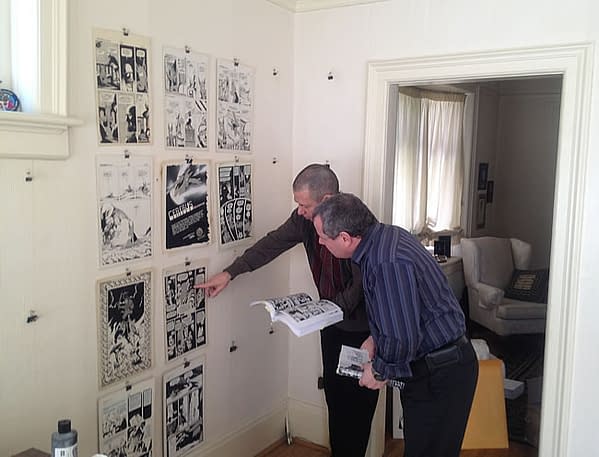 When Dave Sim originally published the Cerebus phonebooks, collections stuffed with twenty or more issues of the black and white comic, he did so outside of Diamond Comic Distributors, which caused a massive stink. Google it.
But it also gave him the opportunity to sell signed and numbered editions, and for people to keep the name numbered edition for subsequent volumes.
Well, now Sim is doing the same for the Cerebus Archive. Though it may take even longer than the thirty years Cerebus took.
Cerebus Archive is the latest initiative to publish facsimile original art boards, bound together, this time by Dave Sim. Put it's not a few hundred pages he's looking to publish but a few thousand, collecting the original art that remains in the Cerebus art collection.
Advance orders will be taken on Kickstarter, for Cerebus Archive Number One, the first ten original art pages that remain in the collection, for $79 CAN. The next one in three months after that. And again and again.
Which means it will take over a hundred years to get through it all to volume 380. Nevertheless, that is the plan… and Dave says that folk are welcome to eBay them on his death.
But folk will be able to reserve their number ahead of the campaign from midnight tonight. Kickstarter backers of previous Dave Sim projects will get an hour's head start. I, sadly, will be asleep.
The plan is that the money will,
finance the restoration and preservation, not only of the 6,000 page Archive, the Off-White House, the 3,800 pages in off-site storage, the foot high stack of newspaper tearsheets (back when it was OKAY to write about Dave Sim in the newspaper) that really need to be in sheet protectors. Extensive foundation work on the left rear of the house. Scott, next door, completely renovated his place and turned it into a triplex and when he dug down to see what condition the foundation was in There. Was. No. Foundation.

This place used to be called Sand Hills Creek for a reason. His whole place was built on sand. We don't KNOW that the Off-White House is, but odds are…
That's right folks. Cerebus has been built on shifting sand…
Here;s the collector detail you need.
SUBJECT: AMOC

ANY e-mail with that in the subject line which comes in to cerebusarchive@geps.ca after 12:01 am ET tomorrow morning will reserve your number in one of three ways:

LOWEST NUMBER HOLD This means that you have obtained a specific number that you will retain in all future Kickstarter campaigns.

SPECIFIC NUMBER HOLD This means that you have a specific number — a lucky number — that you want and you want it from now on. Even to the point where if we only sell 125 and your lucky number is 211, I will number yours #211 out of 125. Sincerely. I'll even make a note that I promised you could have that number no matter what so no one can doubt it's authentic.

LOWEST NUMBER STAND-BY This means that you want the lowest number that you can get. If someone, for example, reserves a number but doesn't pay for it, it becomes available and everyone on the STAND-BY list moves up one in the "line"
Enjoyed this article? Share it!