The war on Superman's underpants continues!
DC Comics has revealed a "new" look for Superman, and it looks a lot like the classic look for Superman, except that Superman continues to spurn his classic red underpants. ComicBook.com has the EXXXCLUSIVE reveal on this one, but we've pilfered the images so you can view them below: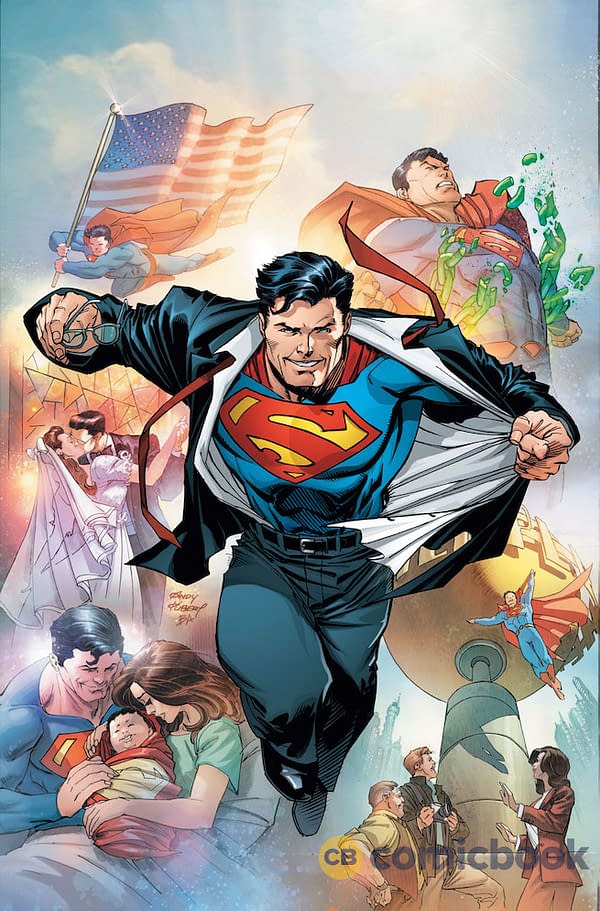 The new looks will debut in Superman #20 and Action Comics #977 in April, following the events of March's Superman Reborn crossover between the two titles. Here's the solicitations for these issues, so you can speculate about what will happen in Superman Reborn, in particular, who is [REDACTED], is it a Watchmen character, and is it the same person as Mr. Oz, also referred to in the same solicit separately? Is it Doctor Manhattan in the shadows? Does Superman not have his god damn red underpants because he gave them to Doctor Manhattan to cover up his radioactive wiener so that he can finally leave those shadows?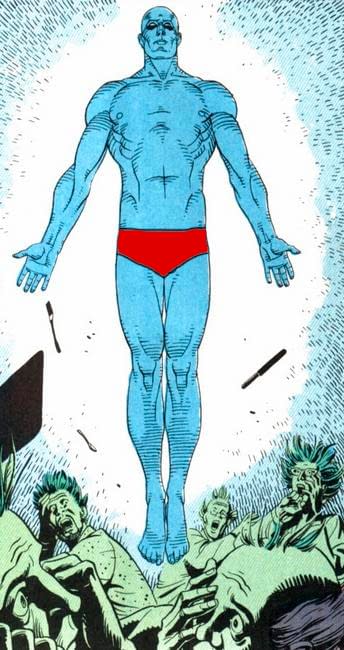 SUPERMAN #20
Written by PETER J. TOMASI and PATRICK GLEASON • Art by PATRICK GLEASON and MICK GRAY • Cover by PATRICK GLEASON • Variant cover by TONY S. DANIEL
"Superman Black" part one! A "Superman Reborn Aftermath" tie-in! As the smoke clears the Kents are faced with leaving Hamilton to go back to Metropolis, but someone or something doesn't want them to leave! Batman and Robin discover something is mysteriously wrong with the son of Superman—he's losing his powers!
On sale APRIL 5 • 32 pg, FC, $2.99 US • RATED T

ACTION COMICS #977
Written by DAN JURGENS • Art by IAN CHURCHILL • Cover by ANDY KUBERT • Variant cover by GARY FRANK
"Superman Reborn Aftermath" part one! Following the epic struggle against [REDACTED], Superman examines his entire history—the birth of Jon, the marriage of Lois and Clark, their lives at the Daily Planet—to discover who tried to destroy his life. Who is waiting in the shadows? Who is Mr. Oz? All questions the Man of Steel cannot answer alone. It is time for him to unite the entire Superman-Family!
On sale APRIL 12 • 32 pg, FC, $2.99 US • RATED T
While it is very frustrating for fans of Superman's underpants, who believe the red helps create separation in the costume, that DC's leadership appears to have a personal vendetta against the iconic red briefs, we like to take the positive approach to things here at Bleeding Cool, so we'll assume this is all leading up to 2019's Summer super-mega-crossover event, Crisis of Infinite Underpants, which will see every hero in the DCU don a pair of underpants on the outside of their costumes in a show of support for Superman to tell him, "Hey bro. So you like to wear your underpants on the outside. That's okay. Be yourself. We won't judge you." And then Superman will have the courage to wear his red underpants again.
Enjoyed this article? Share it!