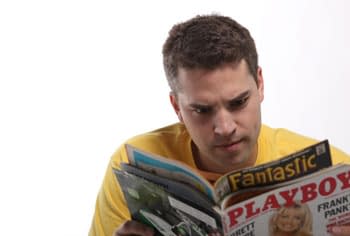 DC's Source blog decided to announce a new Batman Incorporated #1 for next year, by Grant Morrison and Chris Burnham, on their own Source blog (rather than letting IGN have first dibs) along with a statement from Grant Morrison;
"Batman, Incorporated will continue through to Issue #10 and August's shocking season finale that changes the Batman status quo yet again. The series will take a brief hiatus while I work on a major new project to be announced shortly. Batman, Incorporated returns next year with me, Chris Burnham and Batman: Leviathan, the epic 12 part conclusion to my 6 year Batman saga. Don't miss it!"
But that wasn't enough, we needed a statement from Chris Burnham too. He told us "YES!"
Thank you Chris. We at Bleeding Cool feel the excitement. And appreciate your choice of reading material.
Links to Bleeding Cool's complete DC relaunch coverage
Enjoyed this article? Share it!