Doom Patrol #4 – The Monster Smash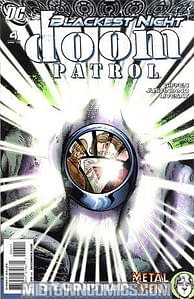 Doom Patrol #4 is the first Blackest Night tie-in comic to come with a Blackest Night promotional ring, in this case, a Yellow one.
So how has it affected sales?
Well, there have been sellouts. Stores that really felt they stretched orders to a mighty twenty-five copies in to qualify to order the rings, many annoyed that they wouldn't be able to sell them all, have see the copies fly off the shelf in seconds.
Other stores have ordered heavy. Really heavy. Boxes and boxes of the comic came in, far more than for, say, the Brubaker/Hitch Captain America: The Return series. For a number of stores it's the heaviest comic they've stocked this week, hell, this month. Old customers have been coming out of the woodwork because, hell, you can't illegally download a yellow ring from Pirate Bay. Not yet anyway. And while they're selling the comics, on the back of the ring giveaway, there's also demand for the comic, ring or no ring, for it's Blackest Night tie-inability. Good, because as of now, the Yellow Rings are out of stock at distributor level…
With more Blackest Night ring books this month to come, Diamond statistics are going to look very interesting indeed.
And if only a small percentage of new readers stick around for Doom Patrol #5, that will still be a massive spike in orders.
Nice one, DC.