Atomic Crush Events (ACE), the comic convention organisers set up by ex-Wizard people (not to be confused with ACE Comic Con also set up by ex-Wizard people) has unveiled a new interpretation of Jetpack Jules, their official mascot for Comic Con Revolution, this time designed by Dustin Nguyen who will be a guest at the show. ComicCon Revolution's 2018 Official Merchandise, including glasses and t-shirts featuring Nguyen's art, is available at the convention's online store and will be available at the convention while supplies last.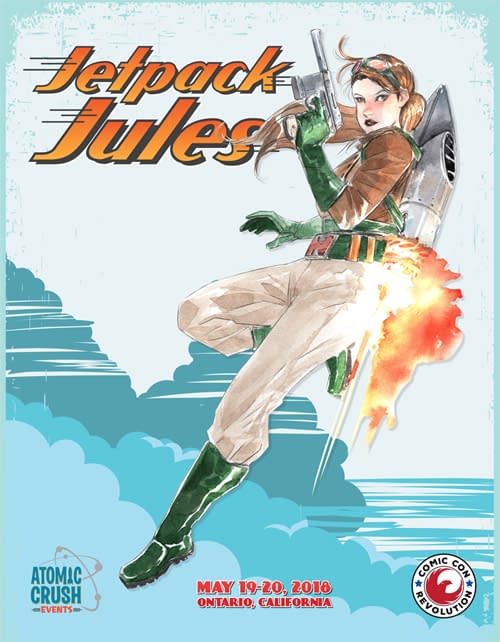 Atomic Crush Events is also offering collectible enamel pins available individually or as a set.
"We worked with Patrick Scullin to create Jetpack Jules for our first show in Ontario and our pint glasses featuring her were a big hit with the attendees," said ACE co-owner Mike Scigliano. "Fans loved our original character and we thought it would be fun to have different artists give their spin on her each year. Dustin's interpretation of finds our heroine blasting off with her trusty jetpack ready for battle."
Comic Con Revolution, the Inland Empire's only comic convention, is expanding for the first time to two full days of programming, featuring over 160 Exhibitors and nearly 200 guests including Jason Aaron (Star Wars, Thor, Scalped), Greg Baldwin (Samurai Jack, Avatar: The Last Airbender), Ogie Banks (Ultimate Spider-Man), Joe Benitez (Lady Mechanika) Sandy King Carpenter (Film Producer & Comic Writer), Howard Chaykin (American Flagg!, Satellite Sam), Ming Chen (AMC's Comic Book Men) Matthew Clark (Doom Patrol, Outsiders), Chris Claremont (Uncanny X-Men), Kevin Conroy (Batman: The Animated Series), Neo Edmund (Power Rangers), Susan Eisenberg (Justice League), Carols Ferro (Gears of War), Derek Dridolfs (Li'l Gotham, Batman: Arkham Unhinged), Steven Gordon (X-Men: Evolution), Travis Hanson (Life of the Party: Realities of an RPG'er), Ray-Anthony Height (X-Men Blue, Superb), Tom Hodges (Star Wars: The Clone Wars), Herb Jefferson Jr. (Battlestar Galactica), Scott Koblish (Deadpool, Excalibur), Jim Krueger (Universe X, Earth X), Mike Kunkel (Herobear and the Kid), Loren Lester (Batman: The Animated Series), Mike Mathew (Star Wars, She-Hulk), Jonboy Meyers (The Inhumans, Teen Titans), Todd Nauck (Young Justice, Teen Titans Go!), Dustin Nguyen (Descender, DC Secret Hero Society), Fabian Nicieza (Deadpool & X-Force), Diane Pershing (Batman: The Animated Series – Voice of Poison Ivy), Andrea Romano, Stan Sakai (Usagi Yojimbo), Peter Shinkoda (Daredevil, Falling Skies), Cat Staggs (Wonder Woman, Smallville), Art Thibert (Ultimate Spider-Man, Trinity), Tommy Walker (Daredevil, Henry Danger), Marv Wolfman (Marvel's Blade, New Teen Titans) and Timothy Zahn (Star Wars Novelist). Additional announcements will be made later.
Enjoyed this article? Share it!