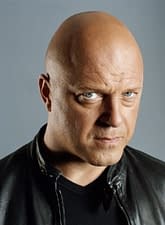 What is this, all new superhero TV shows at the Bar and Grill?
Days after reviewing NBC's action adventure superhero-turned-villain-but-really-hero pilot script, The Cape, I get another, this time the fourth network draft for ABC's No Ordinary Family, a smart family superhero comedy drama starring Michael Chiklis from The Shield.
That's right folks, four years after Heroes started, it's suddenly all about the superfiction TV show. With No Heroics and Misfits in the UK, there's a bit of a trend going on, it seems.
Okay, usual rules apply, no spoilers of anything other than what you might expect to see in a trailer for the show. I won't ruin any plot twists other than the central conceit of the show. But obviously if you want to stay virgin pure regarding spoilers, you should stop reading now.
It's generally most interesting in superfiction, if superpowers rather than reflect actual power, make up for a loss of it. So Superman reflects the immigrant experience, Spider-Man is the losing-at-life teenager, X-Men are the repressed minorities. Misfits worked better than No Heroics for a number of reasons, but No Heroics parodied minor celebrity culture, where as Misfits filled a gaping hole in the teenage underclass. Heroes gave average joes the chance to be something more – although empowering the already powerful wasn't a great move – Nathan Petrelli worked because his political position was an impotent one. And The Cape creates a more artificial power vacuum, the framed man who has lost his old life. No Ordinary Family shares many traits with The Incredibles, but thematically they both choose to show a family that is in danger of falling apart with superpowers used to fill the gaps. The Incredibles has the powers being the cause of said faults as well, where No Ordinary Family flips that dynamic. So you can bet that it won't be all happy sailing for the family in episodes to come.
Just as some people have children to improve their relationship, Jim and Stephanie get superpowers. And whatever they find lacking in their lives is granted a solution. Jim gets an outlet to express himself and make a difference in a world that he thinks ignores him, while Stephanie gets the chance to really be a supermum and have it all, a high-end job and a full and fulfilling family life. And yeah, the kids gets superpowers too, which dramatically affect their own school lives, the way they pereceive others and the way others perceive them.
So how geeky is it? Well not very. It's a family comedy drama, albeit one that steers the wheel widely, starting off like a decent episode of Scrubs with multiple justaposed narrators before meandering into the drama and self-reflection of the likes of Huff. Still there are a few superheroic asides… This pilot is patchy in parts, never really settling on a style – which isn't a bad thing in itself, but the different elements don't seem knitted together well enough. An ironic tone of detachment in one scene doesn't fit well with a straight uncritical portrayal of superpowers in the next. This may be a tad disconcerting for the viewer, or it may become a feature of the show.
However it's a much more interesting exploration of poossibilities of superfiction than The Cape. And leagues ahead of the repetitive, moralising and self-defeative melodramatic nature of Heroes.
Tell you what though. It's no Misfits.
Enjoyed this article? Share it!