Fairy Quest 2: Outcasts Kickstarts, Partners With Boom – And Paul Jenkins Finds Fairy Tales 'Liberating'
Paul Jenkins and Humberto Ramos launched a Kickstarter campaign for the sequel to their hardcover, lavish fairytales-reimagined book Fairy Quest #1 this week, entitled Fairy Quest 2: Outcasts. This time around they've chosen to partner with Boom! Studios after the Kickstarter rewards have been distributed. While the Kickstarter campaign will produce the single edition hardback, Boom! will then license the book to produce as two comic issues and a softcover trade. Outcasts takes place in the same Fairy Quest world as the first volume, Fablewood, where central characters Red and Mr. Woof struggle to break the genre-codes of their own story and remain friends despite the threats of Mr. Grimm's Mind Eraser. The book is designed specifically to be all-ages and inspire an appreciation for the enduring appeal of traditional stories, but runs wild with imagination and challenging ideas that are bound to have a modern appeal.
Writer Paul Jenkins talked a little about his view of fairy tales, his experience with Kickstarter, and whether there will be a pancake-wearing bunny in the finished book here at Bleeding Cool, and kindly provided us with some process artwork on the book from Humberto Ramos:
Hannah Means-Shannon: Fairy Quest 2: Outlaws features our main characters from the first volume, Red and Mister Woof, and the whole crux of the series is that they want to be friends, re-writing the Red Riding Hood story, but are forbidden to do so, right?
That makes me wonder two things: firstly, what do you think of how scary and extreme some of these old fairy tales are in their original versions? That is definitely not the kind of story you want to tell and I'm wondering why that is.
Secondly, the way in which the genre worlds of the story work together, and the way in which Red and Woof want to alter things reminds me of what happens when kids become familiar with a story and introduce their own make-believe elements, improvising. Is this an opportunity for you all to really let your imaginations play in that kind of intuitive way?
Paul Jenkins: To answer part one: Fairy Tales, if you think about it, were used by families as cautionary tales and as a form of entertainment. They're probably full of all kinds of warnings and inside jokes that people of the time would understand, yet they manage to translate even today. In a very real sense we have shaped them so that they become timeless. I'm a father to two little boys, aged 7 and 2. The other night I pulled out an old Mother Goose book and read it to the little dudes, and they were transfixed! These are kids who are growing up with smartphone technology and instant TV access, yet they genuinely loved the stories. I was also pretty astounded by the reaction to Fairy Quest #1 when I was at conventions. Humberto and I watched the same scenario play out over and over: anyone—whether a little girl aged 5 or a man aged 65—would inevitably come back to us at our booth and feel compelled to tell us how much they loved the book. I think it's because our sinister little tale parallels the sinister aspects of a Fairy Tale.
To answer part two: I'm amazed at how liberating it can be writing characters that live under the "rules" of kids' fiction. Everything is a fantasy, so we're open to create new ideas or think of new rules for how the world works. I think this has sparked both of our imaginations so much, and it shows on the pages. I'm having more fun with the world of Fablewood than I've had in forever.
HMS: From some of what you say on your campaign site, you all are big fans of the possibilities of Kickstarter, though you mention you had some "bumps" in your first campaign. What turned you on to Kickstarter and what do you think of it as a tool right now? What kind of things did you learn the first time around?

PJ: If we look at the first raise as a whole, it was a tremendous success. I mean, when we first pressed "publish" on the initial campaign, we were both pretty worried. What if we didn't raise the money? What if the fans ignored us en masse? Well, they didn't. We really felt we were putting our reputations on the line but it was absolutely worth it. We wanted to take complete control of the content of our passion project, to have the exact production values we chose.
I wanted to create a book that I would like to keep myself in a bookcase. Now, the shipping issues were a complete tragedy. In fact, the campaign went really well, but I allowed an outside party to be involved in fulfillment. They didn't create "bumps," they created full-sized moguls, and it was incredibly frustrating to have to step back in and try to solve it. But even though the shipping issues were difficult—and we're still trying to finish out the Sidekick fulfillment—we took ownership of it and rolled up our sleeves. This time, I have a more trusted partner helping with fulfillment in the form of BOOM! As you know, I have a close relationship with them and they have been awesome. We learned from the first campaign what we needed to know this time.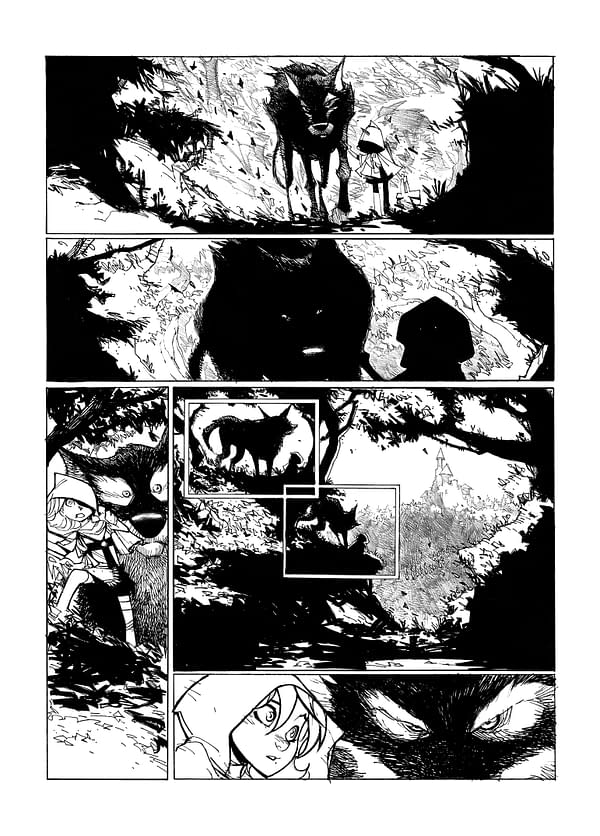 HMS: Fairy Quest 2: Outcasts will, hopefully, eventually be a rather lavish oversized 48 page graphic novel, I see. What do you think is it about the large format and high-quality presentation of a graphic novel that appeals to you and, potentially, readers? Why not a simple trade paperback or a digital comic?

PJ: As I mentioned above, I want to create a book that I would be willing to keep in my own bookshelf. It's a little-known fact but back in the day—way back—I did production work with the Ninja Turtles. But aside from that, Humberto and Leo Olea worked together to design the book's first printing, and the embossed covers and spot UV coating were gorgeous! Fairy Quest #2: Outcasts is going to be just like #1, and we'll try to throw in some amazing new backup materials and brand-new sketches as well.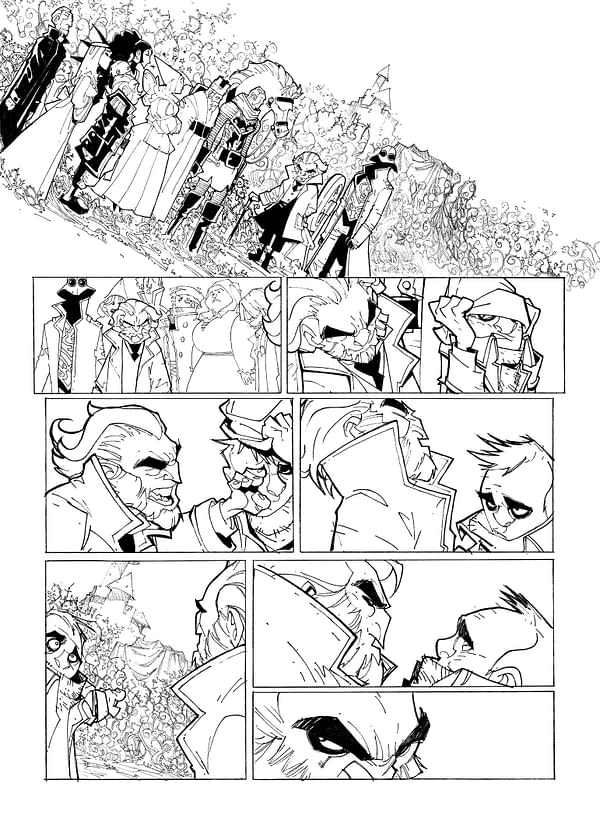 HMS: Is there really a possibility that a bunny wearing a pancake is part of the Kickstarter reward? Don't toy with us, if it's on the page, there should be a bunny-pancake reward somewhere. Or at least in the comic. Thoughts?
PJ: I think I may ask Humberto to draw that little guy in somewhere, hidden. Find it and Stan Lee owes you a No-Prize!
Here is the bunny we are referring to (keep your eyes peeled for him):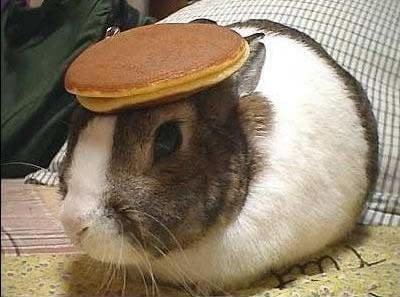 And here is the trailer for Fairy Quest 2: Outcasts: